Masterson happy with adjustments, despite rough line
Right-hander gives up six runs on seven hits against Phillies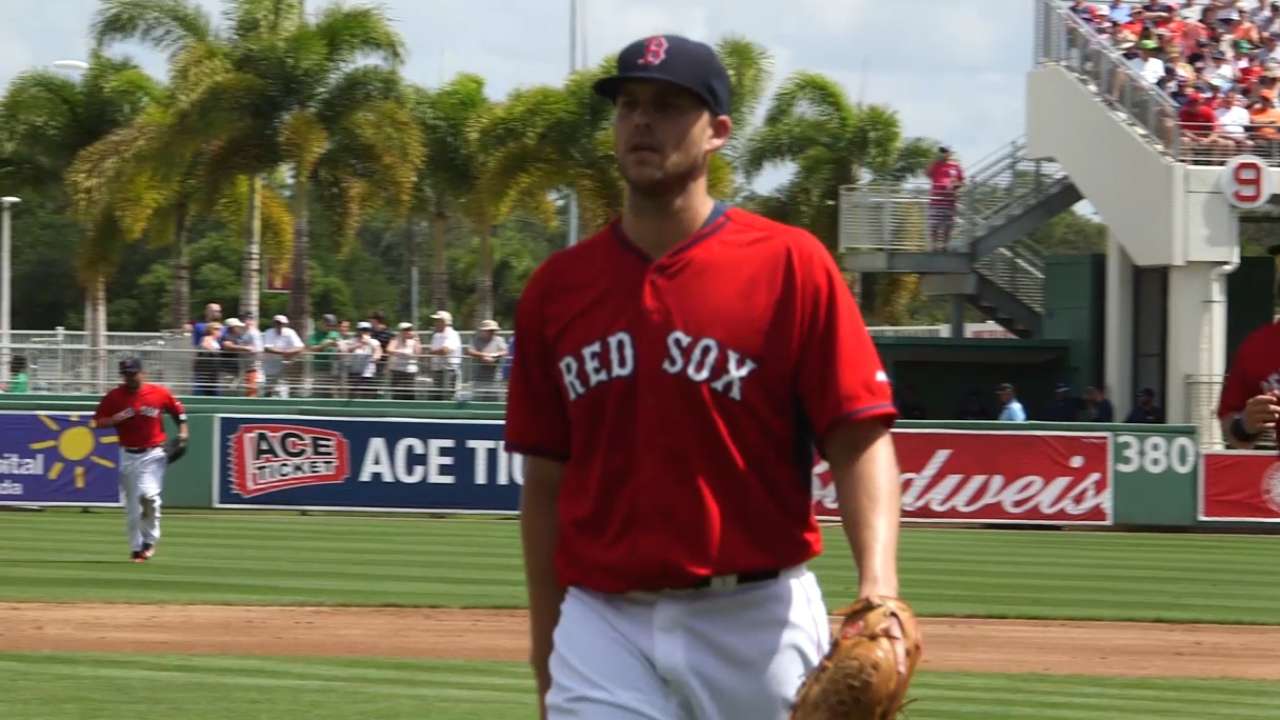 CLEARWATER, Fla. -- After working three perfect innings against a Tampa Bay split-squad lineup on Tuesday, Red Sox starter Justin Masterson faced a much bigger challenge on Sunday against Philadelphia.

Pitching to the Phils' likely Opening Day lineup, consisting primarily of left-handed hitters, Masterson yielded six runs on seven hits with two walks and no strikeouts in 3 1/3 innings. The Red Sox lost, 11-4.

But the 6-foot-6 right-hander was undeterred.

"Honestly, I enjoyed this outing," Masterson said moments after he left the game. "I think it was my best outing as far as getting some solid work in, like you're supposed to in Spring Training."

Left-handers were 5-for-12 on the afternoon against Masterson. Ryan Howard ripped an RBI double in the first, Jordan Danks hit a solo shot in the second, and Cord Phelps launched a three-run blast in the fourth to account for five of the seven runs he allowed.

Masterson sensed that he might have issues in Sunday's ballgame before it even began.

"In the bullpen, I didn't feel good … couldn't figure where the ball was coming out," Masterson said. "Legs weren't working, low intensity level, so then I was just kind of working to get through that, which is what I need to do.

"Just trying to make adjustments while we're out there, and just tried to battle through the first two [innings]. In the third inning, I was starting to get a better idea. I found the arm slot, and I was able to work through it and drive the ball.

"In the fourth inning, it was a combination of getting a little tired and trying to maintain the intensity."

"We've had better days," said Red Sox manager John Farrell after the game, which also saw projected starter Wade Miley struggle in relief of Masterson.
Miley gave up six hits, four runs and three walks in four innings. He struck out a pair.

"We struggled with command … inconsistent velocity," said Farrell. "We're at that point in camp where, if you see some variation in arm strength, it could be a little bit of dead arm. I think these are those points right now that you just have to get through physically."

The last batter Masterson faced on the afternoon was Phelps, who launched a no-doubter to right that put the Phillies ahead, 6-4.

Again, Masterson chose to accentuate the positive.

"Hopefully it helps [Phelps] make the team," he laughed. "He's a boy of mine, so that doesn't upset me too much."
Michael Kolligian is a contributor to MLB.com. This story was not subject to the approval of Major League Baseball or its clubs.