MLB.com Columnist
Phil Rogers
New offensive focus can propel Astros to success
With plenty of power in store, cutting down strikeouts is key for Houston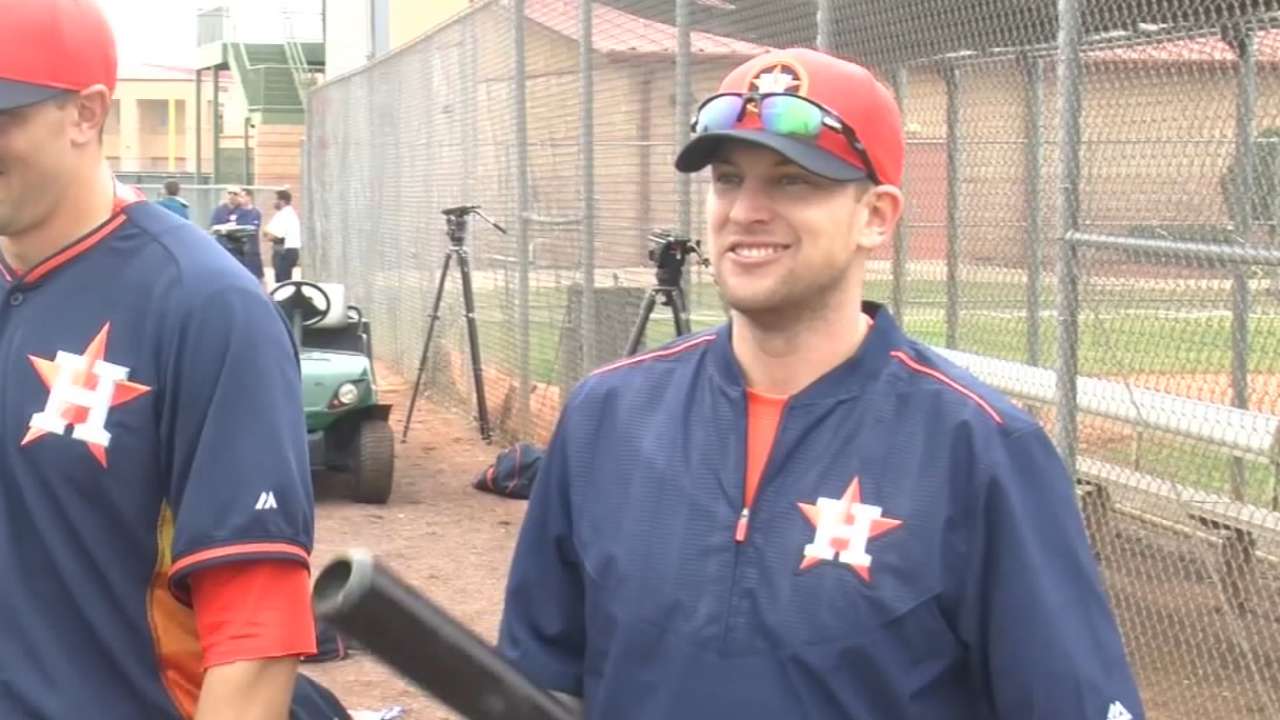 KISSIMMEE, Fla. -- There's no time like Spring Training, especially for the manager of a team that is playing well.
A.J. Hinch had barely settled into his office after a 3-2 victory over the Nationals on Sunday when an animated reporter hit him with the kind of question the Astros haven't heard in recent years.
"When can we talk about the World Series?"
"We have to worry about Game 1," Hinch answered. "We can't worry about the World Series."
"What about the talent you have?"
"We have talent, guys that are getting here and guys that are already here," Hinch said. "Our talent base is growing. We're starting to play the game well. But any expectation, stuff like that, is for other people to say."
In his first season with the Astros, Hinch has joined one of the most interesting organizations in the Major Leagues. Over the last four years, the Astros managed the rare feat of being one of the worst teams in two different leagues, averaging 58 wins.
But the arrow pointed upward in 2014, when they won 70 games and forced the Rangers into the AL West basement, and it no longer is pie in the sky to talk about a winning season, if not yet the postseason.
A payroll that averaged $45.8 million on Opening Day the last three years has jumped to almost $70 million, allowing general manager Jeff Luhnow to import a half-dozen veterans to join the roster headed by batting champ Jose Altuve and right fielder George Springer, who hit 20 homers and drove in 51 runs in 78 games last season.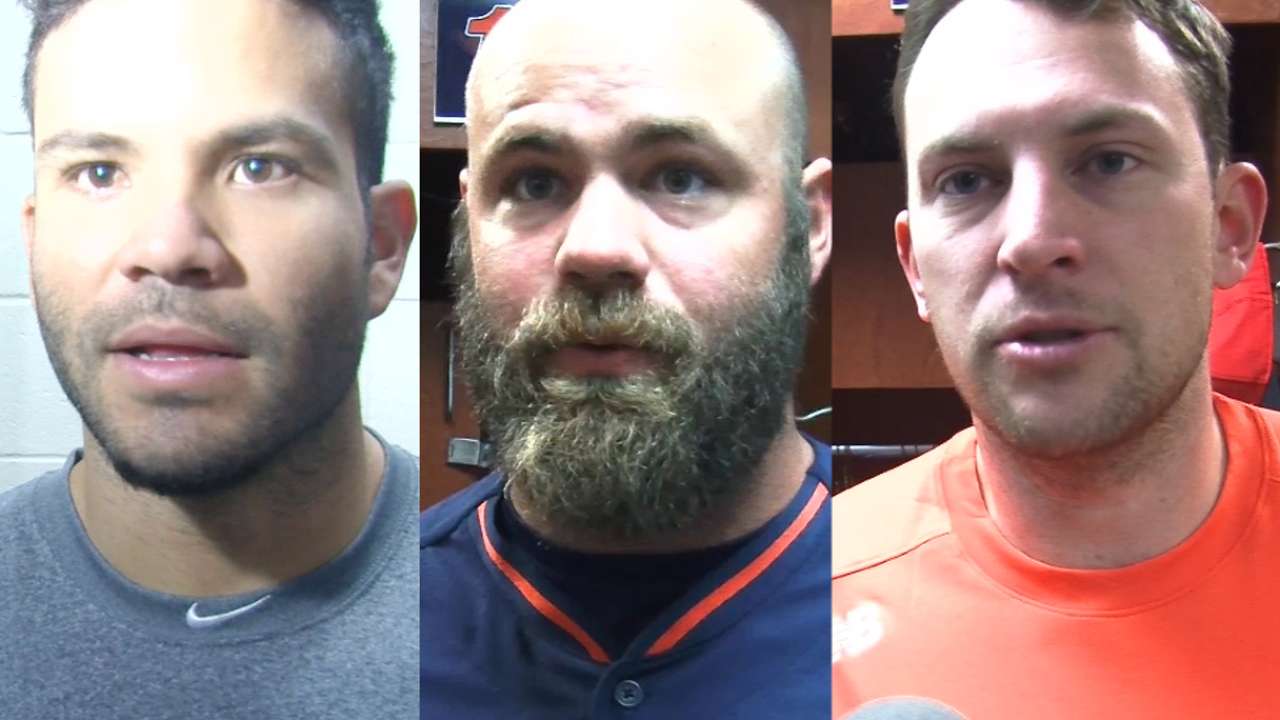 A lineup upgraded by the additions of shortstop Jed Lowrie, third baseman Luis Valbuena, left fielder Evan Gattis and center fielder Colby Rasmus has been a key to a 6-3 start to the Grapefruit League.
Throughout the Hot Stove season, the talk was about the Astros' power potential. That was fitting as DH Chris Carter was second in the AL with 37 home runs last season and both Springer and Gattis could easily hit 30-plus based at Minute Maid Park.
First baseman Jon Singleton, who hit 27 homers between Triple-A and the Major Leagues, is another guy who could make the 2015 Astros the first team to have three 30-homer hitters since the 2012 Angels. But the most interesting thing about what's going on at the Astros' Osceola County Stadium complex isn't the power potential.
The Astros are looking a whole lot more like one of Billy Beane's Oakland teams than the Astros teams of the last two seasons, who set an all-time record with 1,535 strikeouts in 2013 and were 14th in the AL in scoring last season.
They've got a .381 on-base percentage for the spring, which is second in the Majors, and have only 26 more strikeouts (81) than walks (55). That's the best strikeout-walk ratio in the Majors, and maybe the best sign of all that the Astros are poised to take a major step forward.
Against the Nationals on Sunday, they were held in check by Max Scherzer for four innings, but then jumped on Heath Bell in a three-run fifth inning that turned the game their way. Jake Marisnick, a center fielder slated to hit ninth -- not a bad spot when Altuve is the leadoff hitter -- one-hopped a triple off the right-field fence, and then Altuve and Springer followed with a double jerked down the left-field line and a line single to left, respectively.
"I think we've added guys who are quality big league hitters that are going to grind out at-bats -- guys like Valbuena, guys like Gattis, Rasmus," said Lowrie, the switch-hitting Stanford alum who spent his last two seasons in Oakland. "There's a lot of good, young talent here. To bring in these veteran guys and to have the young guys watch guys consistently have Major League at-bats, I think that's a big difference."
Hinch and his new hitting coach, Dave Hudgens, have preached to hitters that they don't need to swing for the fences to hit home runs at Minute Maid Park. They believe they have the talent on the roster to increase last year's home run total (163, third in the AL) within the context of a solid, versatile offensive approach.
"I think our offense is dangerous, can be dangerous, but we have to be a productive offense in a lot of different ways," Hinch said. "We've preached that we're not going to be one-dimensional. We're not going to be solely fixated on the home run ball. I think they're going to happen. I think we have a chance for them to happen a lot. But our guys going up to bat are not thinking about the end result of the at-bat. They're trying to get a good pitch to hit and do damage with it, especially with runners in scoring position. Today was a good example."
Springer sees a lineup that is starting to figure itself out.
"There's obviously some guys here who can do some damage," he said. "But the goal is to be a tough, hard out. Guys like myself, Altuve, Marisnick, it's our job to be on base. I just think so far we've had a good team approach just being consistent with making good, hard contact."
The beauty for the Astros is that Springer is, of course, much more than an on-base guy. He's one of the most exciting players in baseball, which he showed with 37 home runs and 45 stolen bases between Double-A and Triple-A in 2013 and with his easy transition to the AL before going on to the disabled list in late-July with a badly strained quadriceps.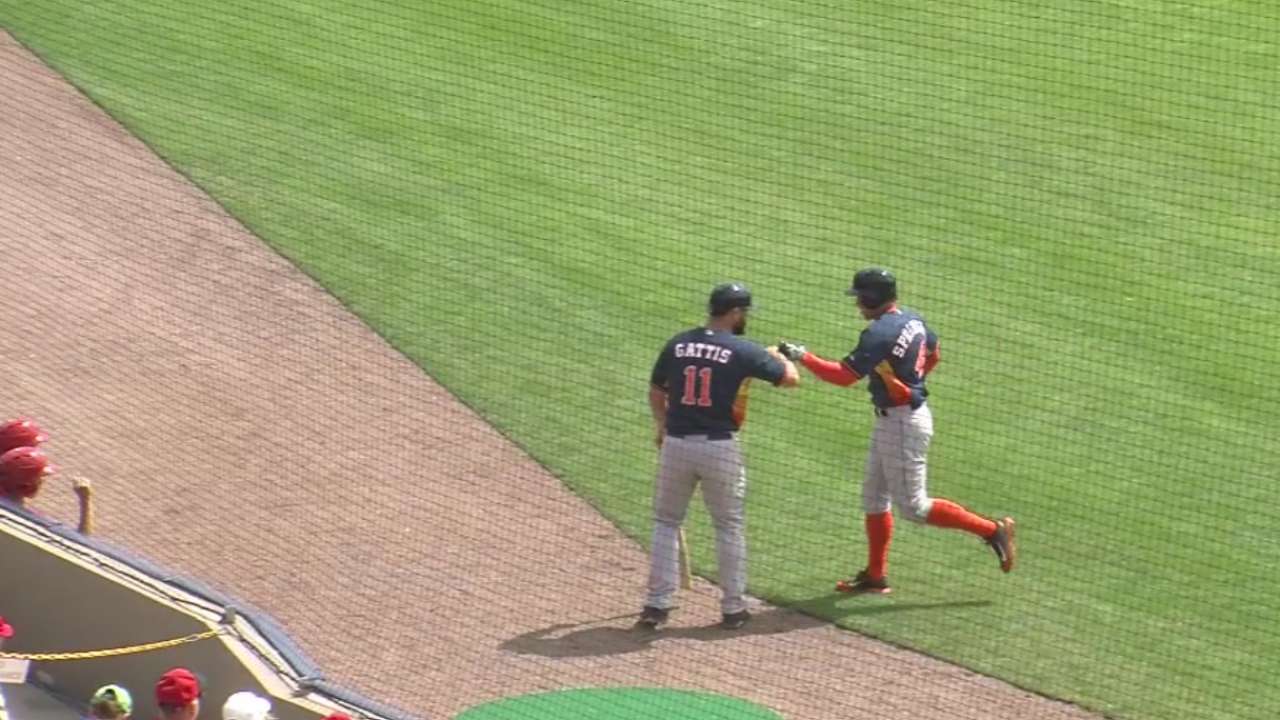 Springer hit a pair of home runs against the Nationals on Friday. He's hitting .333 and has four walks to go with five strikeouts, giving him a .478 on-base percentage and a 1.145 OPS to show for his hard work in the offseason.
"He's a really energetic player, loves to play," Hinch said. "Free spirit. He has the ability to impact the game in every way possible and those players don't often come around. He's got work to do to refine himself. He's going to do it at the Major League level because he's a real force. He has the potential to be better. That's what I like. He's already successful in short bursts now, but he has growth to do."
The same can be said about Hinch's team. It is starting to grow up before our eyes.
Where will it be in two or three years?
If the hitters keep taking the kind of at-bats they have been this spring, it could be one of the best lineups around.
Phil Rogers is a columnist for MLB.com. This story was not subject to the approval of Major League Baseball or its clubs.