Uneven Gonzalez still has time to win rotation spot
Right-hander has given up 12 hits, seven runs in seven innings this spring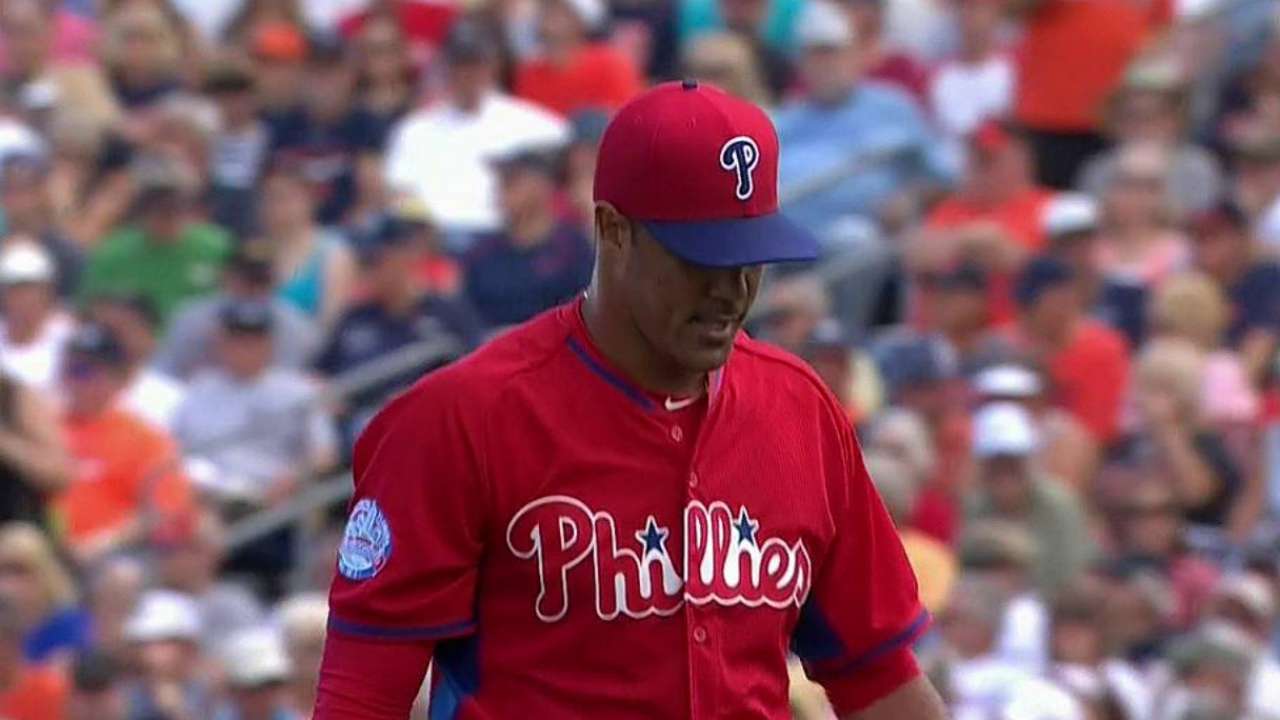 CLEARWATER, Fla. -- Phillies right-hander Miguel Alfredo Gonzalez has not put forth a convincing case to make the Phillies' rotation, but he has time.
He allowed three hits and two runs and struck out two in three innings Sunday in an 11-4 victory over the Red Sox at Bright House Field. He allowed a two-run home run to Daniel Nava in the first inning before settling down for the second and third.
"He made a good adjustment," Phillies manager Ryne Sandberg said. "I thought he was more aggressive attacking the zone, and his pace was better. It looked like he was a little careful there in the first inning to two hitters. After that, I thought he had a whole different demeanor about him, a whole different strategy and that was attacking guys."
Gonzalez has a 9.00 ERA in three Grapefruit League appearances. In seven innings, he has allowed 12 hits, seven earned runs, three home runs and has struck out five.
But Gonzalez and others will get more opportunities to impress.
Cliff Lee, 36, is trying to pitch with a torn common flexor tendon in his left elbow, but it is a long shot. Season-ending surgery would be Lee's next option, although he said he might not have the surgery and retire.
That leaves at least one job open in the rotation. It could be two if Aaron Harang's "lower back discomfort" continues to be an issue.
Gonzalez is competing with non-roster invitees Kevin Slowey and Sean O'Sullivan for a job, with Cole Hamels, Harang, Jerome Williams and David Buchanan slated for the first four spots. Chad Billingsley is a candidate, but he might not be ready until late April following a pair of elbow surgeries the past couple years.
"I think he's shown health and some progress mixing up his pitches," Sandberg said about Gonzalez, who has had shoulder issues in the past. "So he's making progress."
Todd Zolecki is a reporter for MLB.com. This story was not subject to the approval of Major League Baseball or its clubs.