Kelly throws live BP in Tommy John comeback
Padres starting pitchers take first swings of spring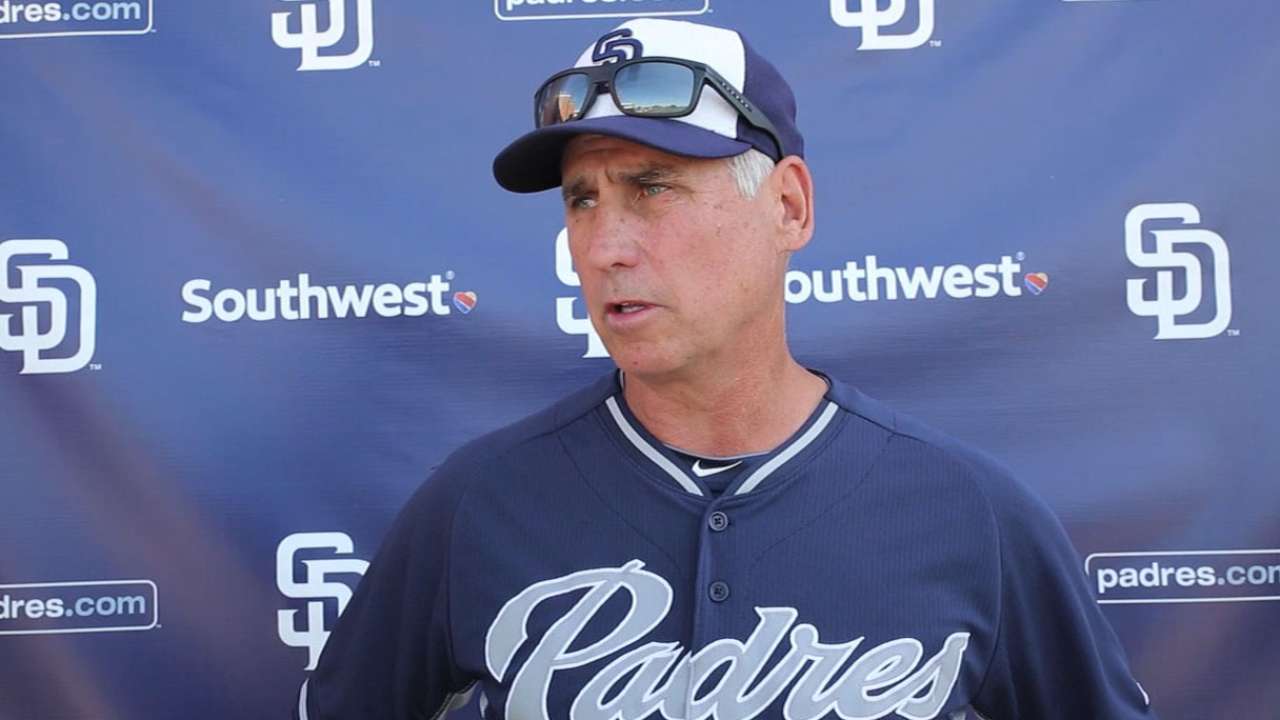 PEORIA, Ariz. -- Padres right-hander Casey Kelly continued the long road back from Tommy John ligament replacement surgery by throwing about 10 minutes of live batting practice on Field 1 of the Peoria Sports Complex on Sunday morning.
Kelly tossed about 30 pitches, three each to five of the projected Padres starting pitchers. Only Ian Kennedy, who started against the Indians at Goodyear Ballpark on Sunday, was exempt from the exercise.
"It felt good," Kelly said before running off to continue his workout.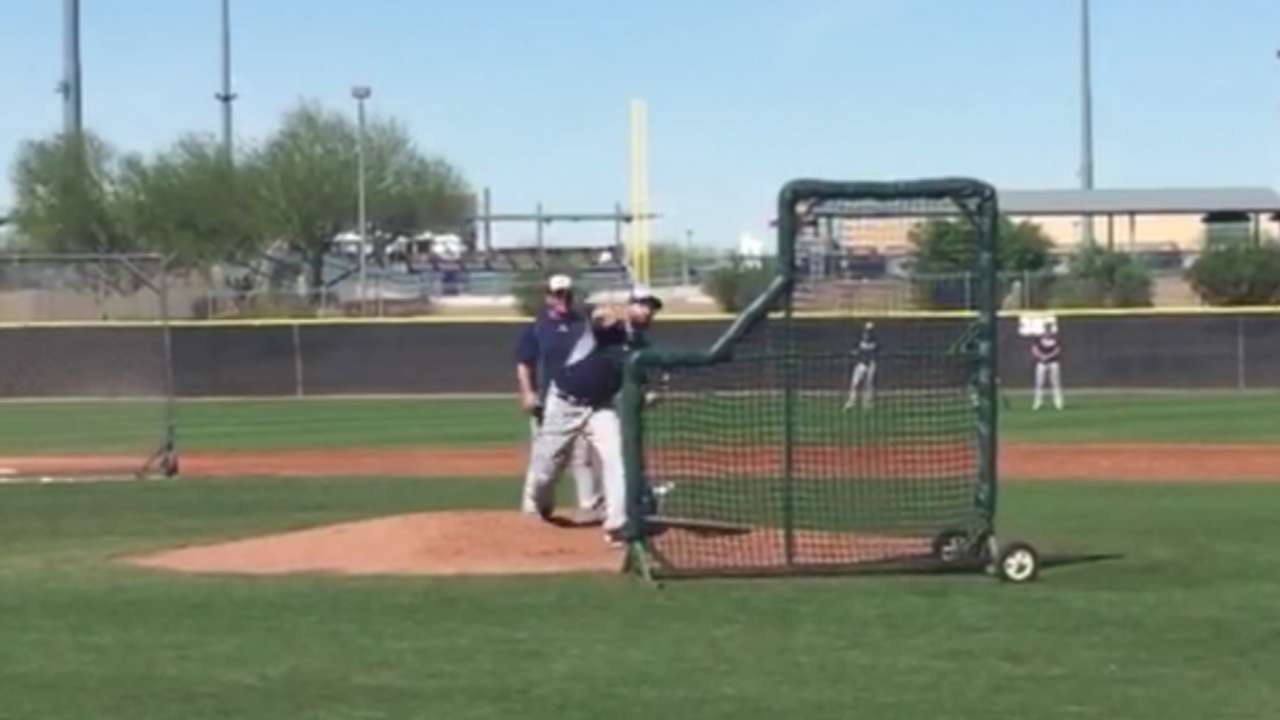 The next step is two days of rest and then another live BP session, Padres manager Bud Black said.
"He threw the ball well. He came out of it fine. He threw all his pitches," Black said prior to the game in nearby Goodyear, Ariz. "I thought the ball came out of his hand well. He felt confident. We really liked the way he threw. There are no restrictions."
Kelly underwent the surgery on April 1, 2013, and made four rehab starts last season at Single-A Lake Elsinore and Double-A San Antonio from May 3-19 before soreness in that right elbow caused the Padres to shut him down for the remainder of the season.
He's one of three Padres pitchers in different stages of recovery from the reconstructive surgery. Josh Johnson and Cory Luebke both had their second Tommy John surgeries last year and missed the entire 2014 season. Luebke hasn't pitched since May 2, 2012. Johnson hasn't done so since Aug. 14, 2013, when he was with the Blue Jays.
The Padres also had Joe Wieland in recovery from the surgery last season, but he's since been traded to the Dodgers in the Dec. 18 deal that netted Matt Kemp.
About Johnson and Luebke, Black said: "They're on their way back. They're on a throwing protocol. J.J. is a little bit ahead of Corey in that regard. He's going to get to the mound later this month. I don't know the exact date. Corey is a little bit behind. But he's fine. His elbow feels good."
Luebke said he hopes to throw off of flat ground to a catcher in about a week. Because he underwent his two such surgeries in the space of 19 months, Black said the Padres would remain cautious about his progress.
"And he's had a little bit of soreness through December and January where Josh hasn't," Black added.
There's really no rush either on Kelly, the last remaining Padres player acquired in the Dec. 6, 2010, trade that sent Adrian Gonzalez to Boston. Anthony Rizzo, the other major component, was sent to the Cubs for Andrew Cashner. Gonzalez, of course, is now playing for the Dodgers.
Barring any injuries, the Padres' rotation for this season seems to be set with James Shields, Tyson Ross, Cashner and Kennedy, with Brandon Morrow and Odrisamer Despaigne vying for the fifth spot.
Shields, Ross, Morrow, Cashner and Despaigne all lined up to take their swings against Kelly. Despaigne had the best one, lining what would have been a double to right-center that earned him a fist bump from Cashner, widely regarded as the best hitting pitcher on the team.
It was the first round of hacks off a live starter for the pitchers. Thus far the DH has been utilized in the club's first 12 Cactus League games. Shields and Morrow, coming over from the American League, could use all the practice they can get. In their careers, Morrow is 0-for-14 and Shields 10-for-47.
"They just needed to hit," Black said. "The pitchers haven't hit yet in any of the games. This was sort of the first step for our pitchers to have someone else throw to them aside from the coaches. It was a lot of fun. It was great."
Barry M. Bloom is a national reporter for MLB.com and writes an MLBlog, Boomskie on Baseball. Follow @boomskie on Twitter. This story was not subject to the approval of Major League Baseball or its clubs.