Kershaw not sharp, but minimizes damage vs. Mariners
Kendrick, Crawford each go 2-for-3 to spark offense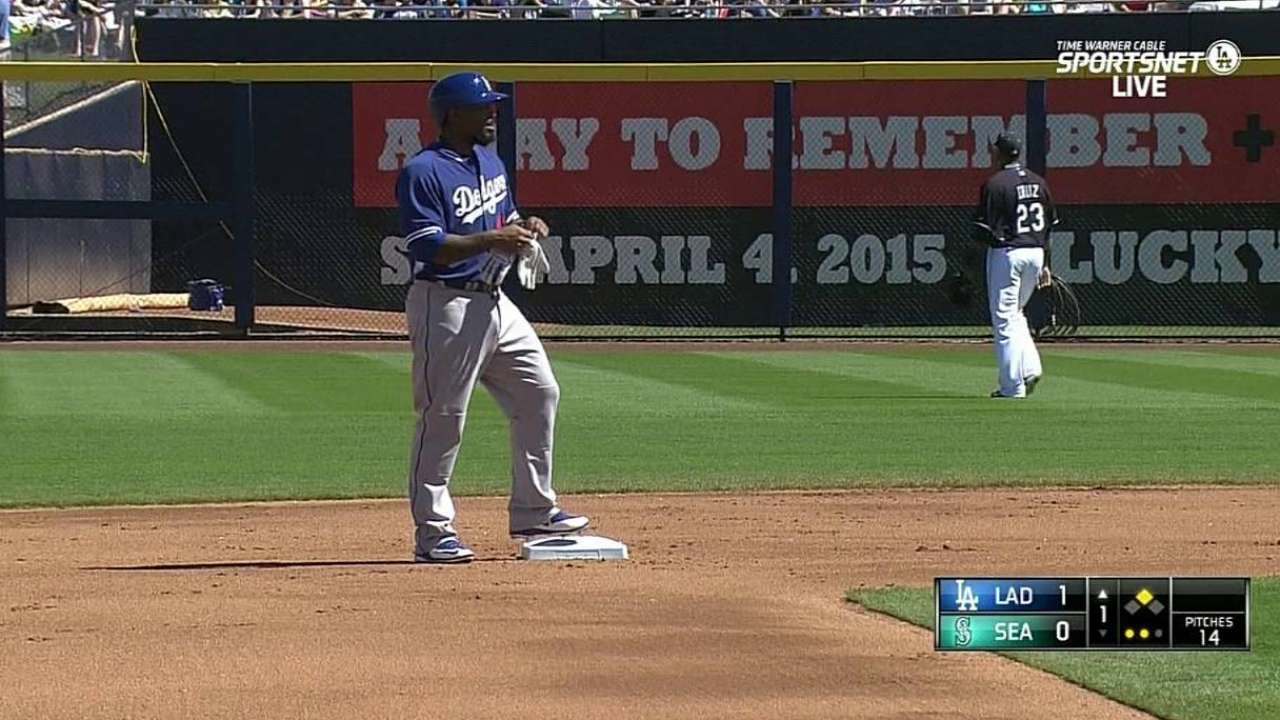 PEORIA, Ariz. -- Even when he's not at his best, he's still pretty good.
Clayton Kershaw didn't have his best stuff, but still managed to keep the Mariners offense in check Sunday as the Dodgers beat the Mariners, 5-2.
The Dodgers ace allowed one run over 3 2/3 innings, giving up four hits and walking three.
Seven of the 16 batters Kershaw faced reached base, but the reigning National League Cy Young Award winner was able to minimize the damage. Kershaw left the bases loaded in the first and retired the side in the second with two aboard.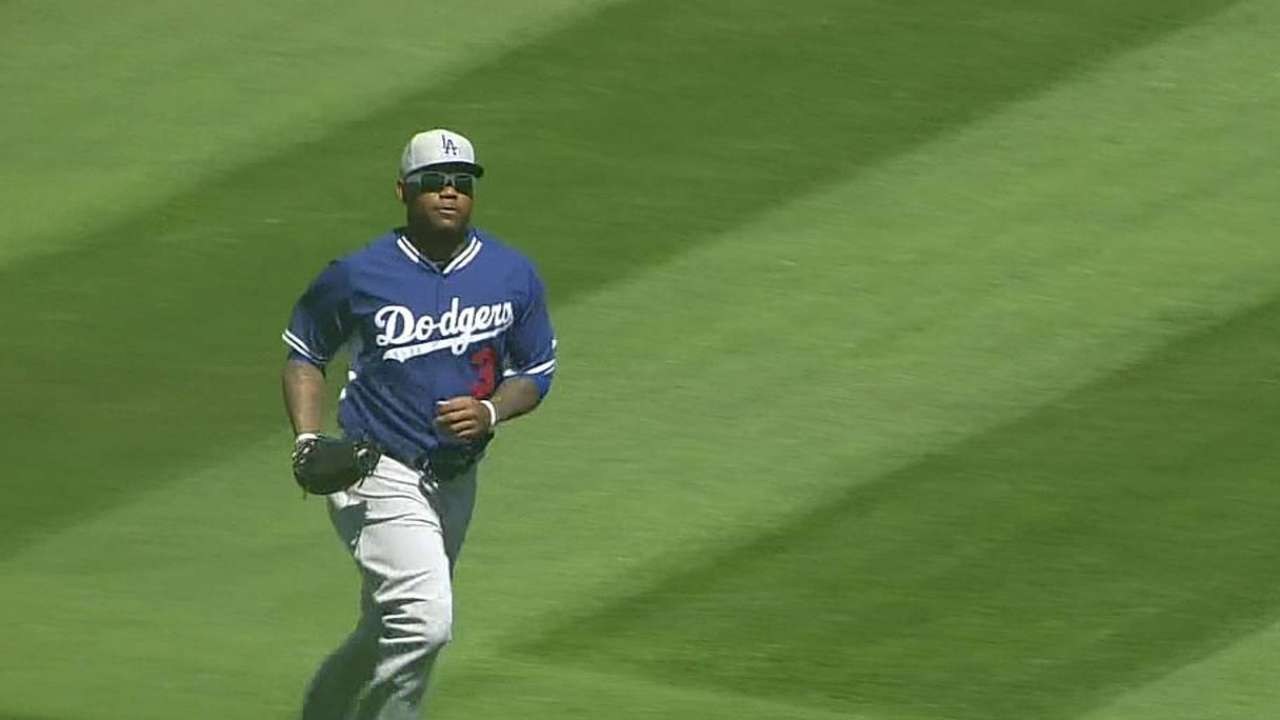 "I thought my guys were pretty good," Mariners manager Lloyd McClendon said. "They grinded their at-bats out, got him deep in some counts for the most part. Against a real tough pitcher, we have very professional at-bats."
Kershaw's lone blemish came after Robinson Cano doubled deep to center to lead off the third inning. Cano advanced to third on a wild pitch and scored the Mariners' first run when Rickie Weeks grounded into a double play.
"I was all over the place, had no idea where the ball was going," Kershaw said. "I'm getting worse as the spring is going. I walked three in three innings. I have a lot of things to figure out. I would have liked to get through four innings, but my pitch count was so high I couldn't do it."
Opposite Kershaw, Seattle's Roenis Elias threw 3 1/3 innings.
Elias, competing with Taijuan Walker for the fifth spot in the Mariners rotation, gave up two runs on six hits.
"I thought he threw the ball much better today, worked a lot faster, command was better, secondary stuff was pretty good," McClendon said. "I was pleased."
The 26-year old left-hander has appeared in three Cactus League games, two starts, and allowed a total of four earned runs in 7 2/3 innings. Meanwhile, Walker has thrown eight scoreless innings over a trio of games.
Howie Kendrick, who finished 2-for-3, was a big contributor to the Dodgers' offense.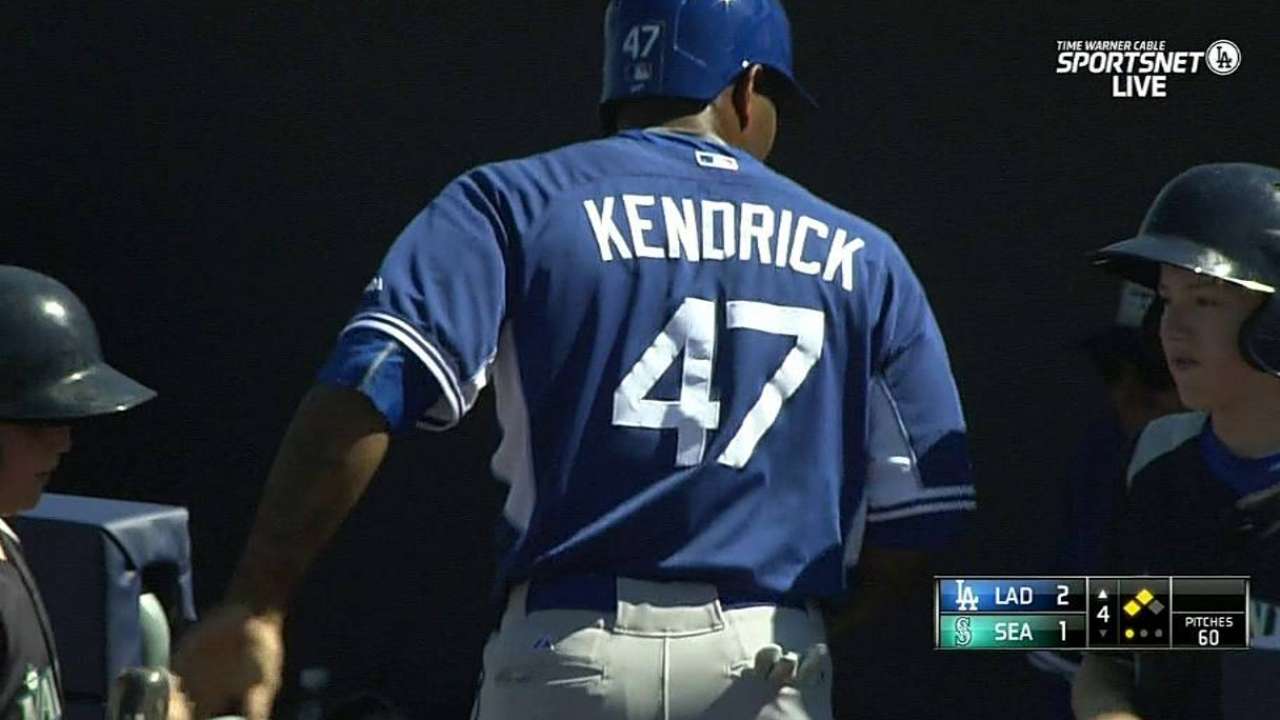 Kendrick got the Dodgers on the board in the first with an RBI double to left and scored, following his second hit of the day, on Carl Crawford's RBI double in the fourth. Kendrick and Crawford were each 2-for-3 on the day.
After Alex Guerrero walked to lead off the eighth, Darwin Barney homered off Carson Smith to pad the Dodgers' lead.
In the top of the ninth, Enrique Hernandez hit a two-out double, then scored on Guerrero's single, which he tried to stretch into a double. Left fielder Patrick Kivlehan threw out Guerrero at second to end the inning.
Carlos Rivero doubled with two outs in the bottom of the ninth, then scored as D.J. Peterson reached first on an error by Dodgers second baseman Darnell Sweeney.
Up next: Zack Greinke, whose Spring Training was slowed by a precautionary elbow injection, makes his second Cactus League start on Monday against Oakland at Camelback Ranch-Glendale. Greinke had a long bullpen session Friday and worked on his delivery after complaining about an erratic slider in his first start against Colorado.
William Boor is a reporter for MLB.com. Follow him on Twitter at @wboor. This story was not subject to the approval of Major League Baseball or its clubs.