Simon pleased with work despite giving up runs
Tigers' likely No. 4 starter focused on keeping ball down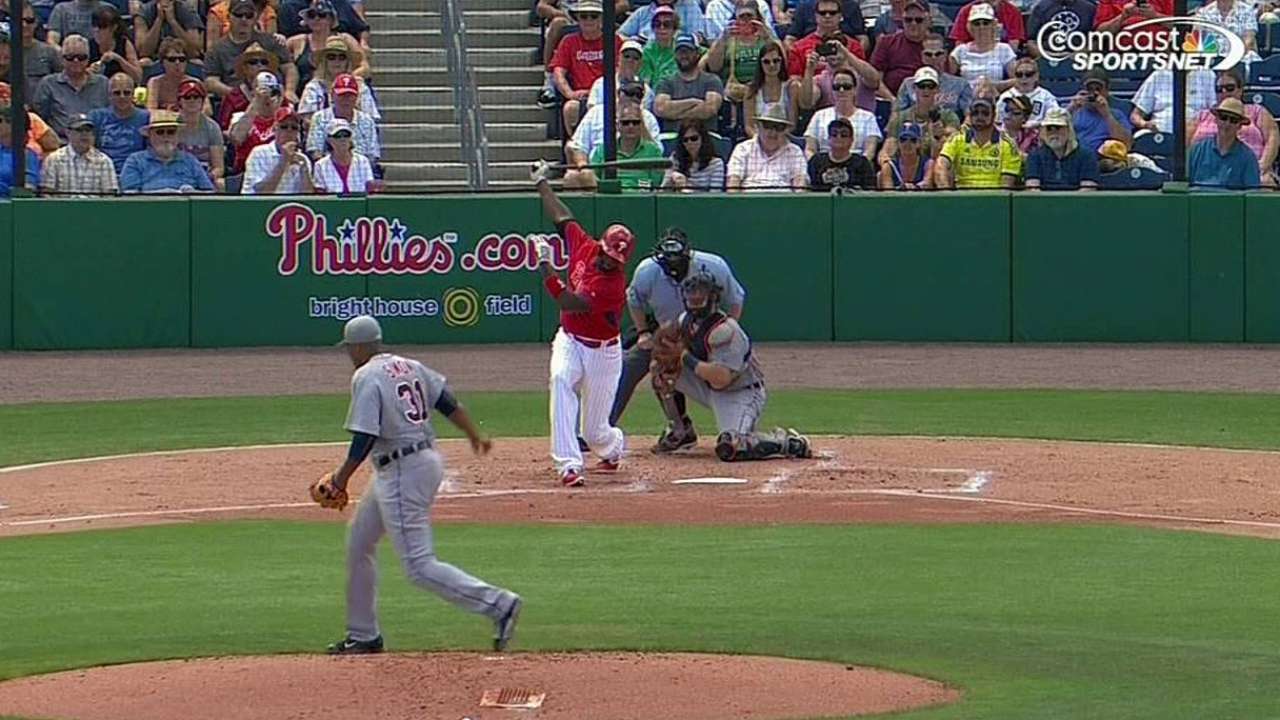 JUPITER, Fla. -- Alfredo Simon gave up his first earned runs of the spring Sunday in a four-inning stint against the Marlins, but the Tigers' right-hander was pleased nonetheless with his third and longest Grapefruit League outing.
Simon had not allowed a run in his previous two starts, but allowed three runs, all earned, on three hits, including a solo home run by Marcell Ozuna in the bottom of the fourth at Roger Dean Stadium. It was the first homer off Simon this spring. He registered two strikeouts and one walk and also hit a batter in his 53 pitches.
"I'm happy with what I did today," Simon said. "I know I gave up a couple runs, but you know, it's Spring Training to get ready for the season."
Simon likely will be slotted at No. 4 in the Tigers' starting rotation. He said his primary goal during Spring Training is to become comfortable with all of his pitches.
"I'm getting close to 100 percent," Simon said of his arm strength. "I need a couple more starts to throw all my pitches and I think everything's going to be great. My key is to keep the ball down. When everything is down, I get a lot of ground balls."
That didn't happen on the home run ball he delivered to Ozuna, who drove a breaking pitch up in the strike zone over the fence for his first round-tripper of the spring. Simon retired the next two batters on infield groundouts.
"It's the dog days of Spring Training right now," Tigers manager Brad Ausmus said. "The energy level is tough to kick up. He got his work in."
Another good inning for Rondon
Fireball reliever Bruce Rondon followed Simon to the mound for his second Grapefruit League outing following Tommy John surgery almost a year ago.
Rondon threw 19 pitches, 10 for strikes, allowing one run on two hits and a walk in his one inning of work. That followed a solid outing last Thursday in Lakeland in which he hit 100 mph with his fastball. He was consistently around 97-98 mph with his signature pitch Sunday.
"I'm good. It's all about getting work done and getting better," Rondon said.
"He looked strong. The velocity was there," Ausmus said of Rondon, who also has been working on his slider and changeup to complement his fastball. "I know people get enamored with velocity, but it's not the be-all."
Martinez goes deep again
Left-fielder J. D. Martinez is having a good spring so far, particularly in the power department.
Martinez, who hit 23 home runs last season, slugged his third Grapefruit League homer of 2015 on Sunday, a two-run shot to right-center field with Rajai Davis aboard. Martinez also had a double in his first at-bat. Martinez is coming off a career year in 2014, his first with Detroit after three years with the Astros, in which he also had a personal-best 76 RBI and a .315 batting average.
"Hey, maybe he'll have a career year this year," Ausmus said. "Today's home run was impressive."
Steve Dorsey is a special contributor to MLB.com. This story was not subject to the approval of Major League Baseball or its clubs.