Moore hot at plate, but future with Nationals uncertain
Utility man collects two hits vs. Astros to continue strong spring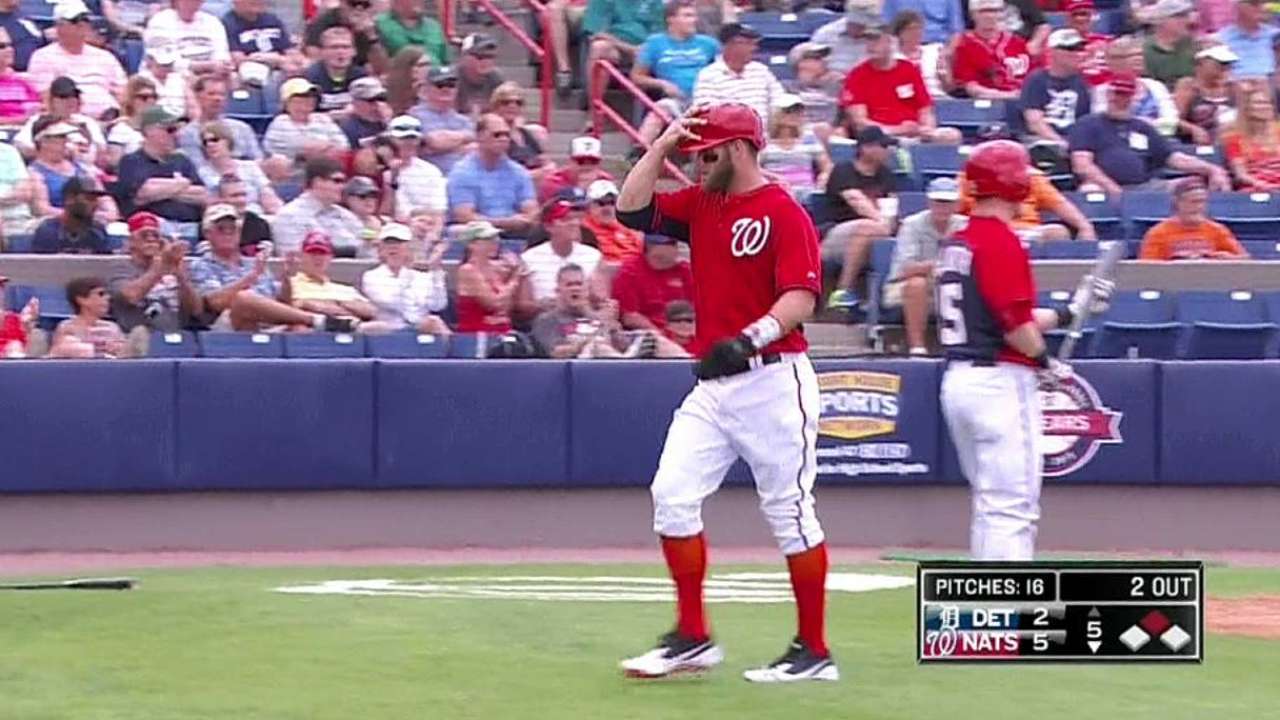 KISSIMMEE, Fla. -- Tyler Moore's hot streak has extended beyond the baseball field. During the Nationals' par-3 contest at Duran Golf Club in Viera, Fla., recently, Moore hit a hole-in-one that had the locker room buzzing -- especially because he did it with a putter.
"I don't know what happened there, I just kind of blacked out for a minute," Moore said, acknowledging the hole was 67 yards long. "And my team was really excited for me, so it was a fun time."
In Sunday's 3-2 loss to the Astros, Moore continued his hot hitting at the plate.
He doubled over center fielder Jake Marisnick's head in the first inning. He beat the Astros' defensive shift in the third inning and roped a single to left field. He finished the day 2-for-3, and Moore is now batting 10-for-21 to start the spring, with five doubles, a triple, a homer and seven RBIs.
"I just feel good at the plate. Really just trying to slow the game down," Moore said. "Kind of got a new approach. Not trying to move a whole lot at the plate, not trying to do a whole lot, and just seeing the ball a lot better. It's paying off."
Moore is reaping the benefits of spending seven weeks in the Dominican Republic playing winter ball this offseason, which he said helped improve his timing.
"Anytime he gets a number of at-bats this is what he does, he hits," Nationals manager Matt Williams said. "The question has always been the last couple of years, 'How many at-bats can we get him? How much playing time can we get him?'"
Finding playing time for Moore this spring has not been an issue, with Jayson Werth and Nate McLouth both rehabbing from their respective shoulder surgeries.
The Nationals will have to make a decision on what to do with Moore, who is out of Minor League options. Barring a trade, he will either make their Opening Day roster or the team will have to cut him.
Moore provides versatility, since he can play the outfield and first base. In his career coming off the bench, however, Moore is batting .181/.244/.301 with two home runs, 11 RBIs and four doubles in 84 games.
But the Nationals plan to give Moore plenty of at-bats this spring to prove himself, and so far he is not wasting the opportunity.
"My body feels good, and at the same time you want to get as many [at-bats] as you can going into the season, if you're a bench player especially," Moore said. "You can't really simulate those in batting practice or anything."
Jamal Collier is a reporter for MLB.com. Follow him on Twitter at @jamalcollier. This story was not subject to the approval of Major League Baseball or its clubs.