Fireballer Leathersich tries to harness command
Mets left-hander set to start '15 in Vegas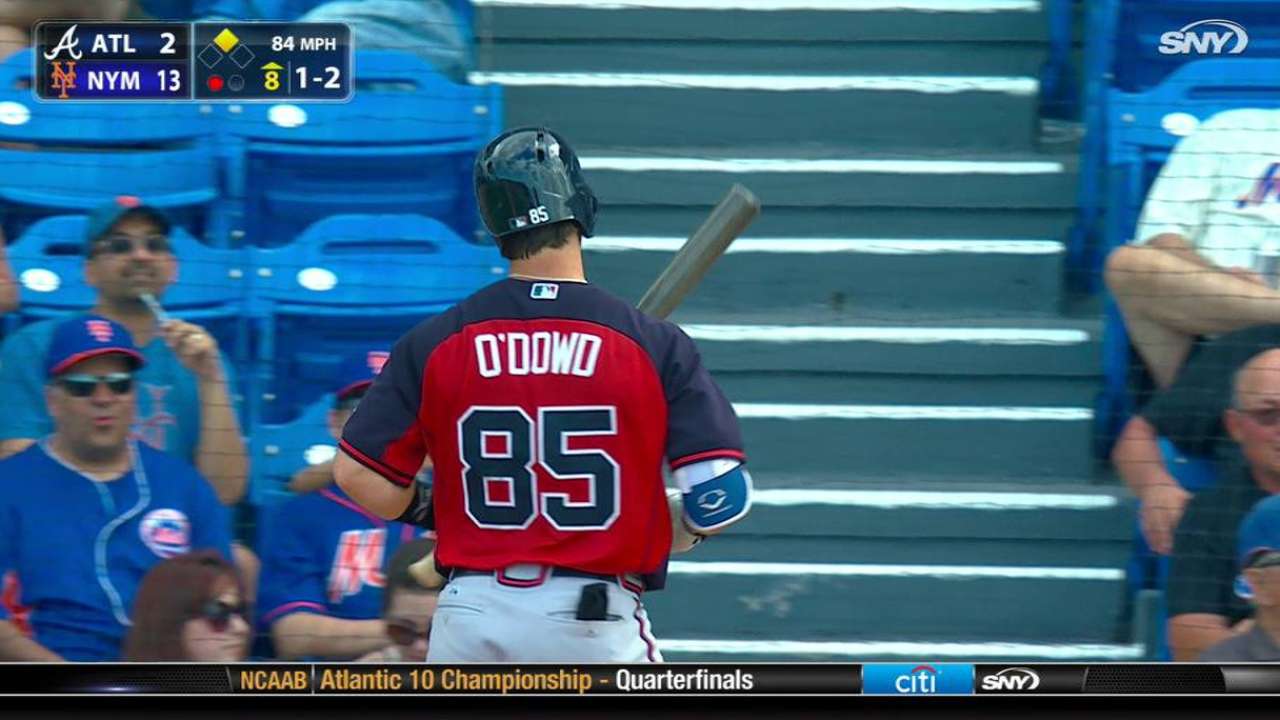 PORT ST. LUCIE, Fla. -- Since Sandy Alderson took over as general manager in October 2010 and Paul DePodesta followed as vice president of amateur scouting, the Mets are one of four teams not to have a Draft pick reach the Majors.
Jack Leathersich could be their first. At 5-foot-11, he does not boast an eye-popping fastball, nor does he look the part of a late-inning star. But the results have been there. Leathersich struck out 15.4 batters per nine innings last season, a rate similar to those of elite Major League left-handers Aroldis Chapman and Andrew Miller. He allowed less than a hit per inning and almost never gave up homers.
But Leathersich also walked 4.6 batters per nine, revealing why the Mets do not consider him a serious candidate to replace injured lefty specialist Josh Edgin in the Opening Day bullpen.
"My thing has always been command," said Leathersich, who pitched a clean inning Sunday against the Rays, thanks to Alex Castellanos' leaping catch at the left-field wall. "I know that. Everybody knows that. I've been working really hard to get that down, and I'm close. I'm closer than I've ever been right now."
Leathersich justifies this view by saying his fastball is down in the zone this spring, whereas his past problems stemmed from balls rising into what Terry Collins likes to call "the nitro zone." Still, the Massachusetts native has walked five batters in 3 2/3 innings, resulting in a 12.27 ERA. Though no left-hander has distinguished himself in Edgin's absence, Sean Gilmartin, Scott Rice and Dario Alvarez have all demonstrated better control.
Yet of that quartet, Leathersich boasts the most long-term potential. A former fifth-round Draft pick, Leathersich's strikeout potential is exactly the sort of thing the Mets need from the left side in their bullpen. Many within the organization are counting on him; Bobby Parnell, who endured similar control issues early in his professional career, recently spoke with Leathersich at length about how he overcame his wildness.
"When you're young and you're playing the game, it comes easy to you," Parnell said. "But when you hit higher levels, you run into speed bumps. You've got to figure out a way to get over those speed bumps."
Despite some rough edges at Double-A Binghamton last summer, the Mets pushed Leathersich to Triple-A Las Vegas because they felt it would force him to work more on becoming a pitcher, and less on trying to blow fastballs by people up in the zone. Opening this year back at Vegas, Leathersich will look to become that elusive first Alderson Draft pick to reach the Majors -- ahead of shortstop Matt Reynolds, catcher Kevin Plawecki and others on the cusp.
"Certainly mound time makes a difference, and experience against better hitters makes a difference," DePodesta said. "That's part of it -- just facing those better hitters, getting an understanding of what it is they're going to lay off on, what [they] have to do to be ahead of them more often, that type of thing. And I think he's really started making progress."
Anthony DiComo is a reporter for MLB.com. Follow him on Twitter @AnthonyDicomo. This story was not subject to the approval of Major League Baseball or its clubs.