MLB.com Columnist
Paul Hagen
Red Sox have to consider dealing Swihart for Hamels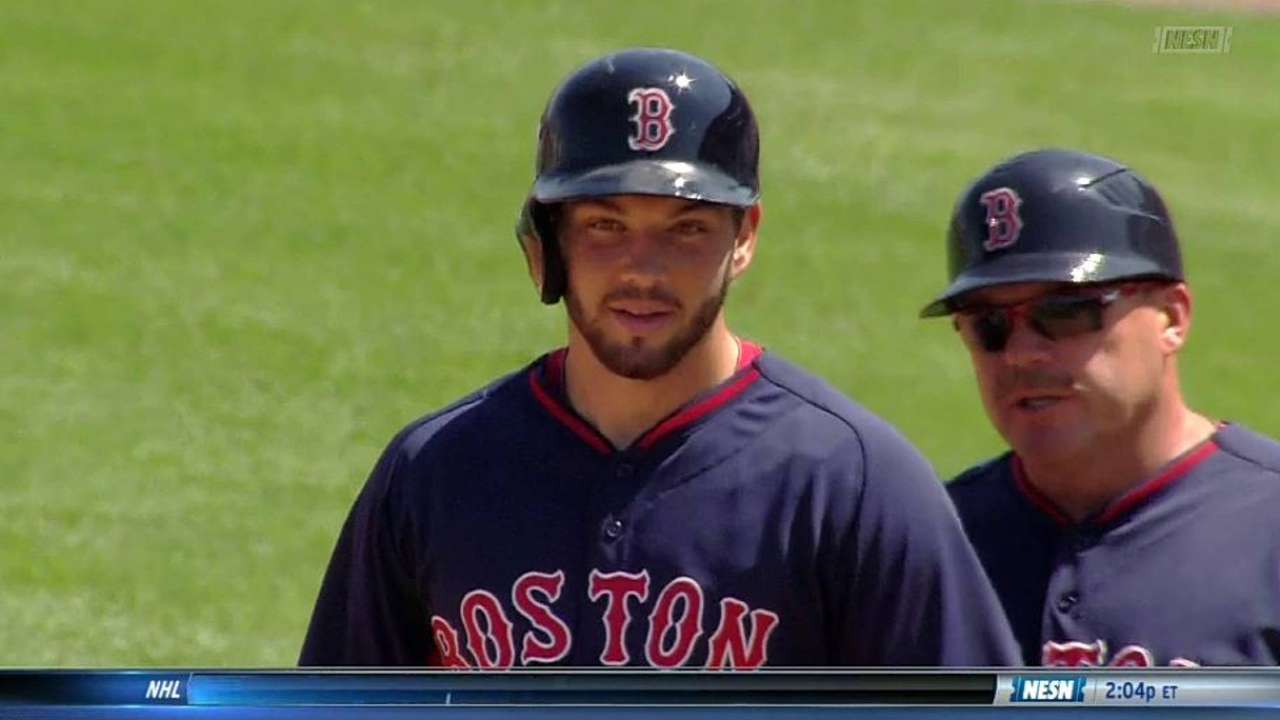 CLEARWATER, Fla. -- The Red Sox aren't going to trade touted catching prospect Blake Swihart. Not to the Phillies, not to anybody. No way. What part of no don't you understand? Forget about it. He's not going to be moved.
Unless, of course, he is.
Now, that's not to suggest that the Red Sox aren't telling the whole truth and nothing but when they insist, as manager John Farrell did, that they envision Swihart as being a part of their organization for a long, long time.
The reality, though, is that there's no upside in full disclosure. The club's bargaining position is only enhanced by publicly categorizing the switch-hitting 22-year-old as a can't-miss untouchable. Plus, their relationship with the promising youngster could be compromised if he got the impression that he was being dangled as bait.
Still, the speculation that the top catching prospect in baseball ends up as the centerpiece of a deal with the Phillies that would send ace lefty Cole Hamels to Fenway Park won't go away. And the pot was stirred all over again when it was learned that Swihart would start behind the plate against the Phillies in Sunday's Grapefruit League game at Bright House Field.
"This isn't a showcase," Farrell said before the game. "He's a Red Sox [player] and we think he'll be a Red Sox player for a number of years."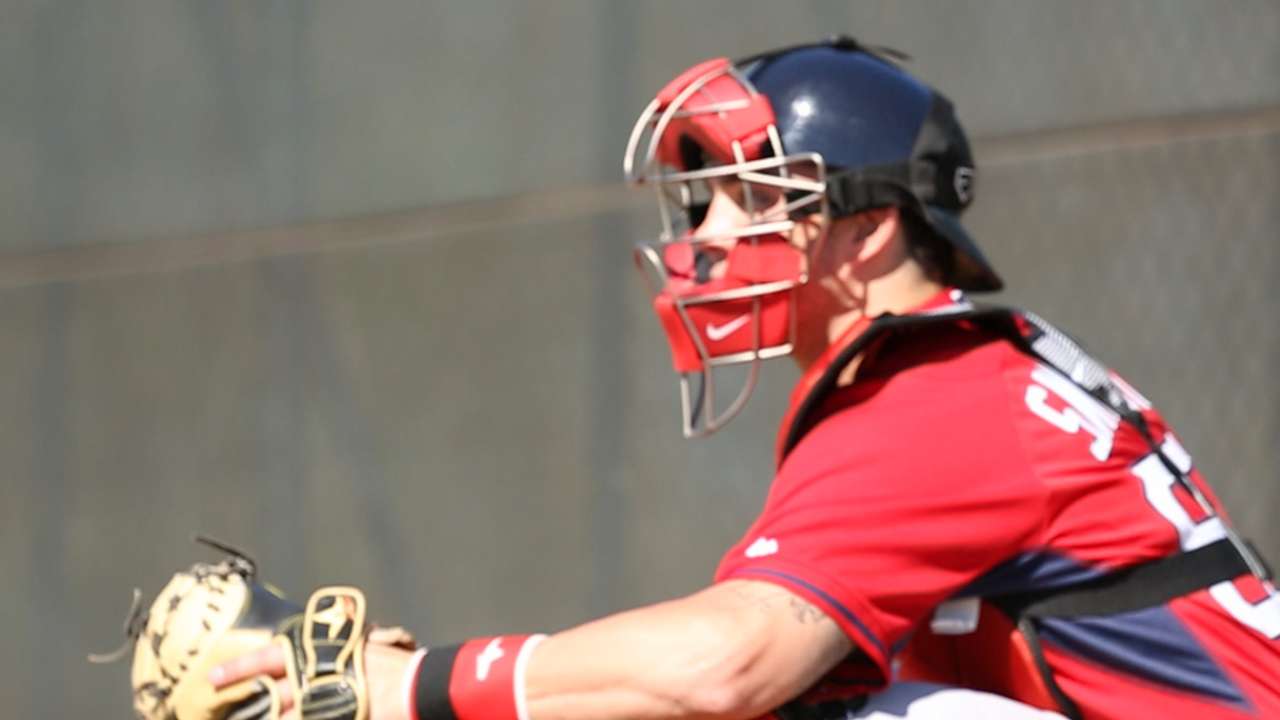 For what it's worth, another prospect the Phillies reportedly covet -- outfielder Mookie Betts -- did not make the long bus trip from Fort Myers.
Let's assume for the moment that the Red Sox really have no intention of trading Swihart, their 2011 first-round Draft pick. Situations can change and, when they do, minds inevitably follow.
Right now, the Red Sox seem content with a starting rotation of Clay Buchholz, Rick Porcello, Joe Kelly, Wade Miley and Justin Masterson, even though it lacks the proven No. 1 that Hamels would represent. Whether Boston remains satisfied with the status quo will naturally depend on the health and effectiveness of the starters once the regular season begins ... coincidentally at Citizens Bank Park in Philadelphia on April 6.
Beyond that, there are reasons to argue that the Red Sox would be foolish not to at least think long and hard about packaging Swihart to get Hamels.
There's the in-for-a-dime-in-for-a-dollar theory. Boston dug deep to sign free agents Hanley Ramirez and Pablo Sandoval this past offseason, pushing the franchise-record payroll well past the $179 million luxury tax threshold. And the Red Sox also blew past Major League Baseball's restraints on international signings when they inked Cubans Rusney Castillo and Yoan Moncada, moves that will severely limit their options in the overseas markets for the next three years.
If it's true that they want to rein in their payroll for 2016, they're acting like a team that's in it to win it this season. In that case, why wouldn't they do whatever it takes to get Hamels?
Look, Swihart may be the next Buster Posey. But the Red Sox have to at least consider the possibility that he might not be. Prospects are always question marks until they prove themselves at the big league level, and Swihart has only played 18 games above Double-A.
Not to mention that the Red Sox also have Christian Vazquez.
"I don't know that I've ever been around a catcher as good ... as far as catching, receiving and throwing," Farrell said of Vazquez.
Phillies general manager Ruben Amaro Jr. has been criticized in some precincts, often by anonymous sources, for overvaluing Hamels and demanding too much in return. That's just silly. Hamels is one of the best starting pitchers in baseball. The Phillies control his contract for four more years and are under no financial pressure to get the $96 million he has coming off the books.
Even if the Phillies are rebuilding, they're a much better team with Hamels than without him. Amaro has signaled that he won't make a deal unless he gets exactly what he wants in return. He's not going to take the best offer on the table just for the sake of making a trade or as a hedge against Hamels getting hurt. And he shouldn't.
For his part, Swihart took it all in stride when reporters surrounded his locker before the game.
"I think people are looking into it too much. It's just my turn to catch," Swihart said with a smile. "I think it's funny."
He said he hears about it all the time, but tries not to pay attention.
"Ultimately, I want to be here," Swihart said. "I want to play for this team. I'm pretty easygoing when it comes to hearing something. I can focus on one thing at a time. My mom and dad are all over that stuff on Facebook. I don't even have Facebook, so I let them worry about it and I just play the game."
A moment later, he was asked about the possibility of changing positions and responded: "I'll play wherever I need to play to get to the big leagues."
Just to clarify, he meant anywhere on the field, not anywhere geographically.
Paul Hagen is a reporter for MLB.com. This story was not subject to the approval of Major League Baseball or its clubs.