Rangers' Lewis joins NASCAR pal Harvick in victory lane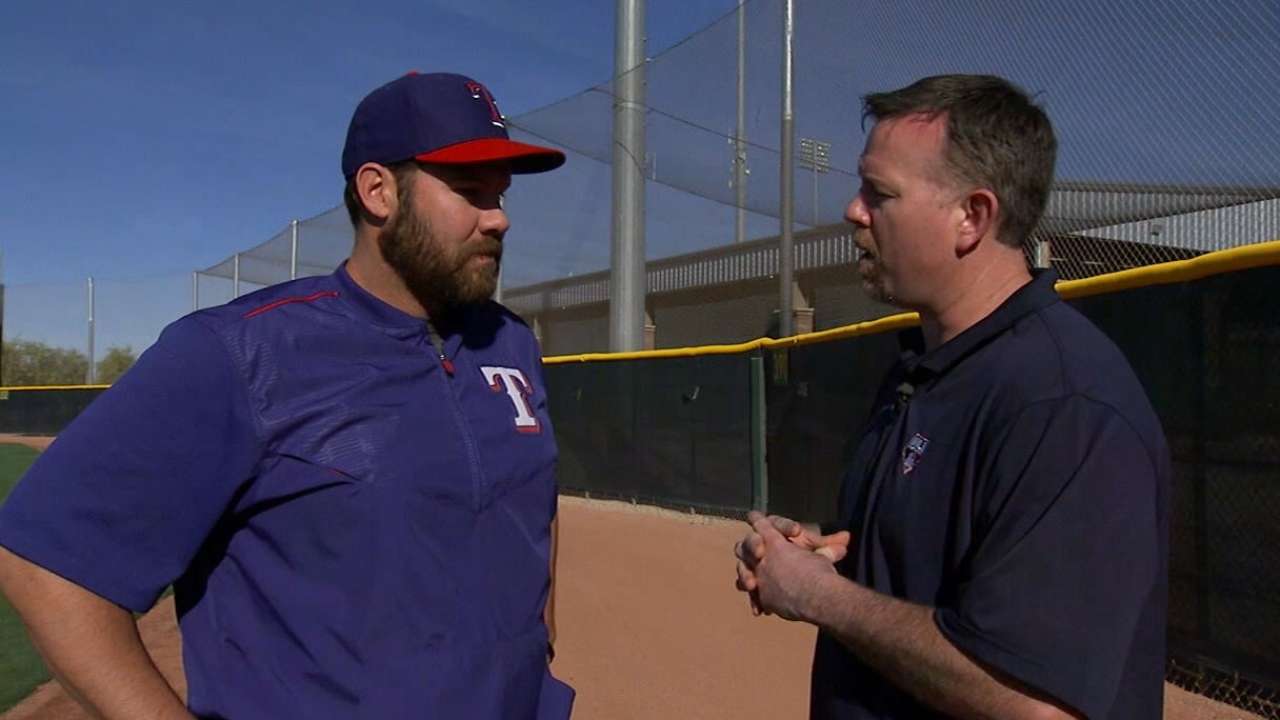 SURPRISE, Ariz. -- For the sixth straight year, Colby Lewis made it to the annual NASCAR race at Phoenix International Raceway. But this one turned out to be a moment he'll never forget.
His close buddy Kevin Harvick -- fellow Bakersfield native and reigning Sprint Cup champion -- continued his Phoenix domination by winning the CampingWorld.com 500.
Lewis was there to see it and sent the following text message after the race.
"So awesome, in victory lane," Lewis said. "Definitely a bucket list for me. Very, very special."
Lewis headed to the track after the Rangers' morning workout. As Lewis talked on Sunday morning about his relationship with Harvick as well as his own love of cars and racing, he might have known something special would happen. Harvick had won three straight at Phoenix and was sitting in the pole position.
"We're pretty good friends," Lewis said. "We text each other, talk to each other. I hung out with him on Friday night. I don't see him very often because our schedules are different. I knew of him back in Bakersfield, but he was three years older than me. But his cousin, Matt, caught me all through high school and college.
"Everybody in Bakersfield knows each other if you're into racing cars."
Lewis is into it in every way. He loves cars and he loves racing. This is a guy who has a Go-Kart track in his back yard. He also loves rebuilding vintage 1960s cars with Chevrolet being his favorite: he has a '63 Nova and a '65 Malibu among his current 10-car collection.
"I just enjoy cars and racing in general, I guess," said Lewis, who once got to ride in a car on the famed Daytona Speedway. "It was cool, but I want to do it by myself someday."
Lewis had done some racing back in the day in Bakersfield, where there are two dirt tracks along with the Bakersfield Speedway and the Autoclub Famoso Raceway. That's the local drag strip where on a special nights, the average car enthusiast can pay $20 and let his own car go flying down the quarter-mile strip. "I've done that," Lewis said. "If you want to get the adrenaline up, that's the way to go. The paramedics are there in case something happens."
The fastest that Lewis has gone is 160 mph at an old World War II landing strip in Shafter, Calif. Occasionally, Shafter Airport officials will turn its half-mile runway into a "no-fly" zone and let local racers take a turn.
"I don't speed on the streets," Lewis said. "I go with the flow. That's why we have race cars. You never know what can happen, like somebody pulling out in front of you."
Lewis said he hasn't raced in over 10 years. He certainly hasn't done any lately while recovering from multiple surgeries. But when you have had as many physical issues as he has had in his career, what's to fear from a dirt track in the San Joaquin Valley? This is the area of the country that inspired the classic movie American Graffiti, which ends with a spectacular drag race outside the valley town.
"I will probably race someday when I retire," Lewis said. "Maybe an asphalt car rather than a dirt track. Less maintenance, it doesn't tear your car up as much."
That is very sensible, but on Sunday he was just another avid fan at the Campingworld.com 500. Pitching still comes first for Lewis, but it turned out to be a special day when his Bakersfield buddy took another checkered flag and he was there to witness it.
T.R. Sullivan is a reporter for MLB.com. Read his blog, Postcards from Elysian Fields, and follow him on Twitter @Sullivan_Ranger. This story was not subject to the approval of Major League Baseball or its clubs.