Haren beginning to feel at home in Marlins uniform
Reunion with batterymate Mathis brings familiarity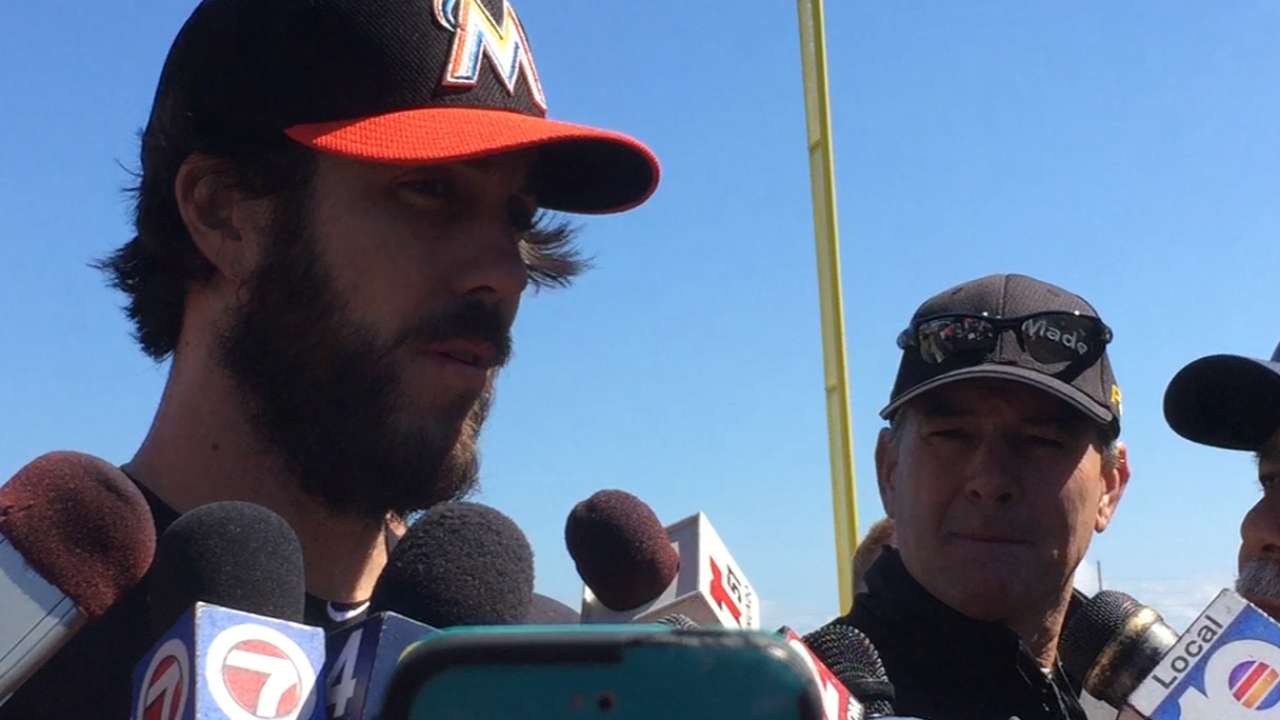 JUPITER, Fla. -- Dan Haren may be new to the Marlins' organization, but the 34-year-old certainly is no stranger to catcher Jeff Mathis. The two were previously teammates in 2011 with the Angels, and already they are working in tandem in Spring Training.
For his second straight start, Haren threw to Mathis. And once again, the results were encouraging. The right-hander tossed four scoreless innings in Miami's 4-2 win over the Tigers on Sunday at Roger Dean Stadium.
"We were pretty much on the same page already," Haren said. "He's really good back there. Ask anyone who has ever thrown to him. I'm pretty sure they'd have good stuff to say. I've thrown to maybe 20-30 catchers in my career, at least. He's up there in the top one or two."
The two have clicked in their two Spring Training appearances together. Haren has combined for seven scoreless innings, counting his three innings against the Nationals on March 10.
In three Grapefruit League starts, Haren has allowed two runs in nine innings with six strikeouts and no walks.
The Marlins are banking on Haren settling in as one of the anchors of their rotation.
Miami acquired Haren along with Dee Gordon and Miguel Rojas from the Dodgers at the Winter Meetings in December.
Initially, there were concerns that Haren may opt to retire if he wasn't traded to a team on the West Coast. That talk no longer exists. Still, there has been speculation that Haren, who is throwing well, could still be dealt.
But the Marlins have no intentions of dealing the veteran right-hander.
"Obviously, we traded for him, so there is something they liked," Mathis said. "I know what kind of competitor he is. I know what he brings to the table every fifth day, and what he can do inside the clubhouse as well. I think he's going to be a big piece for us."
Not overpowering, Haren relies on pinpoint command. His fastball was 85-87 mph on Sunday, and he'd mix in an 80 mph changeup, and his curveball floated in at 72 mph. Haren effectively works both sides of the plate, and adds a cutter, that was clocked at 82-85 mph on Sunday.
On a stifling hot Sunday, he threw 58 pitches.
"It felt like a lot," Haren said. "It was hot. Last inning, it was a little tougher to get loose. But that's what it's for, to build up. I think the best way to do that is getting up and down between innings. I'm sure I'll be a little sore tomorrow. That's the only way to get into game shape."
Joe Frisaro is a reporter for MLB.com. He writes a blog, called The Fish Pond. Follow him on Twitter @JoeFrisaro. This story was not subject to the approval of Major League Baseball or its clubs.