Camp notes: Choo's versatility gives Rangers options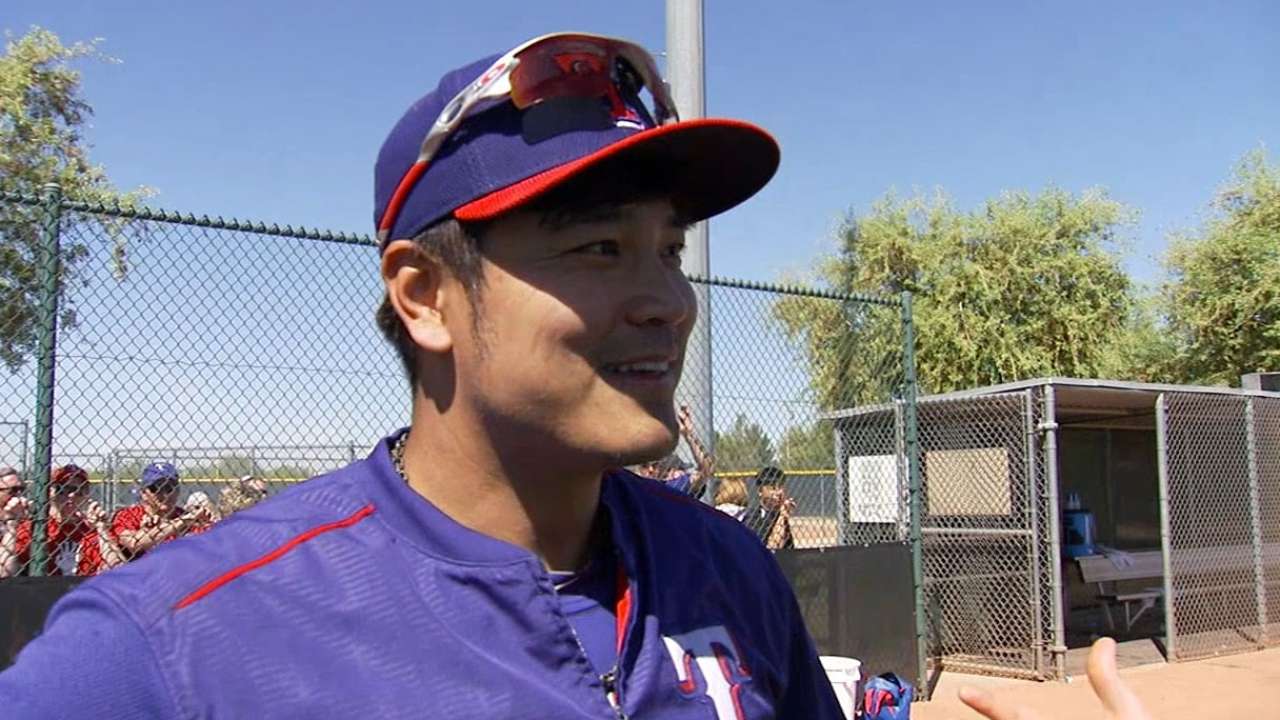 SURPRISE, Ariz. -- With Leonys Martin targeted for the leadoff spot, the next order of business is for manager Jeff Banister to find a spot for Shin-Soo Choo. That could be a moving target.
Choo batted third against the Brewers on Sunday, with Elvis Andrus hitting second, Adrian Beltre at cleanup and Prince Fielder in the fifth spot. The idea behind this order is to get three "table-setters" in front of two big bats.
There are other possibilities, and Banister is still experimenting. Choo allows him to tinker because he has the high on-base percentage for the leadoff spot, the hitting ability to bat third and the power to be in the middle of the order.
Choo is one of four active players with at least 100 career home runs and 100 stolen bases to go along with a batting average higher than .280, an on-base percentage higher than .380 and a slugging percentage higher than .450. (The others are Alex Rodriguez, Matt Holliday and Andrew McCutchen.)
"It's about how we can balance his on-base with his hitting and power," Banister said. "He possesses all of that. He gives you the opportunity to have a hitter who can hit in multiple places, which is really nice to have. Leonys nailing down the leadoff spot allows us to have that."
Worth noting
• Tanner Scheppers, who has been sidelined with a sprained right ankle, is scheduled to pitch against the Dodgers on Tuesday. It will be his first outing of the Spring.
• Left-hander Ross Detwiler, dealing with a bruise on his right hand, has been cleared to throw. He is scheduled to throw a bullpen on Tuesday and could pitch in a game as early as Thursday.
• Outfielder Delino DeShields said his right hamstring is 100 percent, but the Rangers are holding him out at least one more day.
• DeShields on being a Rule 5 Draft pick and a chance to make a Major League team: "I'm just coming out and doing what I have been doing: have fun and let my ability speak for itself. That's what I try to do every day. Hopefully it will make a good impression. If you let it drive you crazy, it will distract you from how you play on the field. The situation is good for me because I have a chip on my shoulder. It makes me want to show these guys what I am capable of."
• Anthony Ranaudo, who came out of his last start after 44 pitches when his elbow "grabbed" him, is scheduled to throw two innings and 30 pitches in a Triple-A game on Monday. Colby Lewis is pitching in the same game.
• Infielder Hanser Alberto (bruised left triceps muscle) is available again to play in games.
• Rangers players often begin showing up at the clubhouse around 5 a.m. MST every morning for a workout that usually begins at 9:30. On Sunday, Banister told everybody not to come in until at least 8. Banister said, "These guys have been going after it hard. They need to recharge."
• The Rangers received a progress report from Major League Baseball on the pace of game initiative, what is working and what needs to get better. The Rangers have had 10 of 12 games finish in under three hours. Banister said none of the players have complained but said, "but the lights aren't on. We haven't played in a game that's real."
T.R. Sullivan is a reporter for MLB.com. Read his blog, Postcards from Elysian Fields, and follow him on Twitter @Sullivan_Ranger. This story was not subject to the approval of Major League Baseball or its clubs.