Pitching prospect Newcomb among seven Angels cuts
21-year-old left-hander will be stretched out in Minor League camp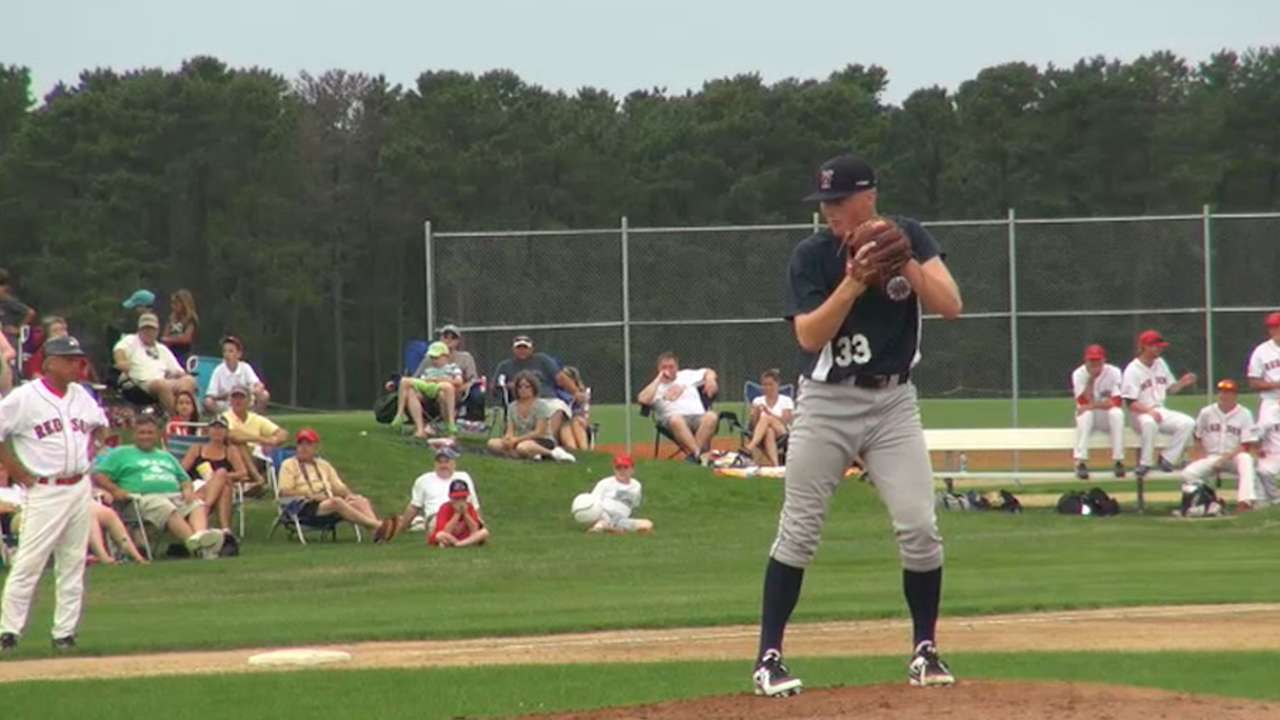 GLENDALE, Ariz. -- Prized pitching prospect Sean Newcomb was among seven Angels cuts on Sunday morning, which was no surprise. The 21-year-old left-hander is nine months removed from pitching in college and entered Major League camp with only six starts on his professional resume.
He has innings to throw and release points to find, so he'll spend the rest of the spring getting stretched out in Minor League camp and will start the regular season at one of the Class A levels and begin working his way up the ladder.
"I think he's going to figure this out," Angels manager Mike Scioscia said of Newcomb. "His talent is real. He has a chance to be special."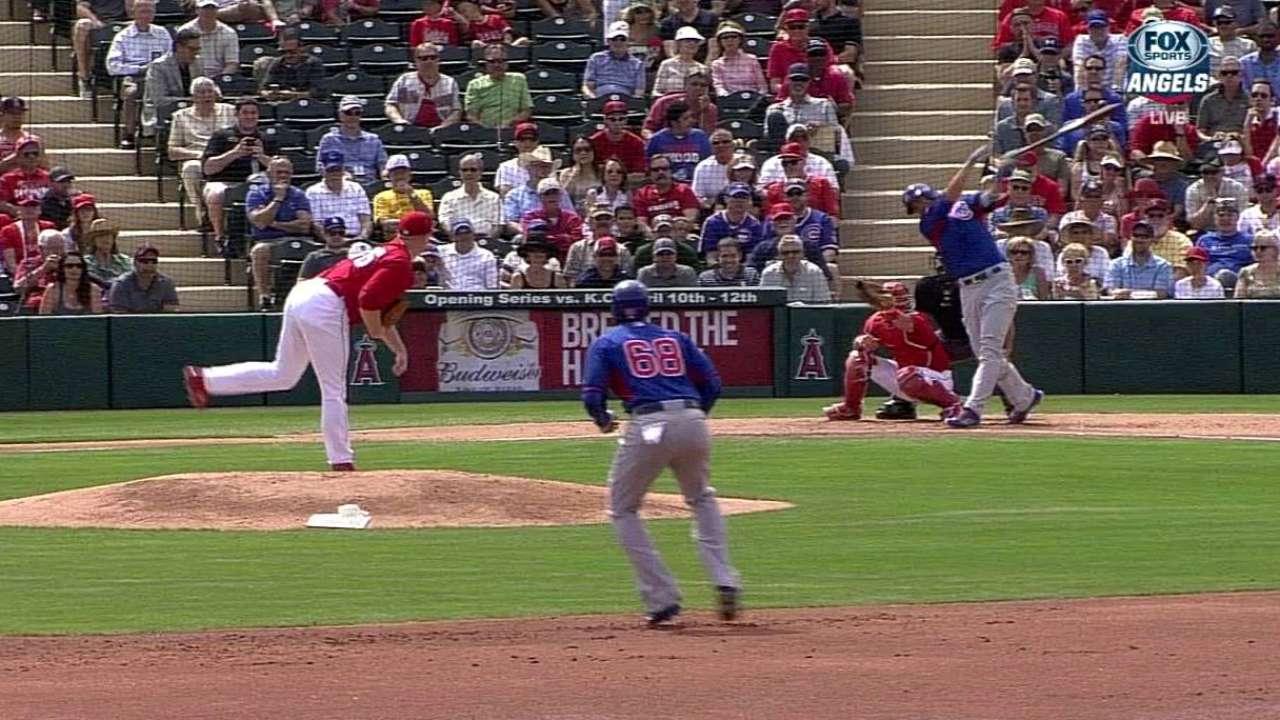 The Angels' Spring Training roster has been trimmed from 63 to 51 in the last two days, with three starting pitchers (Albert Suarez, Nate Smith, Newcomb), three relievers (Edgar Ibarra, Trevor Gott, Atahualpa Severino), two catchers (Stephen McGee, Jackson Williams), three outfielders (Alfredo Marte, Roger Kieschnick, D'Arby Myers) and one shortstop (Eric Stamets) getting reassigned to Minor League camp over the weekend.
Newcomb, drafted 15th overall last June, was only working with the big club to get a feel for the Major League environment and give the coaches an up-close look. He pitched a scoreless inning of relief against the Royals last Sunday and gave up two runs in two-thirds of an inning in a fill-in start against the Cubs on Thursday.
Ranked as the No. 68 overall prospect by MLB.com, Newcomb has impressed with his size -- 6-foot-5, 240 pounds -- and the ease with which his fastball reaches the mid-90s, but there's work to be done.
"He needs some refinement," Scioscia said. "He has to find his release point. Part of it is, 'How do you get back in sync when you lose it?' There's a lot of things in a pitcher's progression that he needs to figure out."
Some additional notes from Sunday:
• Hector Santiago was pulled after taking a Conor Gillaspie comebacker to the left forearm with two outs in the third, but the move was precautionary and the 27-year-old left-hander was already close to reaching his pitch limit for the day. Santiago is confident he can take the ball again in five days, saying, "I felt like I could've kept going."
• Angels closer Huston Street pitched for the first time in seven days after battling the flu and struggled, giving up a single and back-to-back walks in two-thirds of an inning. Scioscia said, "it was just one of those work days for him" and "like anybody, it takes a little time to get your timing down and make pitches."
• Cesar Ramos, whom Scioscia would like to use as a lefty specialist, gave up a homer and a single to a couple of lefties in Sunday's sixth inning. Scioscia said Ramos "didn't really have his curveball in the game today and didn't look quite as crisp."
• Taylor Featherston, selected from the Rockies in the Rule 5 Draft with the hope that he can be the utility infielder, made a slick backhanded play on a hard-hit ball to third base, the position at which he has the least experience. Scioscia has been impressed with how quickly Featherston is getting comfortable at the hot corner, saying "he looks great in practice and looks great in games. That's certainly something we're looking at very carefully."
• Mike Trout stole a couple of bases on Sunday, giving him three on the spring, but Scioscia said he isn't looking for Trout to be any more aggressive on the basepaths this year. "I don't think it's any different," Scioscia said. "I don't think it's anything we're putting more emphasis on. The numbers are going to be the numbers. Mike is going to steal bases when they're important to us and when there's opportunity to."
• The Angels have a scheduled day off on Wednesday, but Matt Shoemaker and Garrett Richards will get some work in, pitching in a seven-inning intrasquad game at Tempe Diablo Stadium that will begin at 11 a.m. MT and is open to the public.
• Andrew Heaney and Nick Tropeano, competing for the fifth spot in the rotation, will both pitch Thursday. Heaney will likely start against the Dodgers in Glendale, Ariz., and Tropeano can pitch in a "B" game at the Angels complex.
• Cuban shortstop Roberto Baldoquin will play in games at Minor League camp when their schedule begins on Thursday, but in the meantime, the 20-year-old has spent his mornings working out on the Major League side getting acclimated to the Angels' system. Erick Aybar has been taking him under his wing.
Alden Gonzalez is a reporter for MLB.com. Read his blog, Gonzo and "The Show", and follow him on Twitter @Alden_Gonzalez. This story was not subject to the approval of Major League Baseball or its clubs.