'It stinks': Walters' injury costs shot at Opening Day roster
Rehab from torn oblique to last several weeks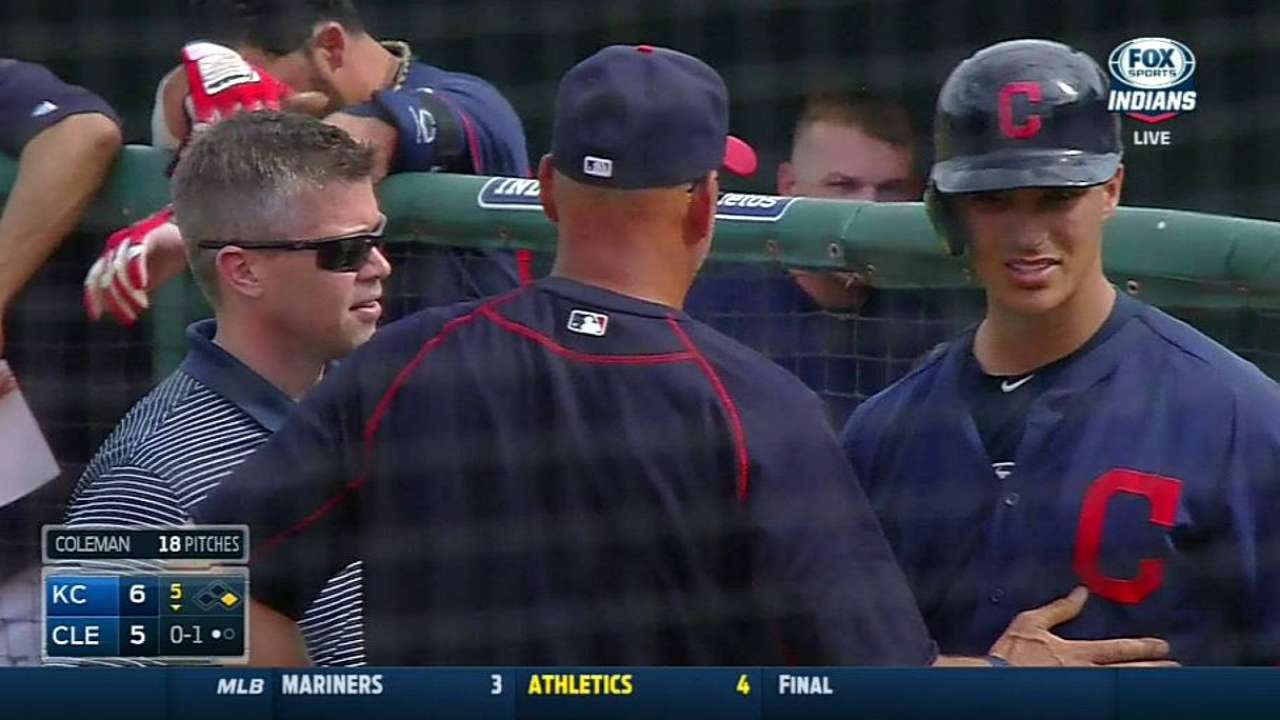 GOODYEAR, Ariz. -- Zach Walters should have known that Thursday was going to be a bad day when he cut his arm on a soap dish in the shower. A few hours later, he tore his right oblique on a swing in the fifth inning against the Royals. Then, while being examined by the medical staff, he received a random drug test.
"And then I had to pay my car payment," Walters said. "I was like, 'Oh my God. What a day.'"
Walters' bad day cost him the chance to break camp with Cleveland's Opening Day roster. His side injury is expected to keep him off the field for at least three to four weeks, though a strained oblique can often require more time to recover and return to game shape.
The 25-year-old Walters describes himself as "impatient," so the frustrated demeanor he displayed on Sunday morning was understandable. The versatile young player's Spring Training will now consist of daily trips to the training room, where he will follow the staff's orders to make a gradual return from his injury.
"They're trying to take it pretty slow," Walters said. "The guys have all been supportive about it, like, 'Just don't rush it. Don't rush it.' As far as right now, whatever they want me to do, I feel all right. But, they're going to hold my hand through all that."
Walters said he initially thought he felt back tightness after making a defensive play up the middle, while playing second base in the game against Kansas City. When the switch hitter took a swing from the left side in the fifth inning, he immediately knew that there was more to the injury. Walters left the game and an MRI exam later revealed a high-grade strain of his oblique.
Walters' main source of frustration stems from how hard he worked over the offseason to fully recover from the right intercostal injury he sustained last September, and to put himself in a position to make the Opening Day roster as a bench player.
Walters was working at all four infield positions this spring and can also play the corner outfield spots.
"I took all offseason to work my [rear] off and basically do everything I could right," said Walters, who had 27 home runs in 395 at-bats between the Majors and Triple-A last season. "I ate good and trained hard. For this to happen, it stinks."
The only silver lining for Walters is the timing of his setback.
"It's maybe like, 'In all things, good things.' It's a blessing in disguise," he said. "It's hard to see that silver lining right now, but I guess right now would be the best time. I wouldn't want it to happen towards the end of the season if we're clinching a spot, getting ready for the playoffs or fighting for a spot."
Jordan Bastian is a reporter for MLB.com. Read his blog, Major League Bastian, and follow him on Twitter @MLBastian. This story was not subject to the approval of Major League Baseball or its clubs.