Howard, Phillies power up to rout Red Sox
First baseman hits RBI double, mashes one of Philadelphia's three home runs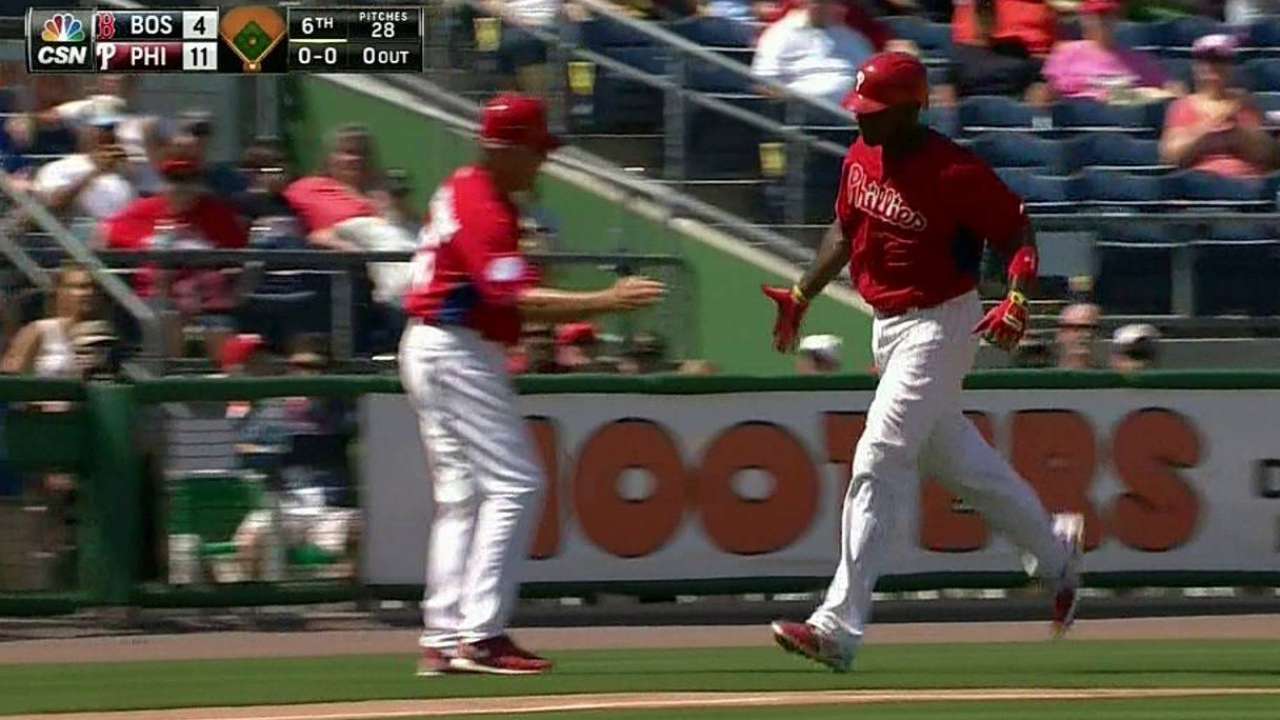 CLEARWATER, Fla. -- The Phillies had showed very little power through nearly two weeks of Grapefruit League games.
But they hit Red Sox right-hander Justin Masterson in Sunday's 11-4 victory at Bright House Field.
Ryan Howard hit a two-out double into the right-field corner in the first inning to score Freddy Galvis from first. Carlos Ruiz followed with a long single off the right-field wall to score Howard to make it a 2-2 game.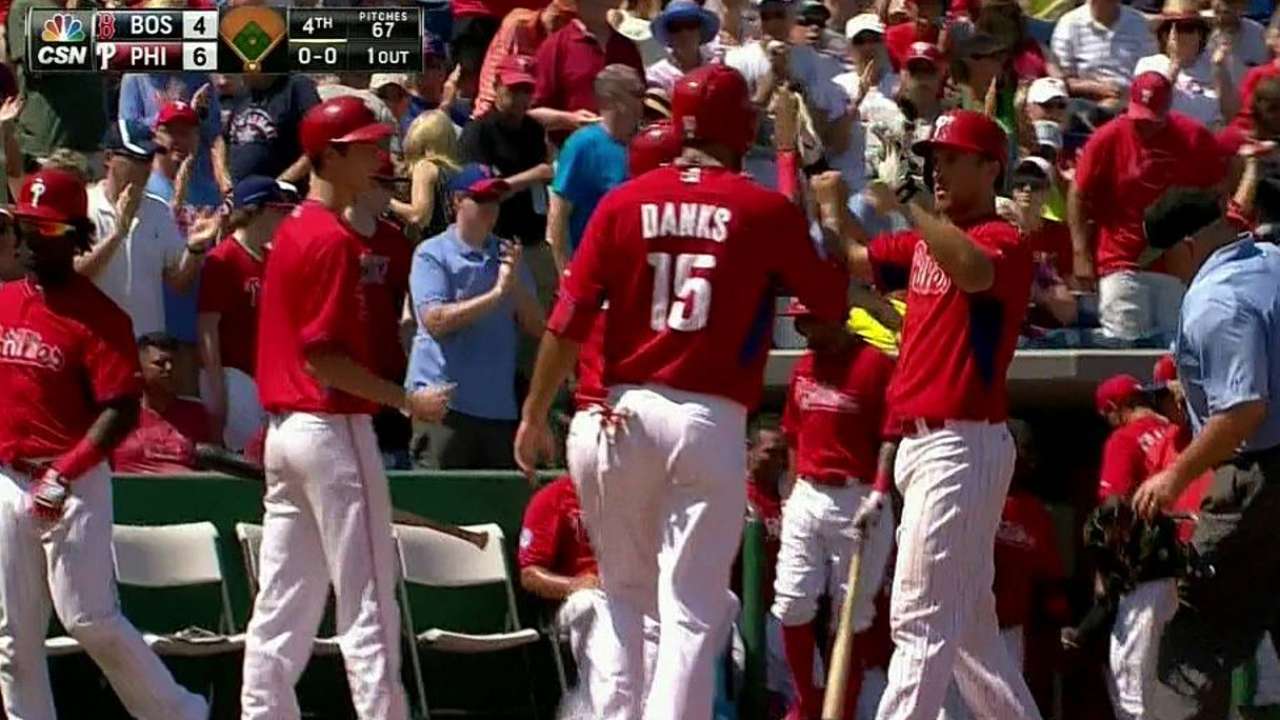 Non-roster invitee Jordan Danks hit a solo homer to right field in the second inning to hand the Phillies a 3-2 lead. Non-roster invitee Cord Phelps hit a three-run homer to right field in the fourth to give the Phillies a 6-4 lead. Howard took Wade Miley deep in the sixth for a solo shot.
"It's good to see good at-bats, aggressive at-bats," Phillies manager Ryne Sandberg said. "That's where I think the long ball comes into play -- and doubles, things like that. And some small ball mixed in there. We're making some progress the last couple days swinging the bats."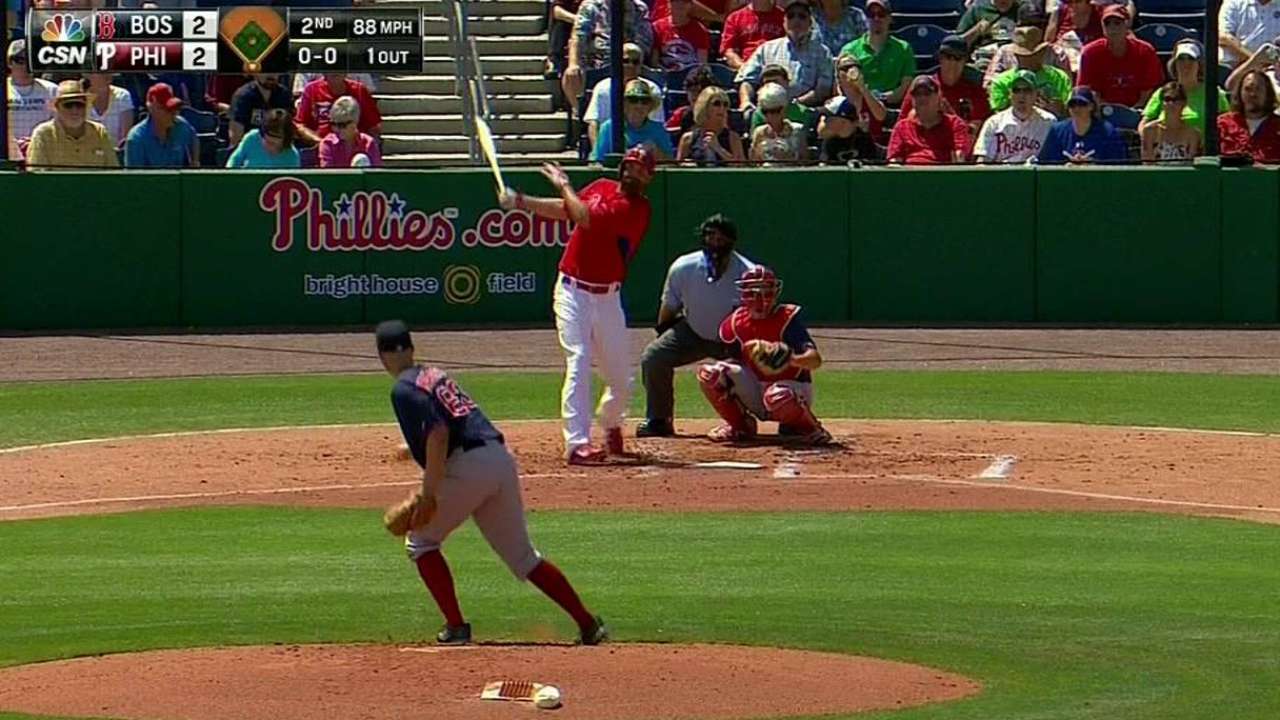 The Phillies have eight home runs this spring. Interestingly, five are from non-roster invitees: Andres Blanco (one), Brian Bogusevic (two), Xavier Paul (one), and Phelps (one). Howard (two) and Danks have the other three. The Phillies entered the afternoon with a .557 OPS, the lowest in baseball.
Masterson allowed seven hits, six runs, two walks and two home runs in 3 1/3 innings. Phillies starter Miguel Alfredo Gonzalez allowed three hits and two runs and struck out two in three innings. He allowed a two-run homer to Daniel Nava in the first.
Up next for the Phillies: Phillies left-hander Cole Hamels starts Monday's Grapefruit League game against the Orioles at Bright House Field at 1:05 p.m. ET, live on MLB.TV. He has a 3.60 ERA in two starts this spring as he lines up to be the team's Opening Day starter. Also scheduled to pitch for the Phillies are Ethan Martin, Cesar Jimenez, Jake Diekman and Justin De Fratus.
Todd Zolecki is a reporter for MLB.com. This story was not subject to the approval of Major League Baseball or its clubs.