Bourgeois out 4-6 weeks with shoulder fracture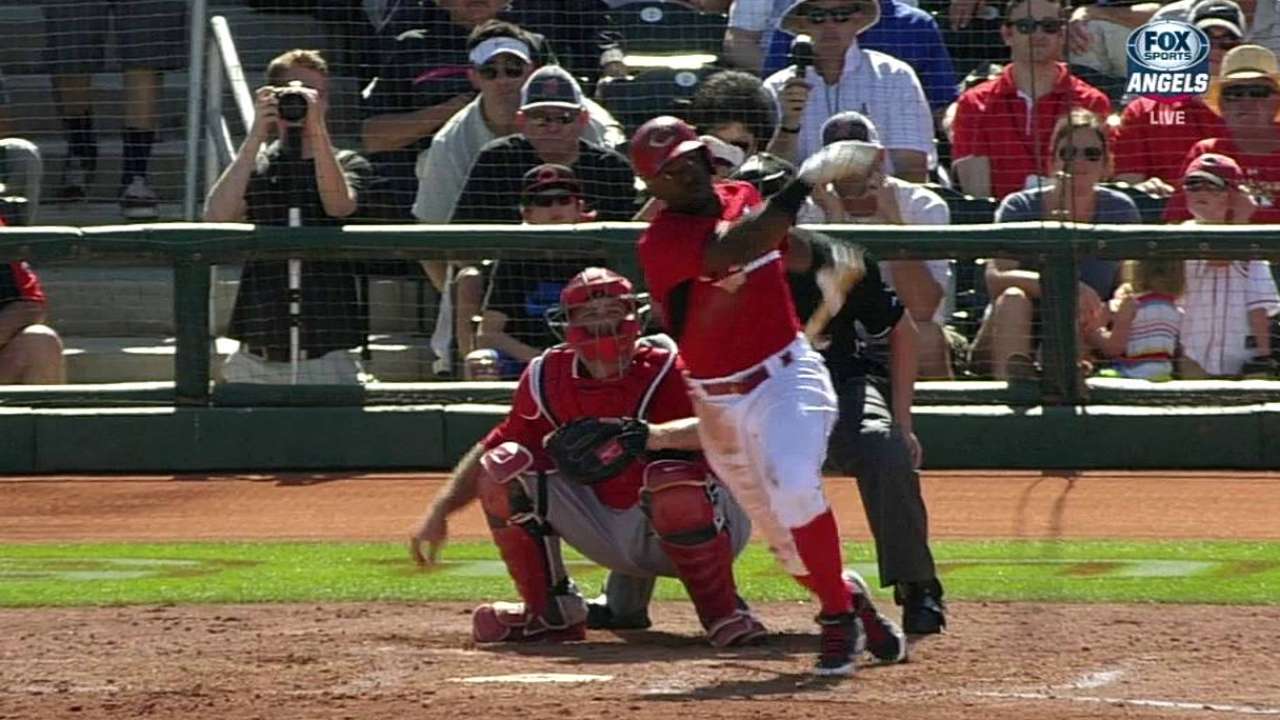 GOODYEAR, Ariz. -- The reason Reds outfielder Jason Bourgeois crumpled to the ground in pain after laying down a bunt on Saturday became clear on Sunday, when it was revealed that he has a fracture in his left shoulder. The injury is expected to keep him out of action for 4-6 weeks.
Reds manager Bryan Price said it's believed the injury to the scapula, or shoulder blade, was originally sustained when Bourgeois went diving into a base in one of the first games of Cactus League play.
"He had a little bit of soreness, and he treated it and we kept him out for a day or two," Price said. "He said he was good to go, 100 percent. But, unbeknownst to us, he had some sensation in there that wasn't debilitating and didn't prevent him from being able to play."
Eventually, it hit a critical point, and medical tests revealed the fracture. Price said the 32-year-old outfielder had been playing through whatever pain he had, in hopes of continuing to make an impression in camp.
"He wanted to go out there and compete," Price said. "He knows [there are] jobs to win on the team, and I think he really wanted to play and didn't want to make a [big] deal of it. Unfortunately, there probably were some issues, and they were exacerbated yesterday when he tried to get out of the box, I guess."
With Bourgeois, whose arm was in a sling on Sunday, out of the picture for Opening Day, non-roster invitee Brennan Boesch is among those who could be seeing more time in center field behind Billy Hamilton. Hamilton was back in the lineup on Sunday after some shoulder problems of his own.
Boesch has logged exactly one inning of work in center field in the Majors, but he had 20 appearances there last season with Triple-A Salt Lake in the Angels organization.
"I think he's looked very comfortable going into both gaps, going back on a ball, throwing," Price said of Boesch, 29. "He looks like a natural in center field."
John Schlegel is a national reporter for MLB.com. You can follow him on Twitter @JohnSchlegelMLB. This story was not subject to the approval of Major League Baseball or its clubs.