Clark: A-Rod part of MLBPA 'fraternity'
Executive director of Players Association visits Yanks' clubhouse to discuss variety of issues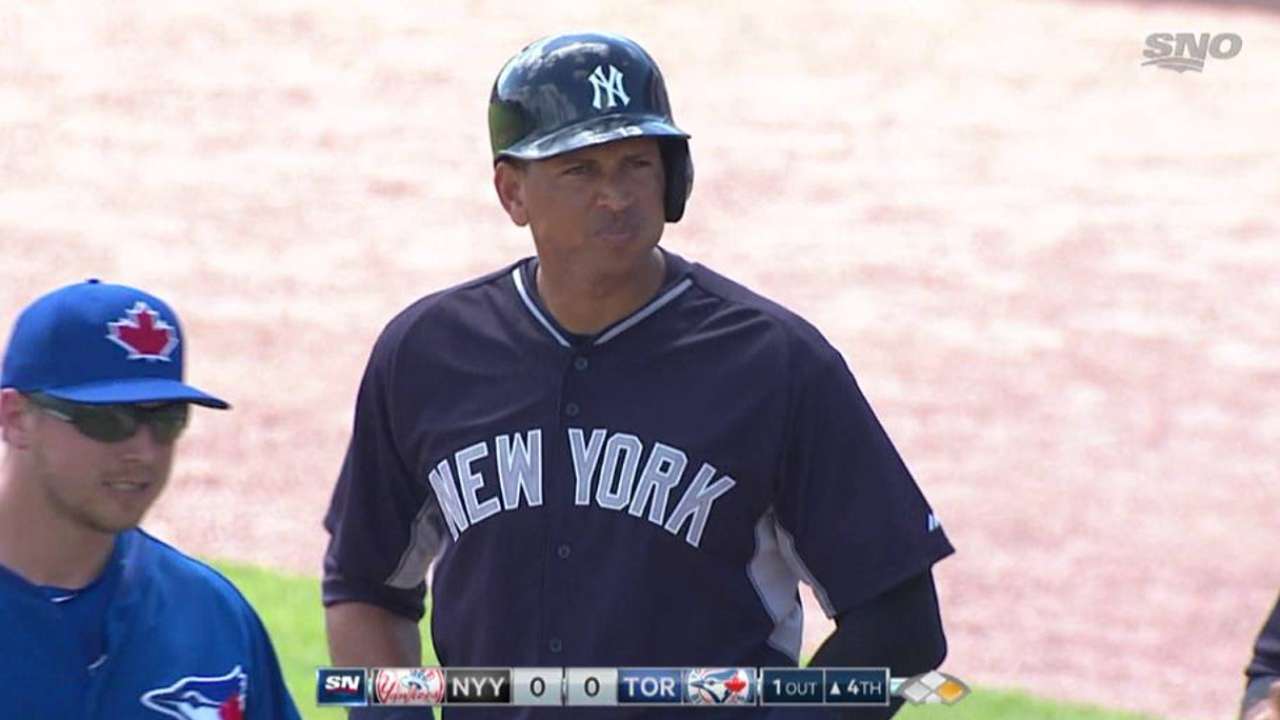 TAMPA, Fla. -- Alex Rodriguez will be watched closely this year by the Yankees, fans and media as he comes back from a season-long suspension. But in the eyes of the Major League Baseball Players Association, A-Rod is simply another member of the union.
The Yankees met for about 90 minutes Sunday morning with MLBPA executive director Tony Clark and his staff, who addressed the state of the players' union and a number of the players' most pressing concerns. Rodriguez and his legal team withdrew their lawsuit against the MLBPA about 13 months ago, after which he was declared a member in good standing.
Clark was asked after Sunday's meeting if he and his staff have sensed any lingering resentment from players regarding Rodriguez's decision to sue the union.
"The guys that I have spoken to -- and it's interesting that it's coming back up -- a lot of guys have moved forward. A lot of the commentary that I've heard this spring has been positive. I'm hopeful that continues," Clark said. "Alex has been a member, he continues to be a member of our organization, and we'll continue to defend and protect his rights the way we would any player.
"He's a part of the fraternity, indifferent to any of the challenges that may have been in place over the last few years."
Clark, who made his Major League debut a year after Rodriguez, said he has spoken "quite a bit" with his former teammate recently.
Rodriguez, 39, was suspended for 211 games in August 2013 for multiple violations of the Joint Drug Agreement and the Basic Agreement. The penalty was reduced to 162 games in January 2014, and Rodriguez sat out all of last season.
"As much as anything, having an opportunity to see him back on the field, I'm happy for him," Clark said. "Seeing the shape that he's in, I'm happy for him."
Clark and his staff are nearing the end of their annual trip through each club's Spring Training camp. Among the hot topics with players this year, he said, are the new pace-of-play rules, the evolution of instant replay and the home-plate collision rule and the league's domestic violence policy.
"As you might expect, anything that's been on the front burner over the course of the last few months is often a topic of discussion in the clubhouse. Some clubhouses tend to lock in more on other issues than some others, but having the open dialogue and getting the input from the guys is important," Clark said. "Having the ability to make the rounds at this time of year as everybody is still getting acclimated and settled in has always been a plus. This meeting here was full of commentary from the guys with questions, as all of them have been."
Adam Berry is a reporter for MLB.com. Follow him on Twitter at @adamdberry. This story was not subject to the approval of Major League Baseball or its clubs.