Prospect Urena has tools to make big league impact
Right-hander sent down to Triple-A, but could return this year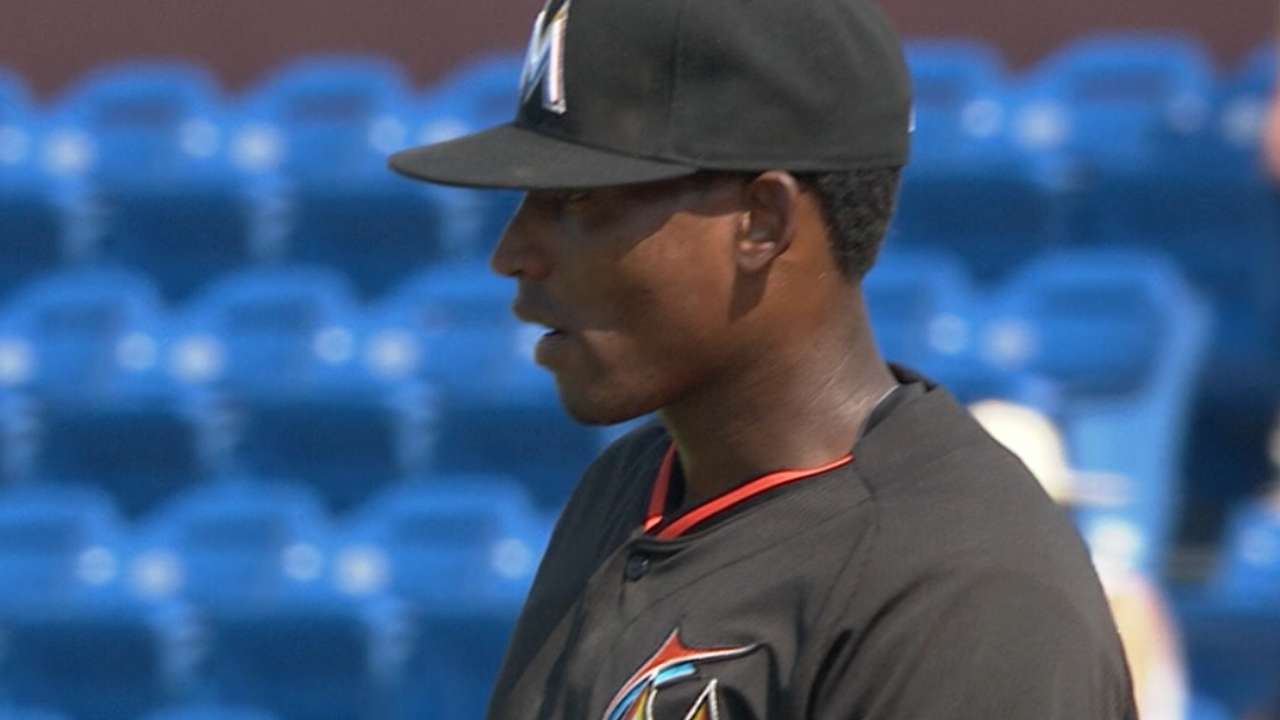 JUPITER, Fla. -- At this stage of Spring Training, it was an easy decision for the Marlins to send down promising pitching prospect Jose Urena. But the way the 23-year-old is progressing, it's only a matter of time before he becomes a fixture on their staff.
Urena is a hard thrower from the Dominican Republic, who is rated by MLB.com as Miami's No. 3 prospect. On Sunday, he was optioned to Triple-A New Orleans.
The move was not a surprise, because the organization wants him to develop further. In the brief glimpses the Marlins saw of him in big league camp, the right-hander has shown plenty of promise.
How close is he to being big league ready?
"Real close," manager Mike Redmond said. "I think we all saw that with his fastball. His pitchability. As with any young guy, you always work on consistency, especially with his off-speed pitches. He has a big league fastball. I think you saw that with the way he pitched, and the games he got in."
Urena was 13-8 with a 3.33 ERA in 162 innings last year on Double-A Jacksonville's Southern League championship team.
"He's a great competitor," Redmond said. "It's something we really look at. It's hard for other people to measure. But this guy is a big-time competitor."
Urena is a product of Miami's international operation, signed as a 17-year-old in 2009. In two Grapefruit League innings, he struck out three and walked one without allowing a run.
In New Orleans, he will be a starter. There is a chance he could make a big league start this year. Ideally, the organization would like for him to have a full season in Triple-A.
"That's part of what we've talked about, why we brought in the depth is we don't want to rush these guys," Redmond said. "Give them the experience they need in the Minor Leagues, so when they get here, they're ready to stay. That is what's important.
"At this point, the innings are getting tougher for the younger guys. But I was really impressed with Urena, and his stuff, and really getting a chance to see him for the first time."
Joe Frisaro is a reporter for MLB.com. He writes a blog, called The Fish Pond. Follow him on Twitter @JoeFrisaro. This story was not subject to the approval of Major League Baseball or its clubs.