Berrios, Buxton among 13 Twins cut
Two of team's top prospects reassigned to Minor League camp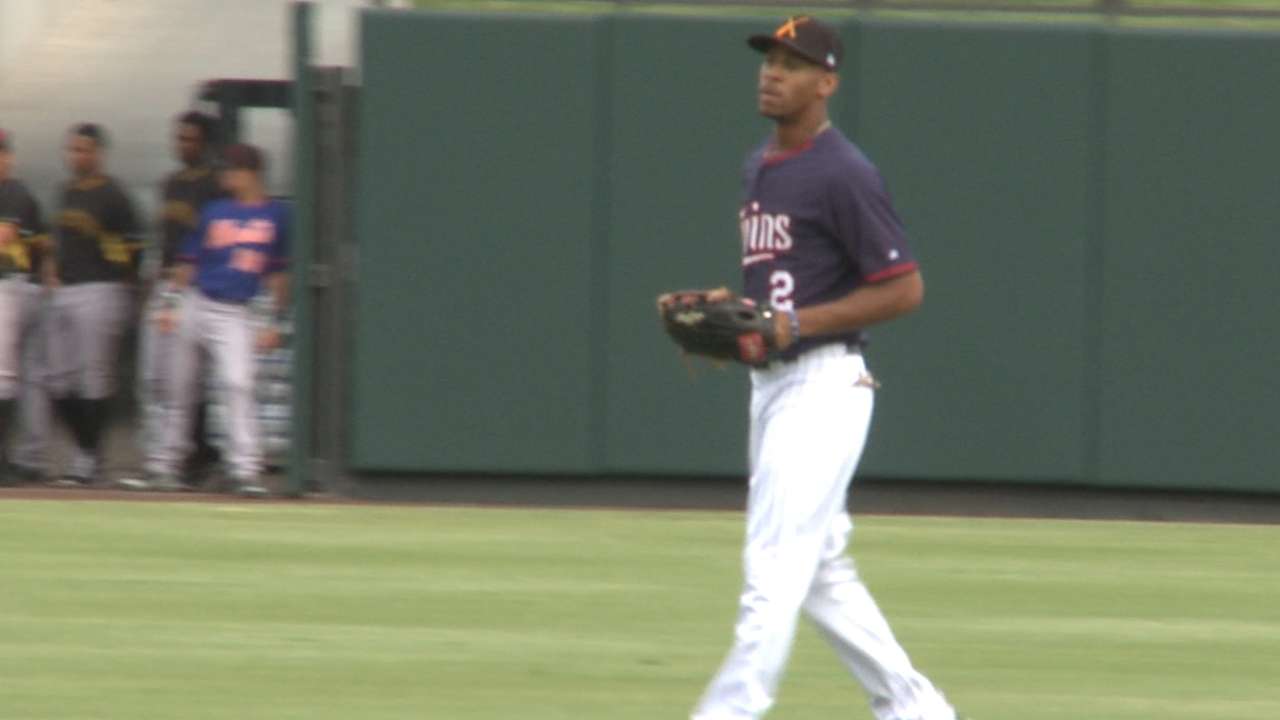 FORT MYERS, Fla. -- Center fielder Byron Buxton, MLB.com's No. 1-rated prospect, was one of 13 players the Twins sent to Minor League camp on Sunday. Right-hander Jose Berrios (No. 33) also was among those cut, and third baseman Miguel Sano (No. 12) could be joining them soon in Minor League camp.
Minnesota officially reassigned Berrios and Buxton, along with left-handers Ryan O'Rourke and Taylor Rogers, righties Tyler Duffy and Adrian Salcedo, catchers Mitch Garver and Stuart Turner, and infielders Heiker Meneses and Argenis Diaz. Outfielder Max Kepler and infielder Jorge Polanco were optioned to Double-A Chattanooga, and lefty Logan Darnell to Triple-A Rochester, leaving the club with 48 players in camp, including 11 non-roster invitees.
Buxton received only eight at-bats over four Grapefruit League games, picking up one hit and two walks while striking out three times. The 21-year-old missed much of the 2014 season with injuries and needs more development.
"He needs to go down and get some playing time," Twins general manager Terry Ryan said. "We need to get him going -- regular playing time, four at-bats a day, center field every day. But he's healthy and he's taking instruction well."
Berrios, the fifth-ranked Twins prospect according to MLB.com, turned some heads during his time with the big league club. The 20-year-old from Puerto Rico started two games, giving up only one unearned run over six innings and striking out four without issuing a walk.
He now will head down and get stretched out so he's ready to go at the beginning of the Minor League season. Berrios spent most of 2014 at Class-A Fort Myers and Double-A New Britain, posting a 2.77 ERA overall.
"There's no question he performed and he did everything you'd want a young kid to do," Ryan said.
"He took [the news] well. He's a confident kid but he's not arrogant, not conceited. He has a plan. The plan he came with to camp, he followed. He had a good showing here. There's no question he's one of our better guys. We all know that."
Sano, who missed all of 2014 after having Tommy John surgery, has displayed his huge power potential by blasting a pair of home runs in 10 Grapefruit League at-bats. But Ryan made it clear the 21-year-old is ticketed for Minor League camp sooner rather than later.
"He's gotten on-and-off playing time," Ryan said. "It's getting to that point with him and a few others here shortly where we'll see how long he hangs around. Once again, with all those young guys, unless they're in competition to make this team, which he's not ready for that quite yet, we'll ultimately get them back across the street shortly."
Worth noting
• The Twins have Monday off, and Ryan said only three or four players will get in some work. Closer Glen Perkins, working his way back from a mild right oblique strain, remains on track to throw a bullpen session on Tuesday.
• The cuts were the first for new Twins manager Paul Molitor and pitching coach Neil Allen, and Ryan was impressed with how they handled the situation. Of Molitor, Ryan said, "He was really good at this."
• Ryan lauded the play of Kepler, even though he went 1-for-9 at the plate, saying he put together good at-bats and played well both in right field and at first base. Kepler, 22, was signed out of Germany and is entering his sixth season in the Twins' system after spending 2014 at Class-A Fort Myers.
"He's made a lot of strides this year," Ryan said. "Mentally and physically he's turned into a man. I thought he had one of the better camps. … He's kind of what we were envisioning when we signed him when he was 16. He's growing into that body. He certainly has skills."
Andrew Simon is a reporter for MLB.com. Follow him on Twitter @AndrewSimonMLB. This story was not subject to the approval of Major League Baseball or its clubs.