MLB.com Columnist
Lyle Spencer
Johnson making a convincing case to be White Sox keystone
Indiana native enjoying a strong spring at the plate and in the field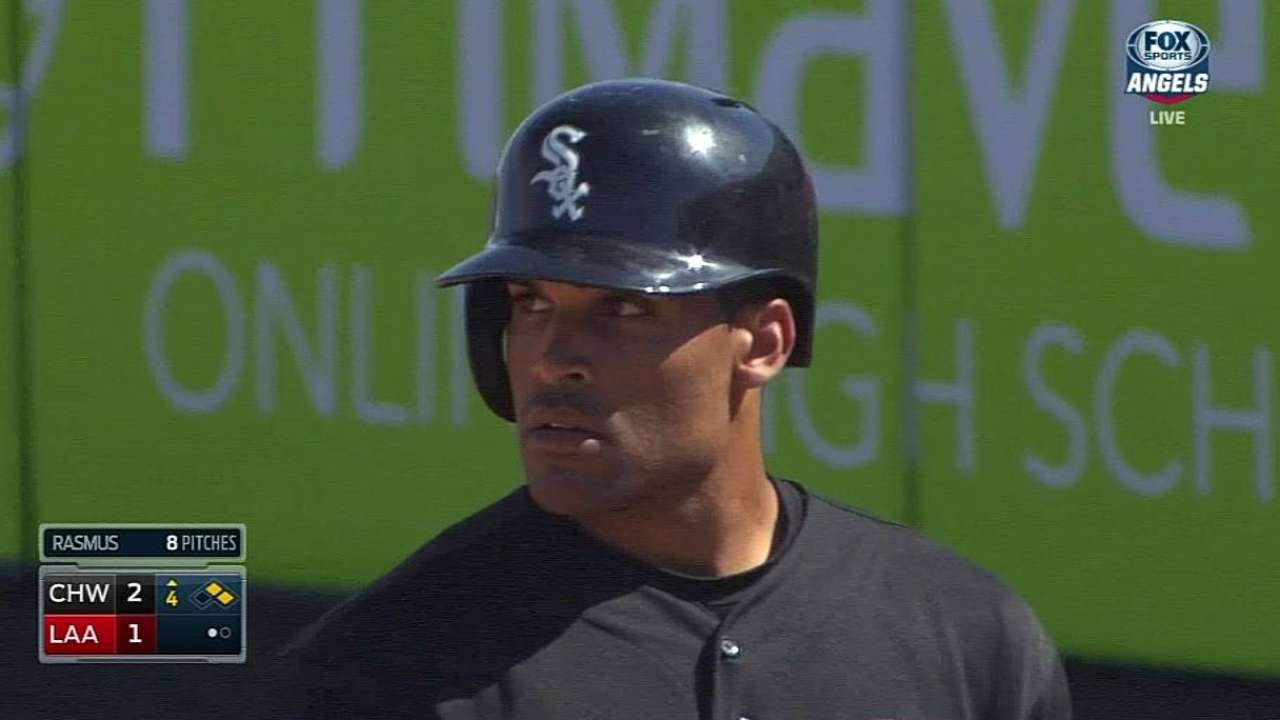 GLENDALE, Ariz. -- Micah Johnson grew up in Indianapolis but somehow managed to avoid catching hoops hysteria, the state's sport of choice. His focus was always on baseball, on honing his natural tools and riding them eventually to the top of the mountain: the Major Leagues.
Given a good shot at nailing down the second-base job and serving as an offensive catalyst for the White Sox, he finds himself this spring on the verge of fulfilling that dream. His .455 Cactus League batting average, seven runs scored and four RBIs, with a triple and a homer among his 10 hits, certainly can't hurt his chances.
"I'm really not looking at it like that," Johnson said when asked about convincing manager Robin Ventura he's the man for the job. "I have an opportunity, and that's a blessing. I just work hard every day. I don't try to impress anybody, trying to hit home runs. I'm just trying to have a good approach.
"Everybody has a role. My role is to get on base and let the big guys drive me in. Pretty much my whole career, I've hit in the leadoff spot, so that's the approach I've always taken."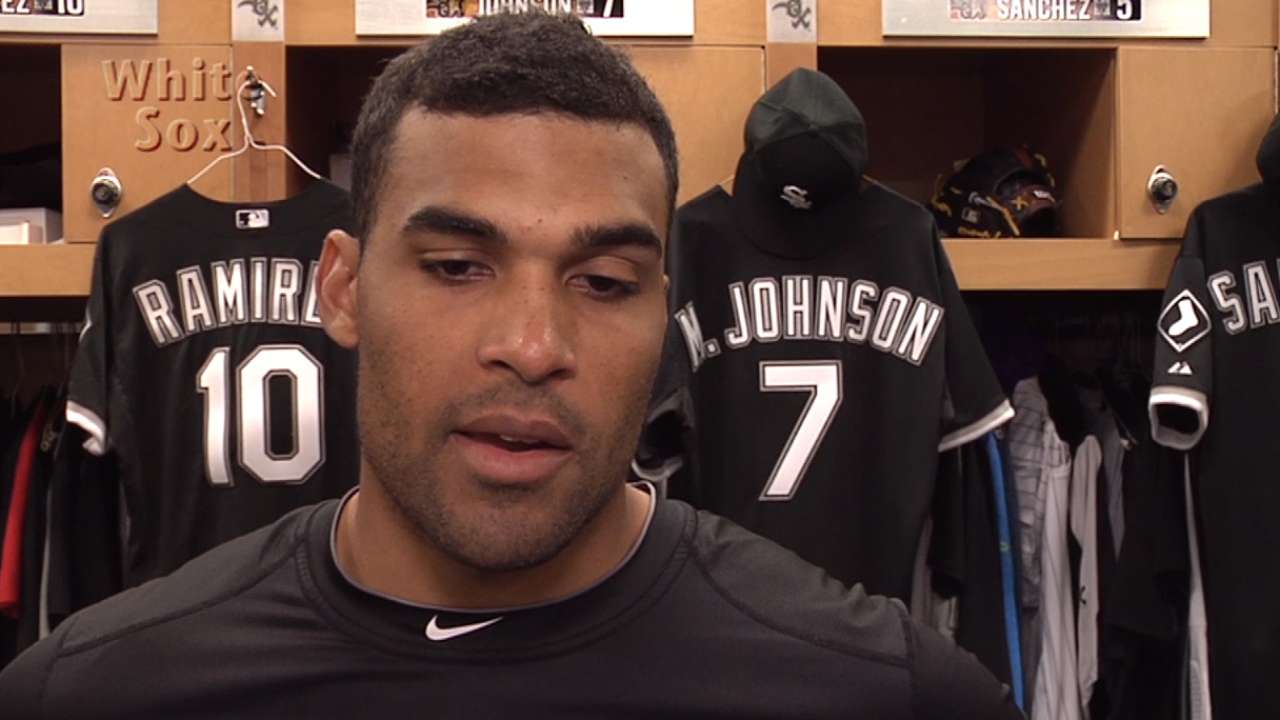 It showed in a highly polished manner on Saturday against the Angels in Tempe. Leading off against young lefty Andrew Heaney, Johnson adeptly went the other way with a single, coming around to score. Two more opposite-field singles left him with a three-hit day, with two runs scored and an RBI in a 7-6 win. He also showed his athleticism in the field, serving as the middle man on a double play.
"You notice his speed and his range ... his at-bats," Ventura said, no doubt impressed that two of those hits came against lefties. "You start seeing what people are talking about, and he's getting in the middle of everything. He just continues to play hard and play with purpose."
Built along the lines of the great Tim Raines, Johnson has pop in his left-handed stroke but understands his ticket to ride is getting on base and getting around the bases. His blinding speed brings an exciting dimension to a potentially explosive offense.
Fortified by bold offseason moves, the White Sox have the look of a contender in a stacked division featuring the defending American League Central champion Tigers and reigning AL pennant-winning Royals.
Joining 2014 AL Rookie of the Year Award winner Jose Abreu in the heart of the order are proven left-handed weapons Adam LaRoche and Melky Cabrera. Catcher Tyler Flowers and shortstop Alexi Ramirez also bring power to the lineup.
The pitching upgrades -- Jeff Samardzija, David Robertson, Zach Duke and Dan Jennings -- are equally impressive. The second-base competition between Johnson, Gordon Beckham and Carlos Sanchez remains to be resolved, but it appears that all systems are go for the South Side Sox.
"The front office did a great job assembling a team," Johnson said. "It's so balanced -- with veteran guys and younger guys, defensively and offensively."
The White Sox have an elite leadoff man in Adam Eaton. Johnson, if he claims the second-base job, would likely bat ninth -- a second leadoff man in effect -- but he could be an intriguing No. 2 hitter with his wheels. Slowed by hamstring problems, he had 22 steals last season, dividing his time between Double-A and Triple-A. But in 2013, he had 84 steals.
Johnson's biggest development has come with his consistency with the glove. His error total fell from 29 in 2013 to 13 last season.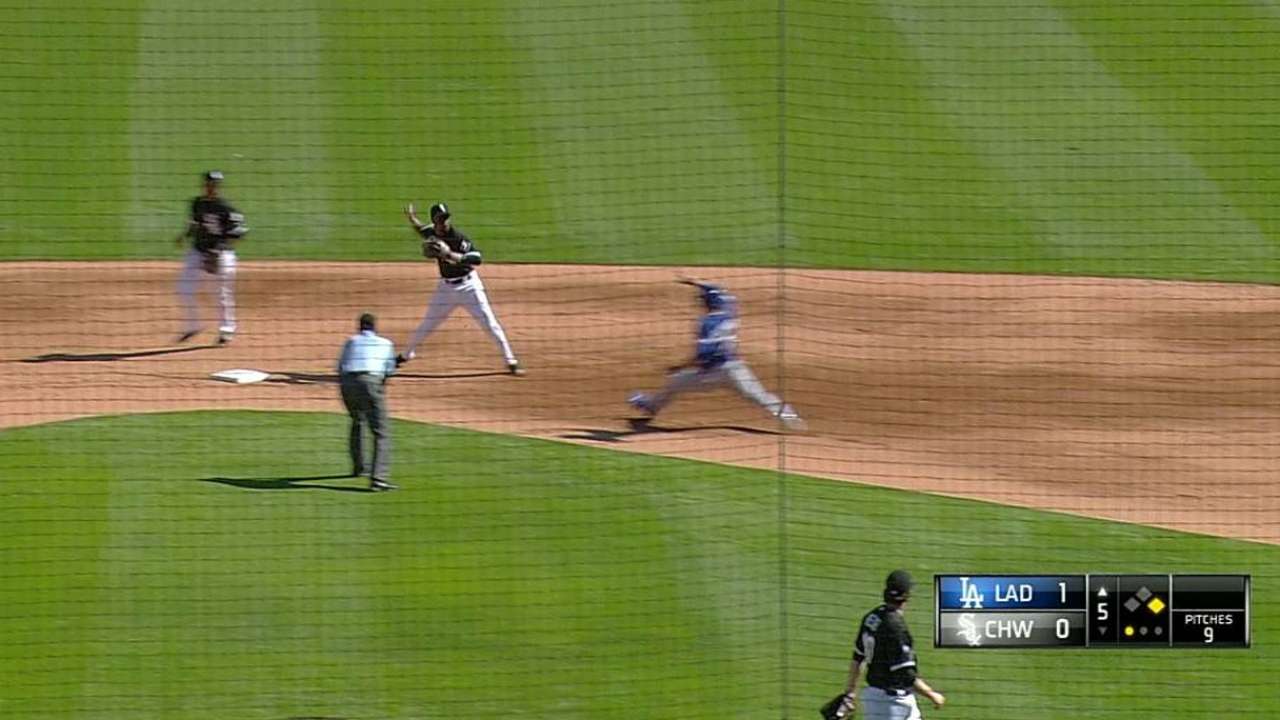 He bears a striking facial resemblance to Hall of Famer Barry Larkin, a man whom he admires. More similar in playing style is Johnson to former Angels second baseman Howie Kendrick, an athlete Johnson studied intently before he was taken by Chicago in the ninth round of the 2012 First-Year Player Draft out of Indiana University.
The Angels are trying to find a replacement for Kendrick this spring, after he was sent to the Dodgers in the offseason for Heaney.
"I've always liked the way Howie Kendrick plays," Johnson said. "He does everything well and is consistent."
A more personal influence is Beckham, the Sox second baseman for 4 1/2 seasons before going to the Angels last season.
"Beckham is awesome," said Johnson, who marvels at his teammate's defense. "He is, by far, one of the best. I'm glad he came back. I always loved learning from the guy. He stays on me."
At 24, the Hoosier state kid remains baseball's version of a gym rat, immersed in the game.
"I was too small to play basketball," said Johnson, who is listed at 6-foot and 190 pounds. "I was always a huge baseball fan."
From all appearances, he is about to attract a huge following of baseball fans in the Windy City -- including a certain Chief Executive who loves his White Sox.
Lyle Spencer has been a reporter for MLB.com since 2005, covering the Padres and Angels. He has covered Major League Baseball as a reporter and columnist since 1971.
This story was not subject to the approval of Major League Baseball or its clubs.