McKirahan doing his part to nail down bullpen spot
Rule 5 pick impressive so far in quest to make Marlins' roster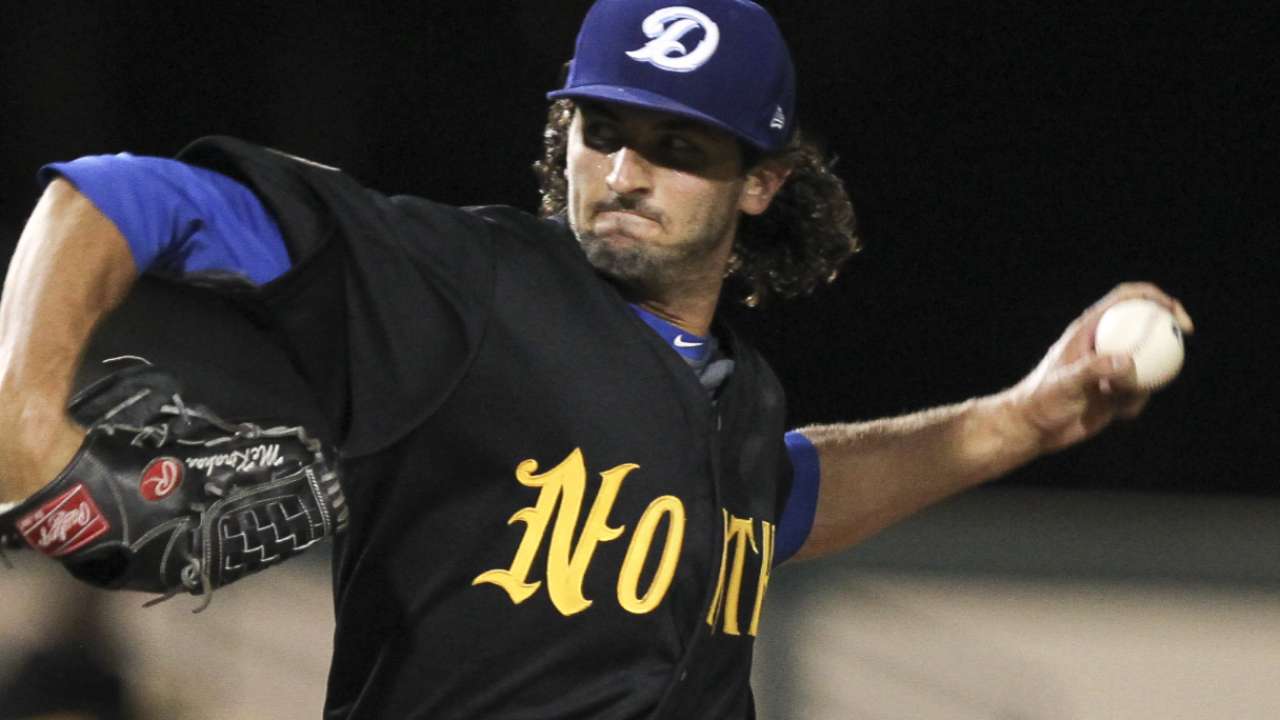 JUPITER, Fla. -- A little more than halfway through Spring Training and lefty reliever Andrew McKirahan is giving the Marlins plenty to think about.
The 25-year-old is in a tough spot because he is a Rule 5 pick, which means he has to either make the Opening Day roster or risk being offered back to his original organization, the Cubs.
"I like his stuff. Great fastball. Command is good. Has a nice breaking ball," manager Mike Redmond said. "The stuff is there. It really comes down to getting him out there and seeing if he can be consistent. Sometimes that's hard in Spring Training to figure out in a short period of time, but that's one of those decisions we will have to make."
The Marlins have stiff competition for a few spots in their bullpen. The lone lefty who is a lock is Mike Dunn. Ideally, the club would like to have a second lefty. But that may end up being Brad Hand, in the mix to start or relieve. Hand is out of options, and the team is measuring whether to keep him or perhaps move him in a trade.
McKirahan thus far has looked sharp. It will be a matter of how he performs in these final few weeks.
"We'll have a long conversation about that one," Redmond said. "But at the end of the day, he's got to be able to help us and help us now."
Worth noting:
• One way to resolve the bullpen logjam is to carry 13 pitchers, or eight relievers, on the Opening Day roster. It is an option the club is thinking about. However, it doesn't sound like that is a priority, because it limits Redmond's options off the bench.
"In my three years [as manager], this is going to be the one where we have the most tough decisions to make," Redmond said. "You see with the bench spots, there's a lot of competition. Guys are playing well. We have to figure out, how do we want to build that bench? It's the same with the pitching staff. That's why you let those guys go out there and compete, and make a tough decision for us."
• Monday is an off day for the Marlins, but not for Henderson Alvarez. The likely Opening Day starter, Alvarez will face batters in a simulated game on a back field.
• Sunday roster moves: RHP Jose Urena optioned to Triple-A New Orleans; RHP Kendry Flores optioned to Double-A Jacksonville; RHP Nick Wittgren, RHP Trevor Williams, INF Avery Romero, OF Austin Wates, OF Kenny Wilson were re-assigned to Minor League camp.
Joe Frisaro is a reporter for MLB.com. He writes a blog, called The Fish Pond. Follow him on Twitter @JoeFrisaro. This story was not subject to the approval of Major League Baseball or its clubs.