Prospect Heaney learning how to limit damage
Angels righty able to wiggle out of innings without allowing multiple runs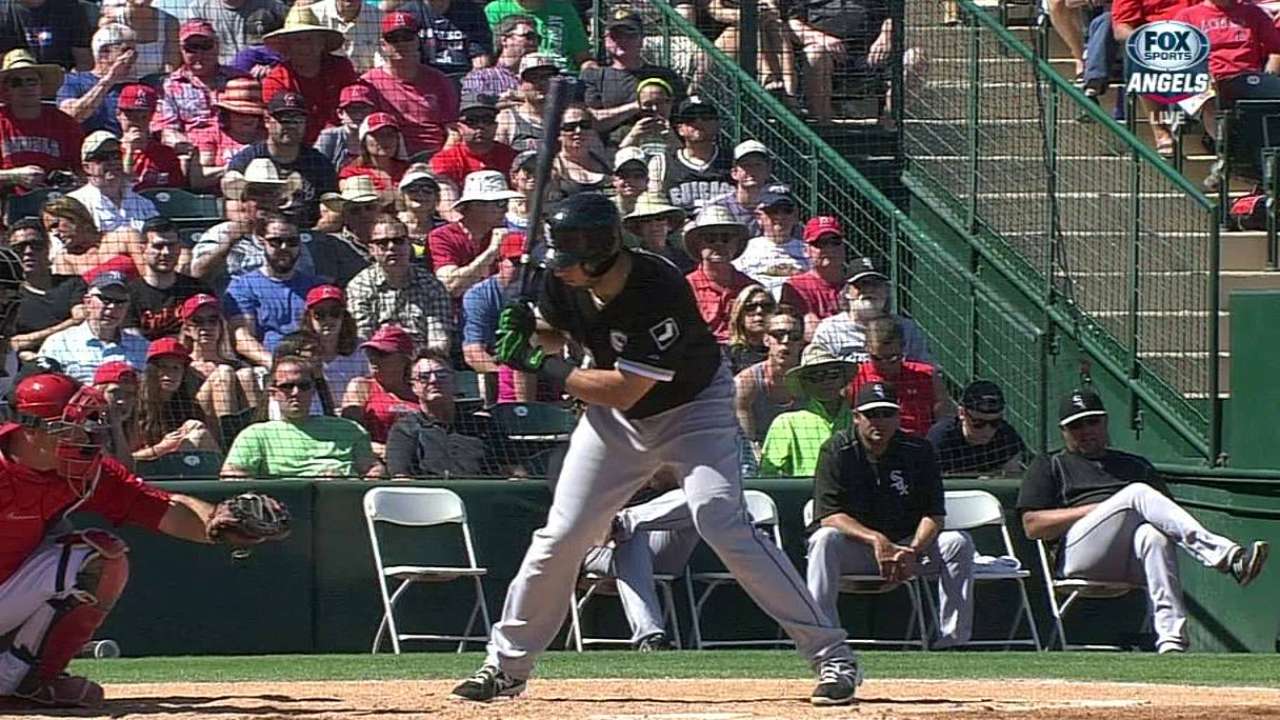 TEMPE, Ariz. -- Certainly Andrew Heaney doesn't enjoy getting into a jam, but the Angels left-hander understands the value in it.
The Halos' top prospect, making his second appearance of the spring, found himself in a couple Saturday, but was able to limit the damage and allowed two runs on five hits while facing 16 batters in three-plus innings.
"It's never fun to give up three singles in a row to start the game and then to have [Adam LaRoche] come to the plate, who, I've probably faced five-six times and he's probably got four hits off me," Heaney said. "So a guy that I'm not very comfortable facing, but working out of jams is big. You're going to get into trouble and you've got to be able to limit the damage, and for the most part, I feel like I did that today."
True enough, Heaney surrendered singles to the first three hitters of the game and LaRoche drove in one with a sacrifice fly. The young southpaw cruised through the second, and ran into trouble again in the third, when two of the first three batters of the inning singled. But Heaney got out of that frame unscathed.
He faced only Tyler Flowers in the fourth, who walked and eventually scored.
"I kind of was battling most of the time, kind of from behind," Heaney said. "I wasn't getting ahead of guys. I felt really good with my secondary stuff, threw a lot of changeups. Slider was a lot better. Just got to get ahead."
The 23-year-old is fighting for a rotation spot, and has now given up three earned runs in six innings of Cactus League play. He struck out two and walked two Saturday.
"I think he gave some counts away but all in all, you could just see the ball coming out live," manager Mike Scioscia said. "He threw a couple good sliders -- one to LaRoche to strike him out earlier and showed a good changeup. Like most young pitchers, getting their feet on the ground and commanding both sides of the plate. Command counts. He'll get better as it goes on."
In other Angels news:
• Scioscia said Garrett Richards "feels great" after his workout Friday and is in line to pitch in an intrasquad game during the team's off-day Wednesday.
"He's going to repeat a little [pitchers fielding practice] up here today, too," Scioscia said. "He feels really good. It's definitely a good step for him."
The Angels starter threw 40 pitches on a makeshift infield Friday, also occasionally fielding ground balls from the mound from pitching coach Mike Butcher.
Scioscia said Richards and fellow starter Matt Shoemaker will both likely throw in the game Wednesday, with one or two relievers also possibly getting some work in.
• Marc Krauss went 2-for-4 with a run Saturday, and is 5-for-10 with three runs, a double, a homer, four walks and three RBIs this spring. All five of his hits have come in his past four games.
"He's had good at-bats the whole spring," Scioscia said of Krauss, who is fighting for a role as a left-handed bench bat. "He's been quiet in the box. When he's getting some fastballs in, he's not missing them and that's a good sign. He had some good swings today."
Joey Nowak is a reporter for MLB.com. Follow him on Twitter at @joeynowak. This story was not subject to the approval of Major League Baseball or its clubs.