Chavez finds own flaw, works deep vs. Giants
Rotation candidate turns in longest outing by A's starter this spring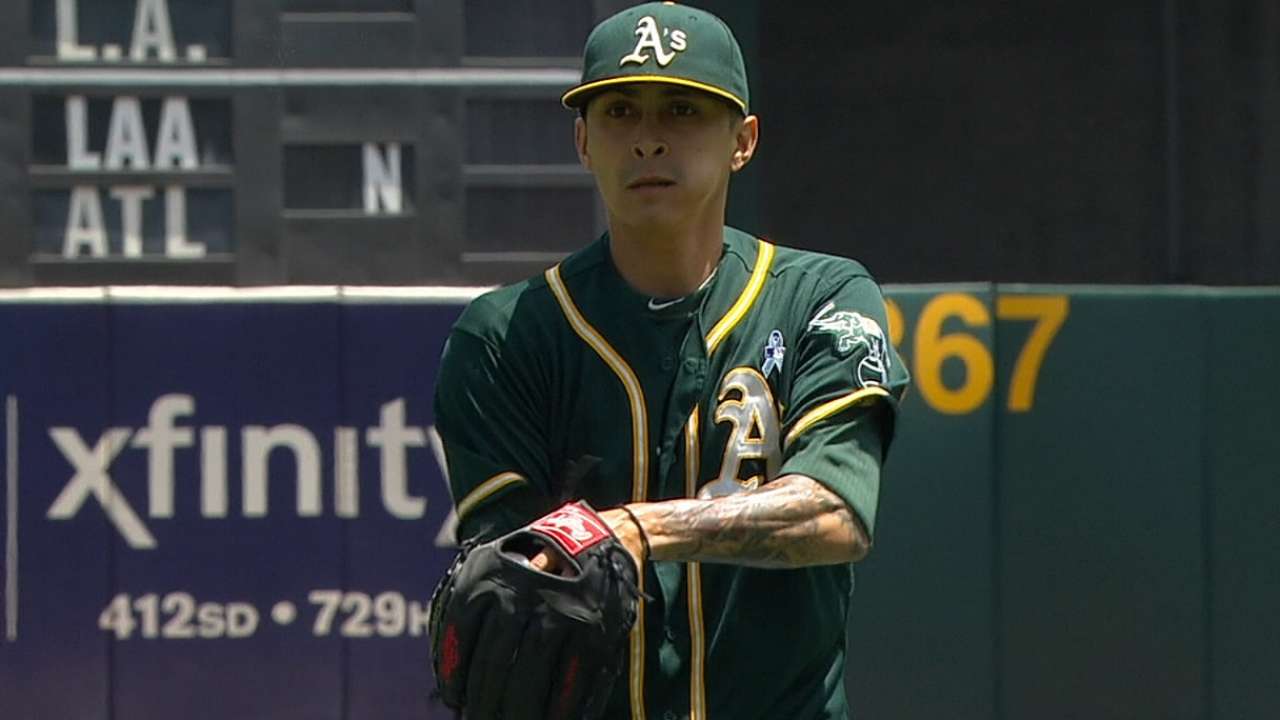 MESA, Ariz. -- Off to a rough start to his outing Saturday, A's right-hander Jesse Chavez clearly had to make an adjustment, and it was up to him to identify the problem and fix it. Mission accomplished.
After allowing hits to three of his first four batters, including a two-run double by the Giants' Casey McGehee, Chavez settled in and then some. He gave up just two more singles while retiring 10 of his last 12 batters in a start of 4 1/3 innings that stands as the longest by an A's starter this spring.
"I was just rushing a little bit mechanically," said Chavez, vying for one of three open spots in the A's rotation. "I just had to trust myself on what I was telling myself about what was going wrong and to correct it, and that's what happened the rest of the way."
Chavez said he realized he was firing his hips a little too early and needed to stay back a bit to let his motion work downhill toward the plate. It's an adjustment he and pitching coach Curt Young discussed afterward -- Young had seen it as well but let Chavez work it out himself.
"It was something that he noticed and I noticed, and that's something that we as pitchers want. We want to be on the same page," Chavez said.
Saturday's start was Chavez's second of the spring, starting with a two-inning stint -- also against the Giants -- in which he allowed two hits. But he didn't get everything out of his next outing in relief, lasting just two innings again when he was aiming for three.
While Saturday's start might have gotten off to a rocky beginning, Chavez worked it out himself, trusting his muscle memory to get back on track.
"I stayed within myself, and good results happened," he said.
• Non-roster invitee Niuman Romero made a strong impression Saturday with a couple of hits and a strong diving play at shortstop, scrambling to his feet and throwing out the runner. "He didn't have any panic in him at all at short," said bench coach Mike Aldrete, who managed the Mesa squad with Bob Melvin with the split squad in Las Vegas.
• Aldrete said the club is hoping to get Ike Davis (back) and Coco Crisp (triceps) back on the field in the next couple of days. He said outfielder Alex Hassan's hamstring injury wasn't as serious as it could have been, but he still needs to pass some tests before returning.
• Aldrete went 1-1 in his two games as skipper, and he'll hand the keys back to Melvin on Sunday. "Bob's still the manager despite what my mom thinks right now," Aldrete said.
John Schlegel is a national reporter for MLB.com. You can follow him on Twitter @JohnSchlegelMLB. This story was not subject to the approval of Major League Baseball or its clubs.