Jackson keeps things simple and finds success
Veteran right-hander allows just one hit over three scoreless innings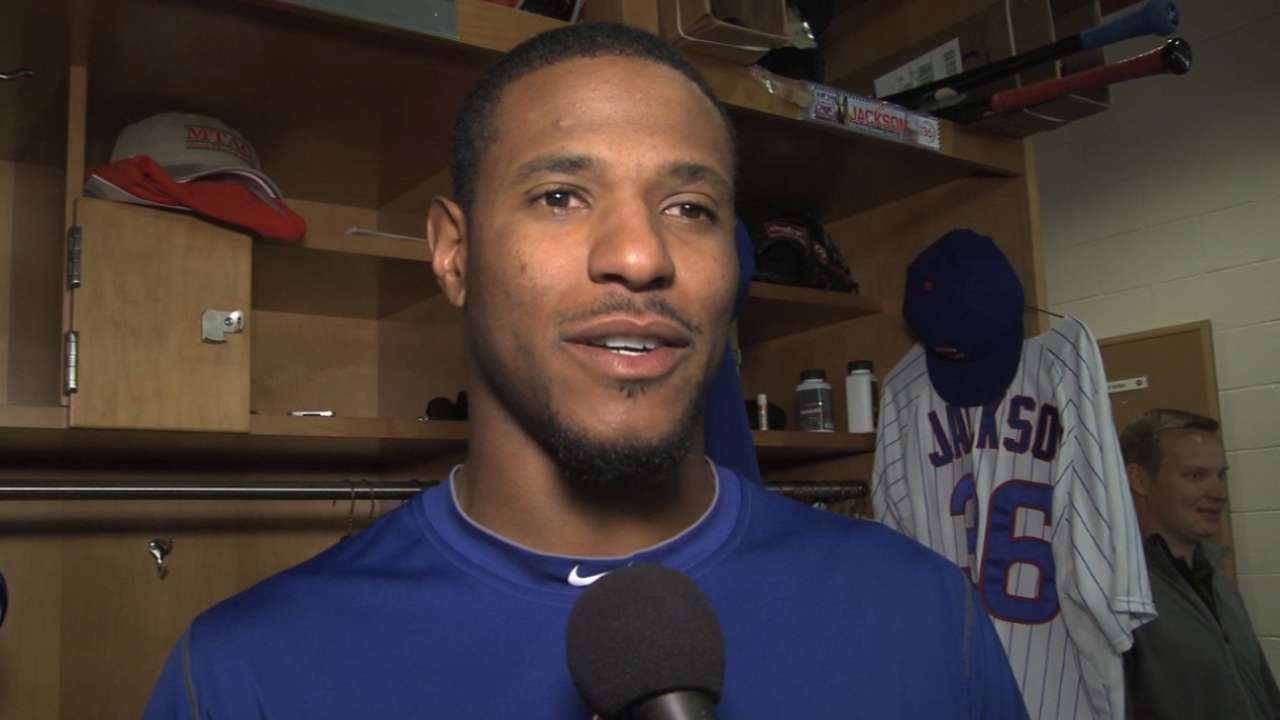 PHOENIX -- It was only three innings in a split-squad Cactus League game, but Edwin Jackson was vintage Edwin Jackson on Saturday.
That is to say: He worked into some trouble, and then he worked out of it. He threw a lot of pitches (51) and not enough of them strikes (29). But when he needed a key out, he got it.
In short, Jackson kept things simple against the Brewers. In his two seasons on the North Side, he hasn't always been able to do that, often compounding his struggles by over-complicating them.
"That mindframe -- when you're battling yourself and the hitters -- more times than not, it doesn't work out for you," Jackson said. "The game's hard enough as it is, trying to get hitters out. You're making it harder on yourself."
Jackson is currently competing for the No. 5 spot in the Cubs' rotation, along with Travis Wood and Felix Doubront. (Tsuyoshi Wada is also in the mix, but is battling a groin injury.)
It's fair to be skeptical of Jackson, who has posted the two worst seasons of his career since joining the Cubs. He lost 15 games last year with a 6.33 ERA, one season after leading the NL with 18 losses.
"[I need to be] pounding the zone with all my pitches, and throwing every pitch to completion," Jackson said. "If you can put the pressure on the hitter to put the ball in play, the odds are in your favor to let the defense work behind you."
Jackson recorded five outs via the ground ball and only one in the air on Saturday. It'll be critical for him to maintain that ratio this season.
Although he has 12 big league seasons under his belt already, he's still only 31 and hasn't had any injury trouble. There's no reason to think that his struggles are tied to his age or health.
"I've been watching him very closely and comparing notes from the past," Cubs manager Joe Maddon said. "There are some things he's not doing that he had done before."
Maddon managed Jackson when he pitched for the Rays from 2006-08. Jackson then pitched for four teams over the next three years -- his best three-season stretch as a big leaguer. In that time, he had a 3.94 ERA, won 35 games and started for the Cardinals in the 2011 World Series.
"His talent level is high-end -- It's really, really high-end," Maddon said. "We think that if we can iron out a couple things, you might be surprised. He's not far removed from some really good seasons in both the American and National Leagues."
AJ Cassavell is a reporter for MLB.com. Follow him on Twitter @ajcassavell. This story was not subject to the approval of Major League Baseball or its clubs.