With clear mind, Duffy keeps swinging for Giants
Rookie infielder has worked heavily on mental side of hitting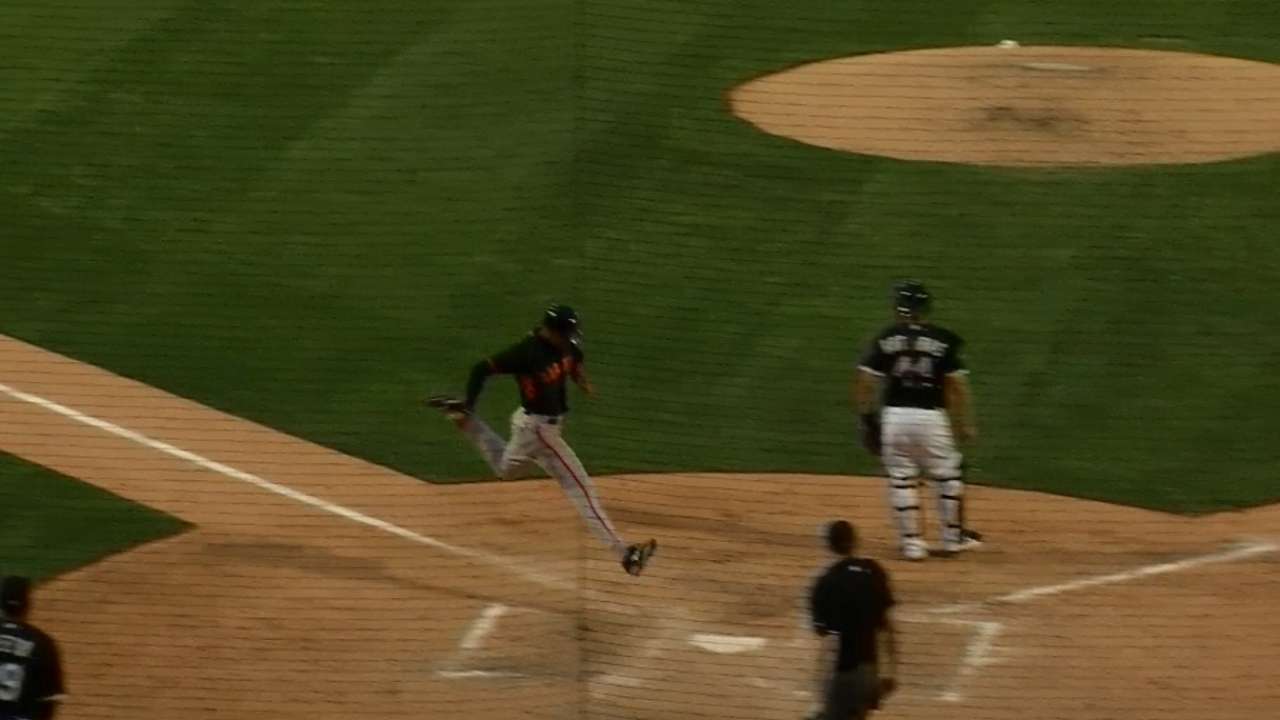 SCOTTSDALE, Ariz. -- Slender as a fungo bat and having compiled college statistics just as light, Giants infielder Matt Duffy doesn't fit a typical Major Leaguer's profile.
Until you watch him play.
Duffy displayed a veteran's savvy as a rookie last year. Freshly promoted from Double-A Richmond, he went 6-for-15 as a pinch-hitter, a role rarely mastered by younger players. He's 2-for-2 off the bench against Dodgers mega-pitcher Clayton Kershaw.
Duffy again showed awareness beyond his years during Game 2 of the National League Championship Series when he churned home from second base on a wild pitch to score the tying run in the ninth inning.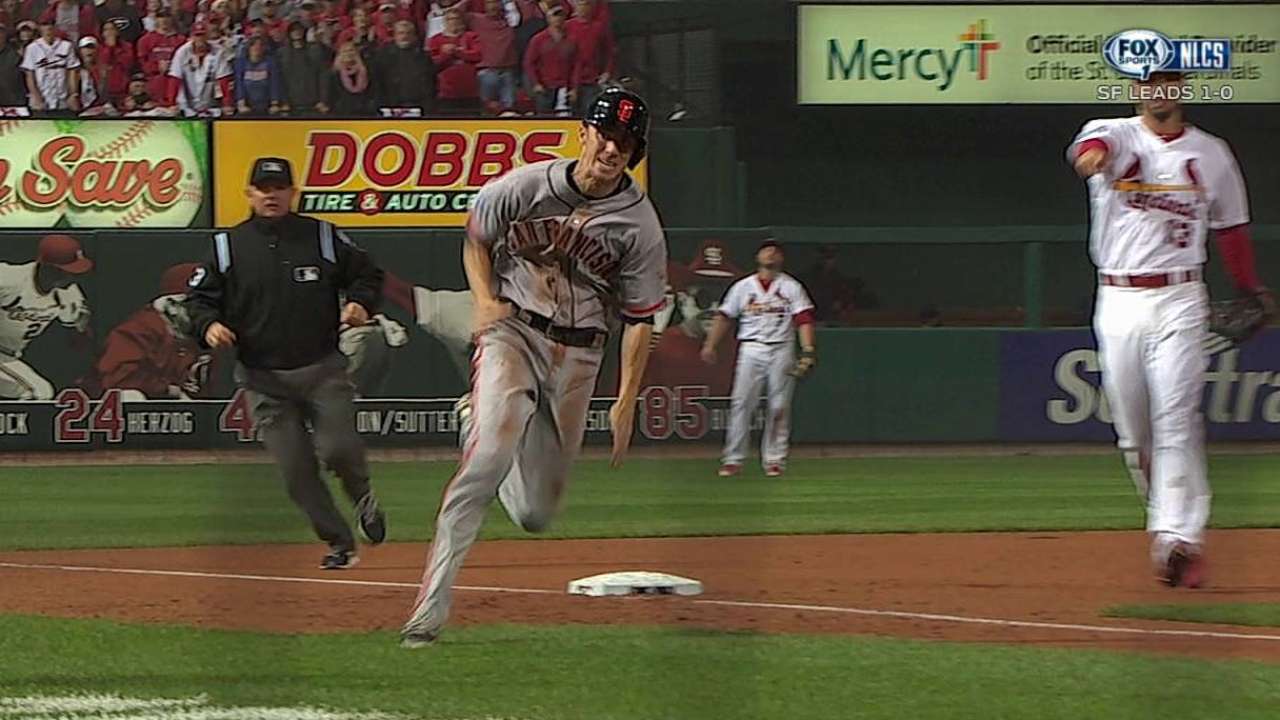 It barely matters that Duffy's physical dimensions and resume are unimposing. What can't be measured is his mental discipline, which he summons with each at-bat.
Duffy, listed at 6-foot-2 and 170 pounds, said recently that he relies upon "making hitting a simple task that I can control. I base my confidence off of that. I can go 0-for-4 and if I swing at four pitches that are good to hit, that's my goal. And it's a controllable thing."
That last remark was significant, given the typical athlete's mindset. Participants across the sports spectrum repeat the necessity of not worrying about things one can't control. Duffy's outlook demonstrated he already has controlled this aspect of his game.
Giants manager Bruce Bochy has noticed Duffy's concentration.
"He battles up there," Bochy said. "There are no at-bats that he gives away. He's going to grind you and fight you all the way through the at-bat. I think that's why he's had so much success. ... I threw him against some pretty good arms last year late in the ballgame and he had some pretty good at-bats. He has a lot of confidence and poise."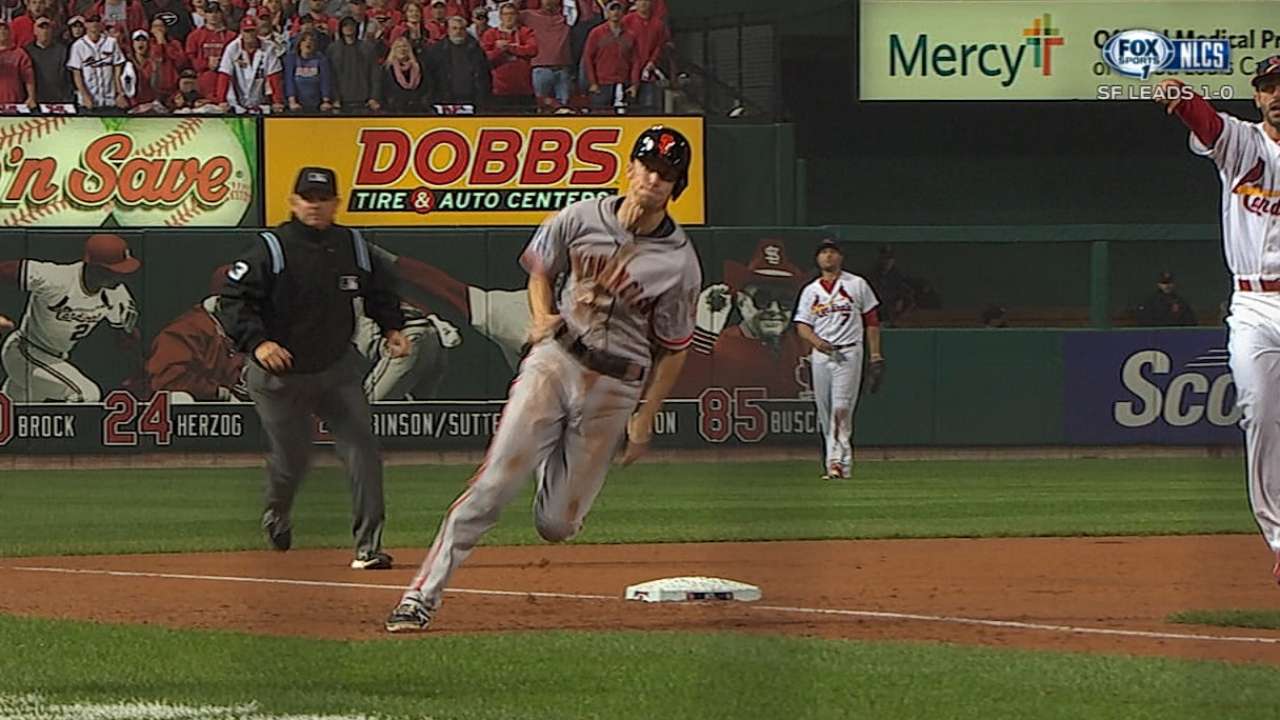 Duffy, named the Giants' No. 8 prospect by MLB.com, continued that success Saturday, going 2-for-4 in the Giants' 5-2 Cactus League loss to the Oakland A's. A right-handed batter, he ranks among the Giants' leaders with a .348 batting average.
Duffy's in an intense competition for a reserve role. However, he knows that's something else he'd be foolish to dwell upon.
"I'm ready to go wherever they need me," Duffy said. "I'm prepared to make the roster Opening Day and if they feel the need for me to be waiting in [Triple-A] Sacramento, then I'll be ready for that as well. I'll kind of have the same mentality as I did last year -- do what I can to help the Sacramento team win games, then when San Francisco's ready, do the same thing to help them."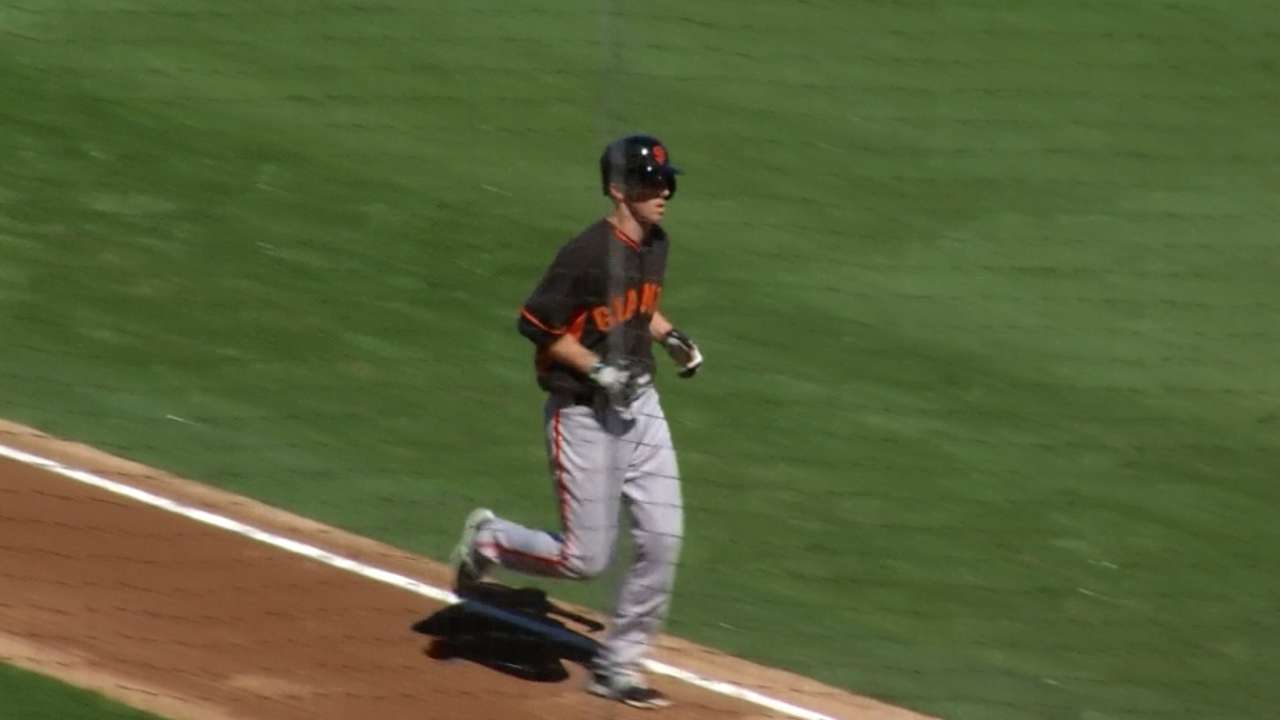 Duffy's collegiate performance at Long Beach State University suggested he'd never advance this far. In three years, he never batted above .266 or recorded a slugging percentage higher than .294.
But while playing for Orleans in the Cape Cod League, Duffy received extra help from Benny Craig, the team's hitting coach. Craig gave Duffy a copy of "The Mental Keys to Hitting," written by Harvey Dorfman, a leader in the field of mental performance and its relationship to sports. Duffy, who hit .332 for Richmond last year before the Giants promoted him, said he still rereads a chapter each day to absorb the book's principles.
"It doesn't make hitting so complicated," Duffy said. "Really, it's see the ball, get a good pitch to hit and put a good swing on it."
Since these fundamentals became habits, Duffy said, "My slumps are shorter and I hit better for longer. I focus on simple things instead of worrying about 'I have to get a hit here' -- that's another thing. I eliminated 'have to' from my vocabulary. I don't 'have to' do anything."
That's because Duffy knows he'll get another opportunity to swing the bat. At this rate, he'll receive plenty of chances.
Chris Haft is a reporter for MLB.com. Read his blog, Haft-Baked Ideas, and follow him on Twitter at @sfgiantsbeat. This story was not subject to the approval of Major League Baseball or its clubs.