Lucroy returns to game action without issue
Lind, in second game back, went deep for first spring homer
PHOENIX -- Jonathan Lucroy was back behind the plate, Adam Lind homered during his second set of swings as the designated hitter and the Brewers moved a little bit closer to having their regular offense intact on Saturday at sold-out Maryvale Baseball Park.
"Back with the varsity," said Lucroy.
It was Lucroy's first Cactus League game after easing back from a hamstring strain, and Lind's second game after a bout of back stiffness. The only man absent for anything other than a day off was Ryan Braun, who was home with the flu. The Brewers hope to have him back in the lineup Sunday against the A's.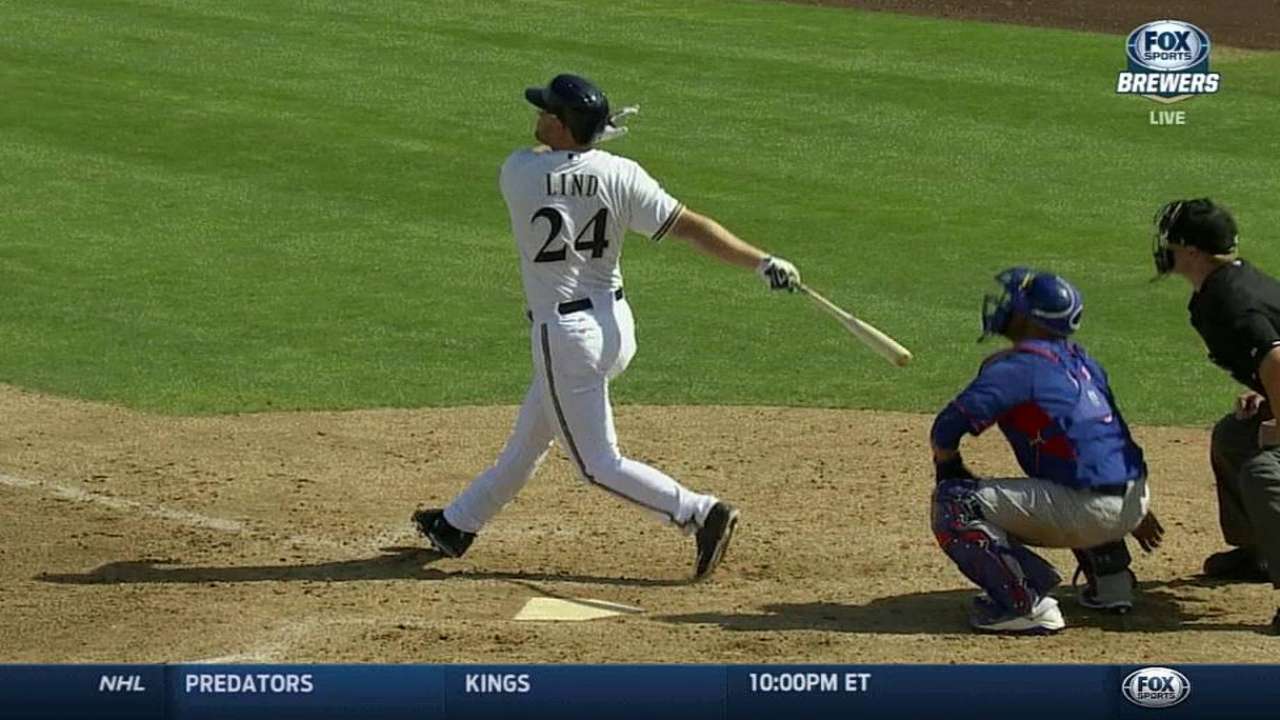 "I think we're pretty fortunate so far with how things are going," manager Ron Roenicke said. "We've lost guys for a day here, two days there, but those things don't really set you back that much.
"We've got plenty of time with 'Luc.' If he's starting games right now, we've got a lot of games before we start our season. Enough games to where I feel like I can also get him at first base and work with him there so he's comfortable if we do that during the season."
Lucroy grounded out against Cubs starter Edwin Jackson and caught three innings, exiting after a long top of the third that saw the Cubs send 12 men to the plate and score seven runs.
"Obviously, I hadn't faced big league pitching for a while, so I gave up an [at-bat]. I was kind of hoping for another one there," Lucroy said. "I felt good catching. Got some pitches to block. Had a long inning kind of test everything, but I felt good. No one ran, so I didn't get to try that out.
"I didn't really let loose [running]. I didn't want to blow it out on a routine ground ball. It's not really worth trying that yet; I think I have to work my way up to it. After the game was over, I ran up here on the half-field and did some running, just to simulate another [time] on base. It felt good."
Asked about his availability for split-squad games on Sunday, Lucroy said, "I think I'm going to be in there. I want to try to catch."
Adam McCalvy is a reporter for MLB.com. Read his blog, Brew Beat, and follow him on Twitter at @AdamMcCalvy. This story was not subject to the approval of Major League Baseball or its clubs.