MLB.com Columnist
Mike Bauman
Myers poised to make big impact in new position
Center fielder confident in his abilities, excited for Padres' potential in 2015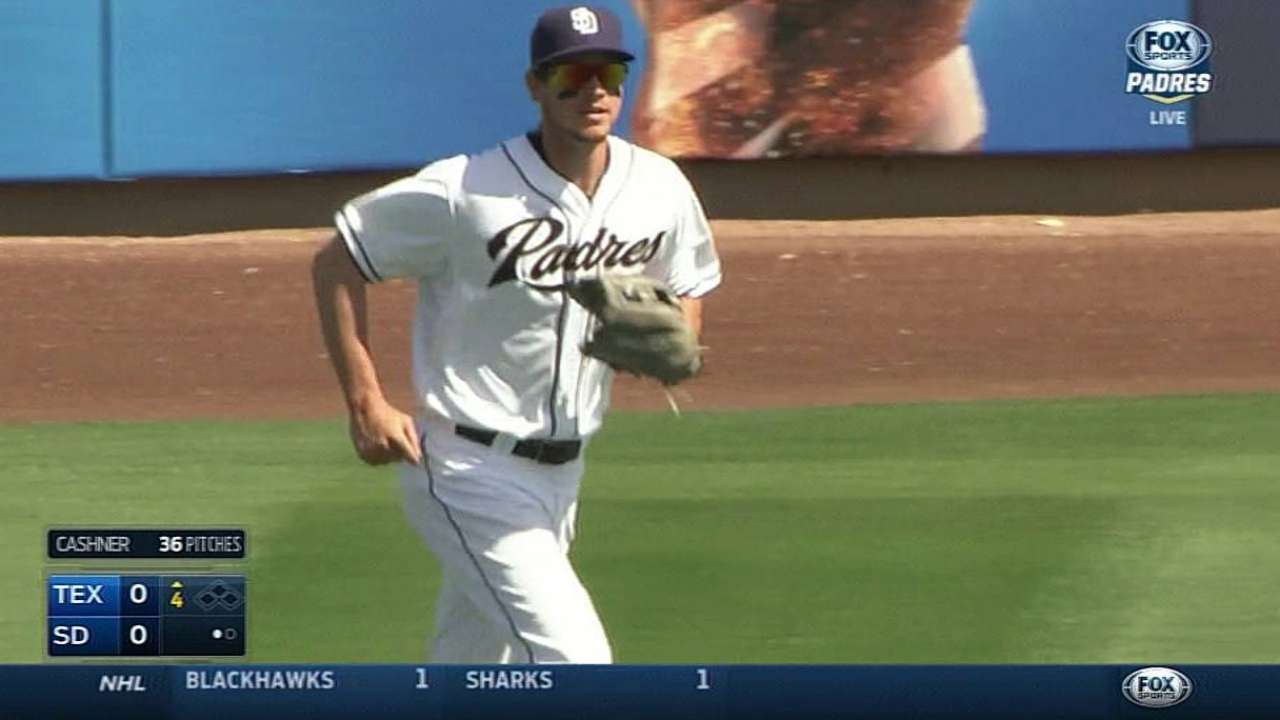 PEORIA, Ariz. -- Optimism reigns on the fields of the Peoria Sports Complex. With the San Diego Padres' infusion of talent this winter, they have reason to be upbeat.
Yes, it is a new dawn for the Padres. This may be particularly convenient considering that Arizona has no Daylight Savings Time.
Optimism?
"Yeah, there should be," said Wil Myers, the 2013 American League Rookie of the Year Award winner, who will be the regular center fielder for the Padres. "Everybody here is excited about what we have in store for 2015. We've got a lot of new players, a lot of good players. It should be an exciting year.
"I think everybody in here is thinking playoffs, and why wouldn't we, with the team we have."
"You look at the guys that we project to be in our Opening Day lineup, those guys are built to play," Padres manager Bud Black said. "They're built to play every day; they've shown the ability to be everyday players.
"When you start the season and you see that group that we have, we're pretty confident in what we can achieve."
Myers, Matt Kemp and Justin Upton form an all-new, potentially high-impact outfield.
"We've got a good outfield," Myers said. "Matt and Justin are obviously established guys in the league. I'm going to look to those guys and take bits and pieces of their game."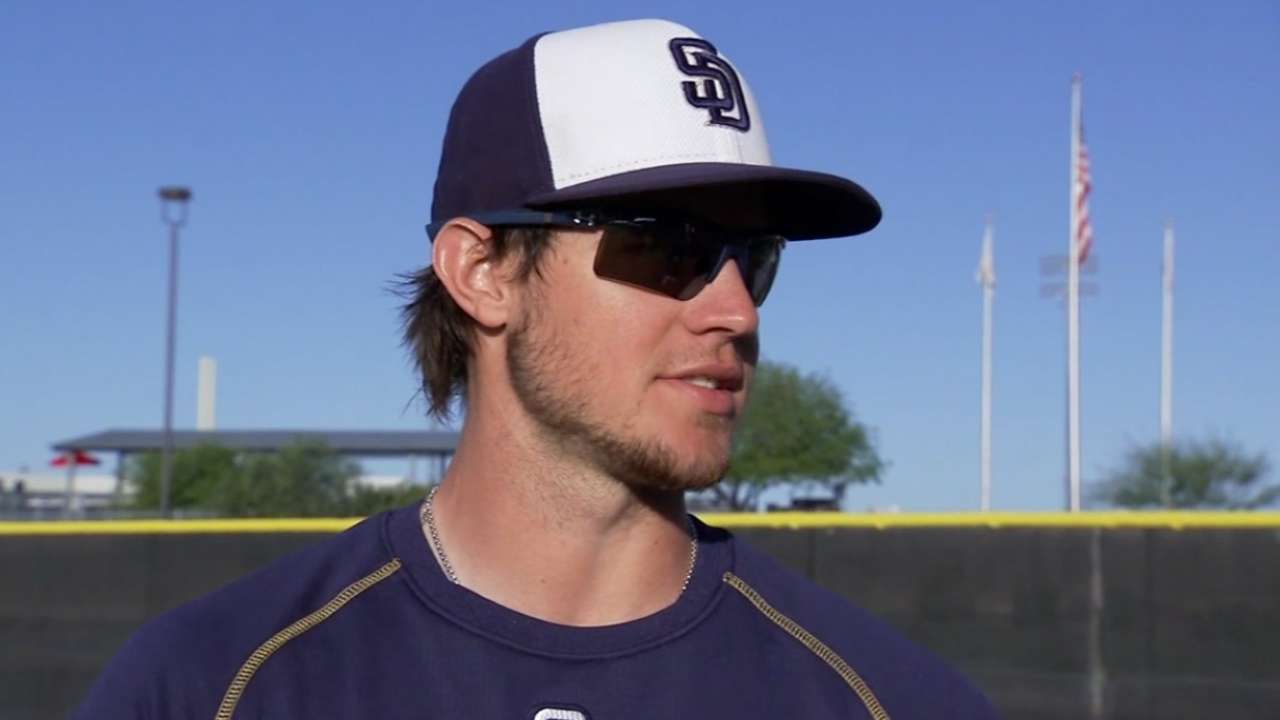 Myers has not had extensive center-field experience in the Majors, but at this early date, that does not seem to be a major issue.
"I played a lot there in 2012 [in the Minors], and I played six starts in the big leagues, so it's nothing that new to me," Myers said. "I think the biggest thing will be the visual of center field, just the visual of the parks."
Myers' defense is making a favorable impression on his new club.
"If Myers is our center fielder, we have to make sure that we're comfortable with him there," Black said. "So far, so good. We've liked what we've seen out of young Wil at 24 years old: young legs, good routes, good angles, good arm. He likes that position. There's some ground to cover, but this guy's got some strides that are conducive to covering some ground."
As if on cue, Myers delivered a splendid defensive play Saturday in the Padres' 2-0 victory over the Texas Rangers at Peoria Stadium. Myers was playing right field at the time, but on a drive hit to deep right-center, he got a fine jump on the ball, took a perfect route and made a truly difficult running grab.
"How about that catch?" Black said. "Great jump, great strides, really stretched out, made a great play. Again, this guy is an instinctual player. This guy's a ballplayer. We'll see how this whole thing shakes out, but we feel good about his ability to move around the outfield. And specifically the focus has been on center field, which we think he can play."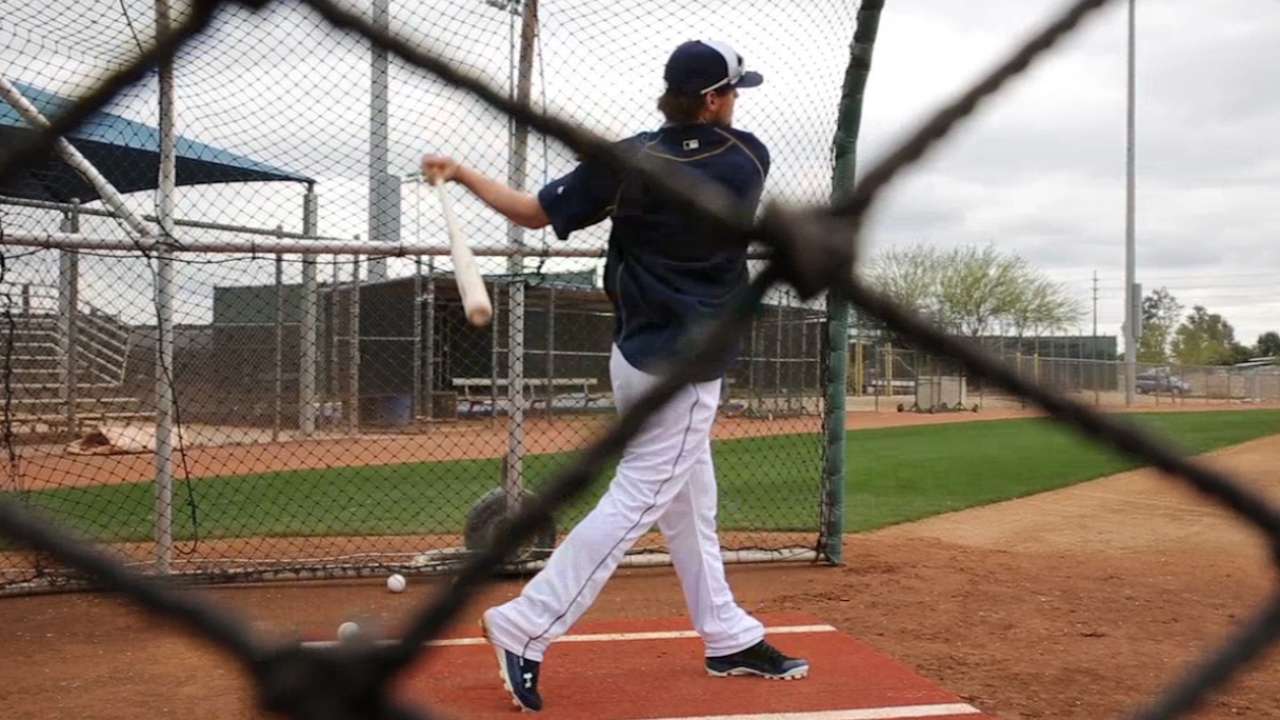 Derek Norris should give the Padres increased offensive production from the catching position, although the man who figured to be the primary backup catcher, Tim Federowicz, is out after undergoing surgery for a torn lateral meniscus in his right knee.
Will Middlebrooks will provide additional pop at third, if he can return to the form he demonstrated with the Red Sox in 2012. One way or another, the Padres should have a dramatically improved offense and greatly improved depth.
In combination with the Padres' traditionally strong pitching, this appears to be a club that has every right to think of itself as a legitimate postseason contender. This is no easy task, particularly in a division with the Giants and the Dodgers, but the Padres' leaps-and-bounds offensive improvement has brought them squarely into the discussion.
They won't need miracles to get there. Good health would be a necessity, but miracles will not be required.
"The concerns are keeping these guys healthy, keeping the pitching rotation in order," Black said. "We'd like to think that we have some depth in our rotation. You look and you see Josh Johnson on the horizon if he's healthy. There are a couple of guys in Triple-A that we like. The bullpen is coming together. You'd like to see a lefty come out of that group who would be pretty good against a tough left-handed hitter. On balance we feel good about this team, if we stay healthy."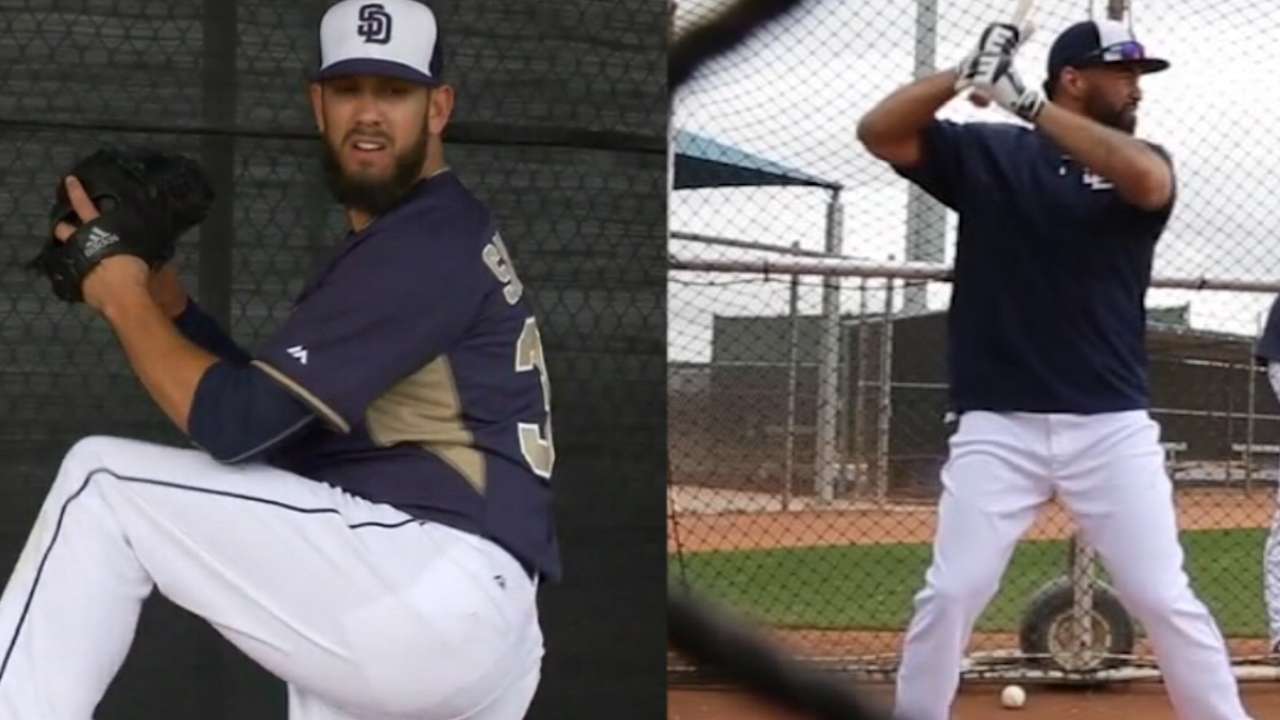 Expectations have soared. For the Padres, coming off four straight losing seasons, that sort of thing will be welcome. For a player like Myers, coming to a new club in a new league and being expected to create an impact isn't a frightening prospect, either.
"Any competitive athlete wants that sort of pressure," Myers said. "And you don't need to treat it like that. You just need to treat it as an opportunity to perform."
Myers went beyond the call of duty earlier this week. In order to man the outfield with comic Will Ferrell, he volunteered to play all nine innings in a spring game at a time when regulars would be expected to play far less. For Myers, it was worth it.
"It was awesome," Myers said with a smile. "It was the coolest thing in the whole world. He's the guy that I've always watched his movies, and if there's ever one guy in the world I want a picture with, it's that guy."
If this San Diego season works out the way the distinctly improved Padres hope, one guy people will want their picture taken with will be Wil Myers.
Mike Bauman is a national columnist for MLB.com. This story was not subject to the approval of Major League Baseball or its clubs.