A-Rod hits single, plays third base in first road game
Yankees slugger goes 1-for-3 with a strikeout in loss to Blue Jays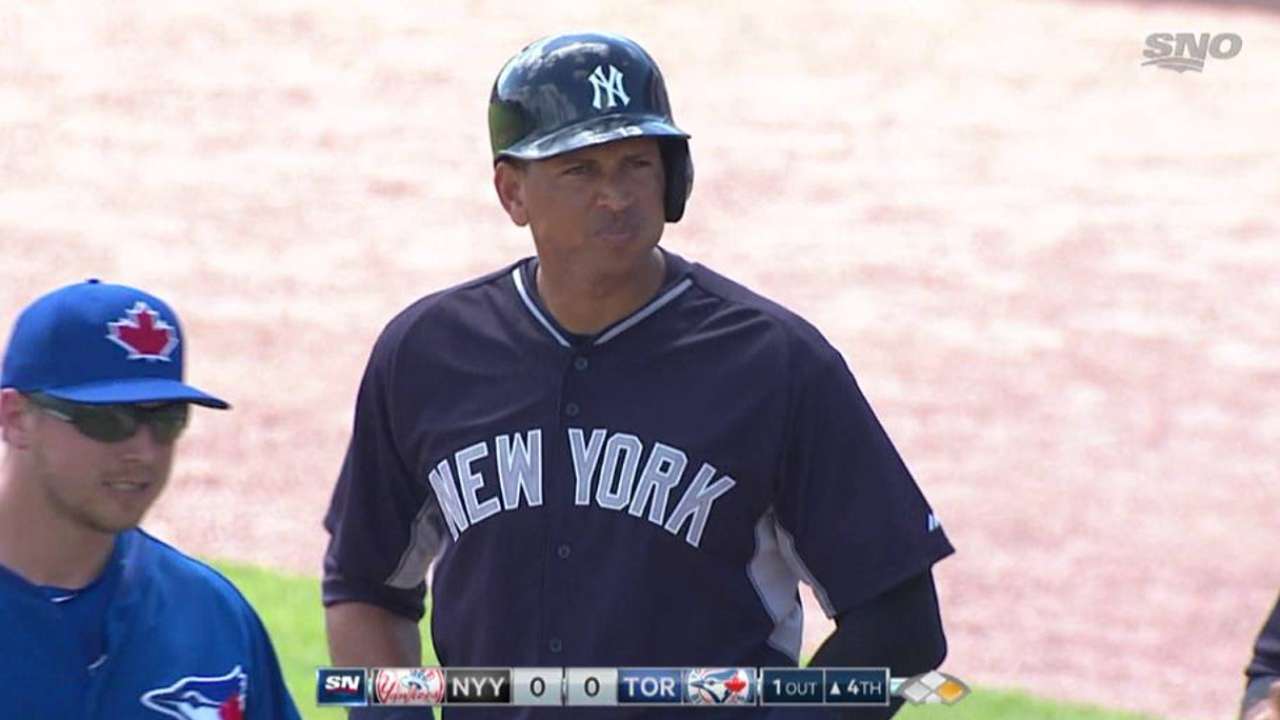 TAMPA, Fla. -- Alex Rodriguez hit the road Saturday, playing his first Grapefruit League game as a visitor this spring as the split-squad Yankees lost to the Blue Jays, 1-0, at Florida Auto Exchange Stadium in Dunedin.
Rodriguez went 1-for-3 with a single and a strikeout, and he played five innings at third base. He drew some cheers but mostly boos from the fans before his first at-bat of the game.
It was the first time since his season-long suspension that Rodriguez took the field in front of an opposing crowd, as he played his first six games this spring at George M. Steinbrenner Field. The Yankees were curious to see what kind of response Rodriguez would receive from the opposing crowd.
"Some people want to see something that was negative turn into a positive where you come back and you respond well and you play well. And there are people that don't forgive," Yankees manager Joe Girardi said Saturday morning. "I'm not saying there's a right way or a wrong way, but it's been pretty much what I expected. And I think it'll be pretty much what we expect on the road, too."
Rodriguez seemed pleased with the fans' response when speaking to reporters after the game.
"I thought the fans were great. The fans are the best," Rodriguez said. "To me, one of the nicest things about being back in camp has been how great the fans have been allowing me back into the game and how welcome they've made me feel.
"After the game, I got a chance to sign autographs and interact with them a little bit, and the feedback has been like never before in my career. ... For the most part, they've made me feel very welcome, which I'm grateful for."
Rodriguez went down swinging on three pitches in his trip to the plate Saturday, whiffing at a 94 mph fastball from Blue Jays left-hander Daniel Norris. He singled off the right-field wall in his second at-bat against Norris. Facing left-hander Aaron Loup in the sixth inning, Rodriguez flied out to right field.
With two outs in the fifth inning and runners on first and second, Rodriguez fielded a ground ball off the bat of Toronto's Devon Travis. He tried to tag out the baserunner, Ryan Goins, rather than throw to a base, and Goins avoided the tag to load the bases. Rodriguez then fielded Josh Donaldson's grounder and stepped on third base to end the inning.
"That was another example of my foot speed -- a lack of foot speed," Rodriguez said of the attempted tag play. "But those are things that they're all good. You want those things to happen in March to find exactly what your limitations are and whatnot."
Adam Berry is a reporter for MLB.com. Follow him on Twitter at @adamdberry. This story was not subject to the approval of Major League Baseball or its clubs.