Burns showing plenty of spark atop A's lineup
Leadoff man tallies another three-hit day, including third spring triple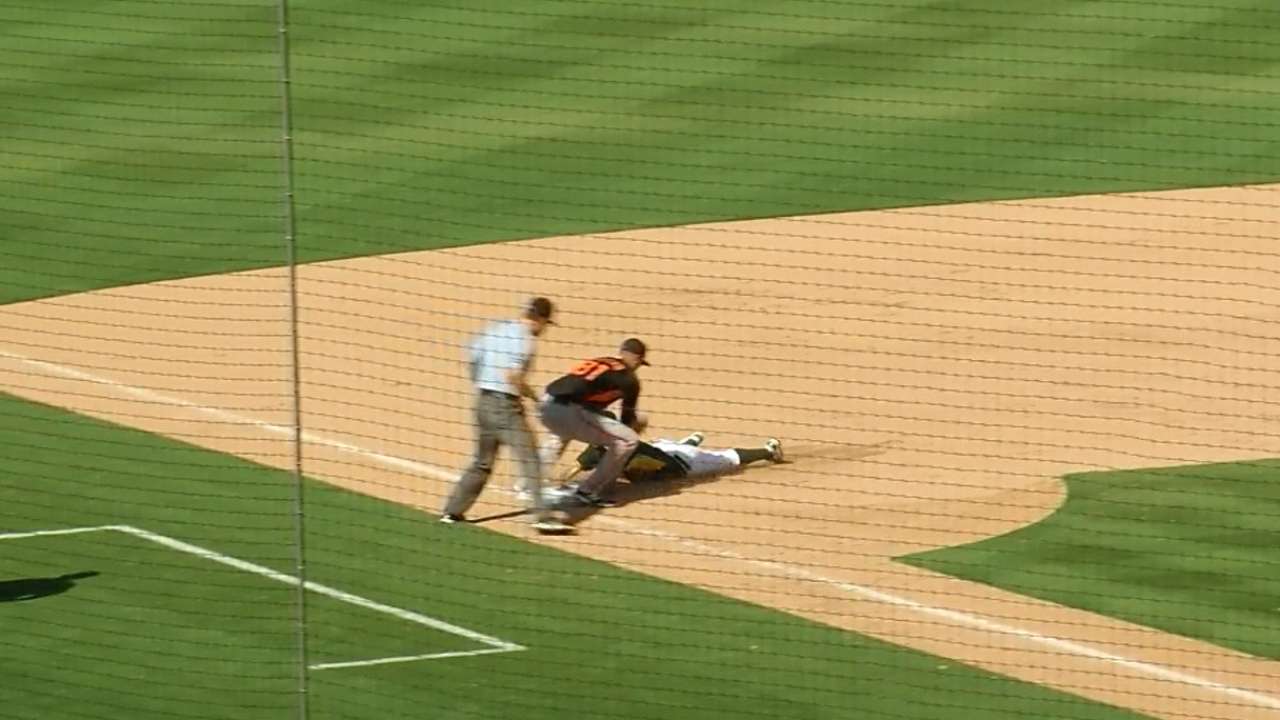 MESA, Ariz. -- Billy Burns' role as a leadoff man and center fielder is to make exciting things happen on the field, and he has done that this spring, especially the last couple of days. But he keeps it pretty low-key when it comes to his approach to Spring Training.
"I just love being out here and playing, enjoying this Arizona weather and playing baseball," Burns said Saturday morning as he prepared to take the leadoff spot for the A's in their game against the Giants.
What he's doing thus far, the A's are enjoying, too. After going 3-for-4 the day before against the Royals, Burns did it again Saturday, capping his day with his third triple of the spring, punctuated by a soaring head-first dive. Burns started off Saturday's game in fine leadoff fashion -- legging out an infield single, going first to third on a ball to the outfield and coming home on a ground ball.
None of which could come as a surprise to A's bench coach Mike Aldrete, filling in for Bob Melvin as manager with a split squad in Las Vegas. Aldrete has a clean slate with Burns as a first-year member of the A's staff, and he said he pulled Burns aside Saturday morning to let him know his first impression of him.
"I just walked by Billy and said, 'You know what, I love the way you're playing the game right now,'" Aldrete said. "His defense has been spot-on. He's putting the ball in play with authority. I haven't seen him the last couple of years, but talking to some of the coaches, they're saying, 'Wow, the ball's coming off his bat well.' This is my only impression, and I think this guy's a good player."
Burns actually had a lot of opportunity to show his stuff last spring, his first with the A's after an offseason trade with Washington, where he was that organization's Minor League Player of the Year in 2013 before being dealt for reliever Jerry Blevins. Burns had camp highs with 22 hits in 76 a-bats last spring and then started the season at Double-A Midland.
This spring, he's leading the club in at-bats again with 31 through Saturday's action, taking advantage of every opportunity to show his stuff from the leadoff spot, or anywhere else, and keeping a consistent approach.
"It's the same no matter where I am in the lineup," Burns said. "It just changes that I might not have somebody on the bases when I'm up there the first time. Other than that, everything stays pretty much the same."
John Schlegel is a national reporter for MLB.com. You can follow him on Twitter @JohnSchlegelMLB. This story was not subject to the approval of Major League Baseball or its clubs.