McGehee's early lead doesn't hold up for Cain
Third baseman hits two-run double in first; righty allows four runs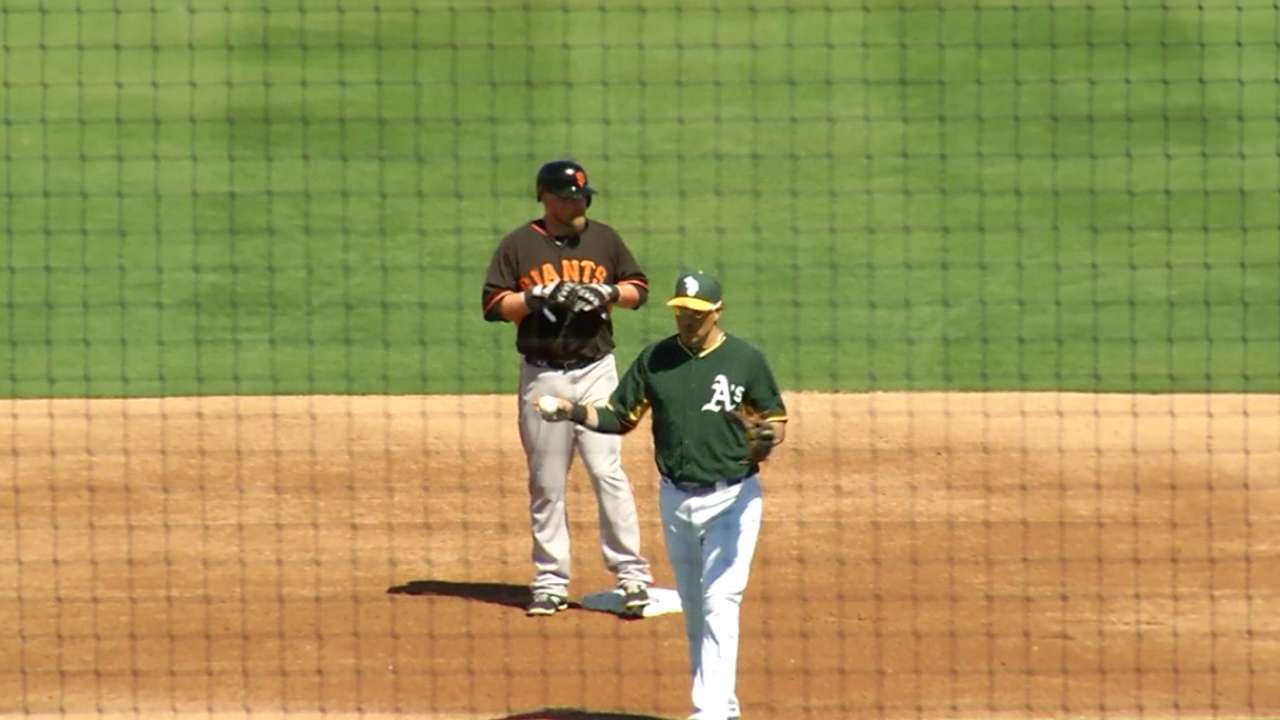 MESA, Ariz. -- The A's got off to a strong start offensively against Giants starter Matt Cain in the meeting of Bay Area rivals Saturday at Hohokam Stadium, and they held on for a 5-2 Cactus League victory.
After the Giants touched A's starter Jesse Chavez for a pair of runs in the top of the first inning on a two-run double by Casey McGehee, Chavez settled down and became the first A's pitcher this spring to pitch into the fifth, going 4 1/3 innings, allowing the two runs on five hits.
The A's got right back in the game, scoring in the first when Billy Burns turned an infield single into a run two batters later and then putting three more on the board in the second. Eight of the first 14 batters for the A's collected hits, with Niuman Romero, Eric Sogard and Ben Zobrist all collecting RBI singles in the second.
Cain, who missed the last half of 2014 with elbow surgery, allowed four runs on six hits in his second outing of the spring, which lasted 1 2/3 innings. Chavez didn't walk a batter and struck out four in his second start of the spring.
Burns went 3-for-4 with his third triple of the spring in the top spot, and No. 2 hitter Eric Sogard and Romero in the No. 9 spot each had a pair of knocks. Romero also made a diving play at shortstop in the seventh inning that stirred up the crowd of 10,260 at Hohokam Stadium, the highest attendance mark in Oakland's first year at the facility.
McGehee added another double in the sixth and is off to a 10-for-20 start in his first Spring Training with the Giants.
Giants Up Next Buster Posey, who was excused from both split-squad games Saturday, is expected to return to the lineup Sunday against the Arizona Diamondbacks in Scottsdale. He'll join right-hander Tim Hudson, who worked a scoreless inning last Wednesday against Milwaukee in his Cactus League debut.
John Schlegel is a national reporter for MLB.com. You can follow him on Twitter @JohnSchlegelMLB. This story was not subject to the approval of Major League Baseball or its clubs.