Gose getting into swing of spring with Tigers
Outfielder benefiting from work with hitting coach Joyner, assistant Newhan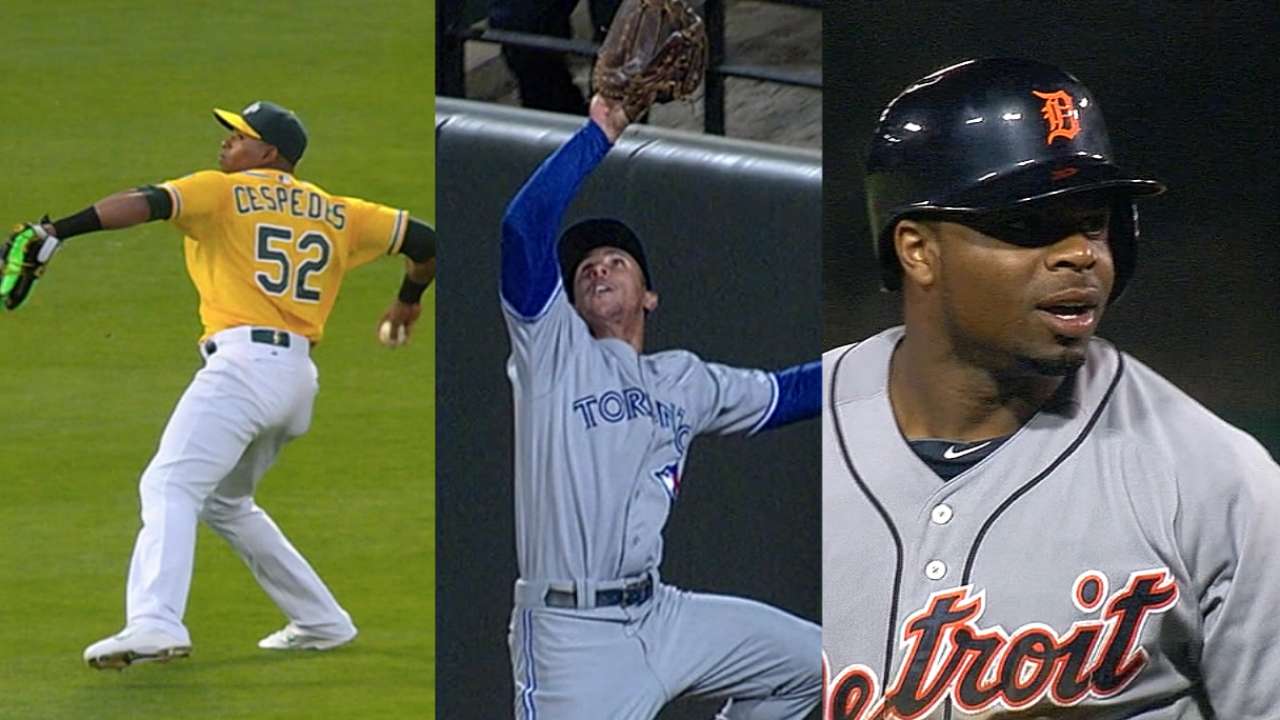 LAKELAND, Fla. -- Anthony Gose might be quicker to the ball with the adjustments he has made in his swing. He refuses to be quick to judgment.
"It's only Spring Training," he said of his hot start. "A lot of guys do well in Spring Training. It's what do you do when the lights come on."
Given the questions about his bat, though, what he has done so far this spring has put a spotlight on him.
Gose entered Saturday leading the Majors in hits, and a sixth-inning single in a 5-4 split-squad loss to the Phillies pushed his average to .520 (13-for-25). Add four walks, and he has reached base nearly three out of every five plate appearances. He has three triples and three doubles already, and Gose has swiped four bases in five attempts.
Gose is nearly a quarter of the way to the hit total he posted in 94 games and 274 plate appearances last regular season in Toronto. In short, he has been an offensive catalyst where nobody was sure there was one when the Tigers acquired him in trade for Devon Travis last November.
"I mean, it would be one thing if I was doing this at the All-Star break," Gose said. "But to do it after six-seven games of Spring Training, everybody's just trying to get in a groove and get ready."
At this point, the numbers aren't important to Gose. The swing behind it is.
"I think feeling comfortable with what I'm doing is definitely playing a huge role," he said, "getting comfortable and finally settling into something and now trying to repeat it day in and day out."
That is a credit to Tigers hitting coach Wally Joyner and assistant David Newhan.
"I'm excited for him and his success," Joyner said, "and we're very cautious to think that he's mastered baseball. I'm sure we'll be talking about what's wrong with him -- hopefully not many times -- this year. But we go through ups and downs. I'm happy for him."
When manager Brad Ausmus brought Joyner onto his staff, Joyner's positive personality was a factor Ausmus cited. It was Joyner's nature as a player, and it has stuck. The same went for Newhan in his hire this past offseason.
They didn't have Gose then, but he's the player for whom the personality fits. Gose struggled to hit in Toronto and its farm system, which combined with Dalton Pompey's emergence is what made him expendable for the Blue Jays. Joyner looked at video of him and saw the potential for a hitter.
"I told [general manager] David [Dombrowski] last year, I think the guy has talent," Joyner said. "It's a matter of finding what it's going to take to allow him to show it. So far, so good."
Asked what changed in his approach, Gose said everything.
"Top to bottom," he said. "I think my stance is a little different. My hands are in a different spot. I think my approach is different. I think the way I attack the ball is different. I think everything is a little bit different."
They've worked on it since Spring Training began. With Gose penciled in for regular playing time in center field, he has gotten the at-bats to reinforce it.
"He's been able to bring it back every day, which is something that he hasn't done consistently," Joyner said. "He might have it for one day and then lose it for three or four. Right now he's bringing it, and he has a routine that he's liked."
Jason Beck is a reporter for MLB.com. Read Beck's Blog and follow him on Twitter @beckjason. This story was not subject to the approval of Major League Baseball or its clubs.