Robinson receives ovation from Cardinals fans
Twins outfielder appreciates gesture from former team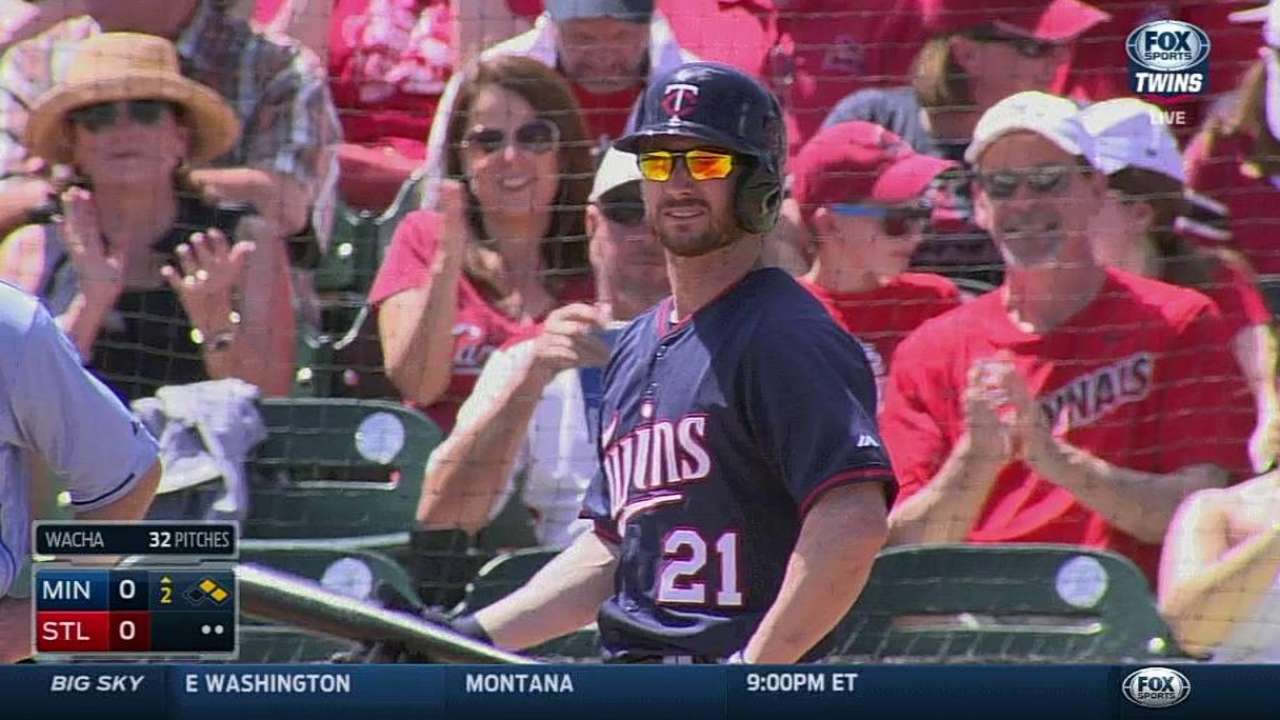 JUPITER, Fla. -- It's not often an opposing player receives long and loud applause from the home fans, but Twins non-roster invitee Shane Robinson is an exception.
Robinson, who played parts of five seasons for the Cardinals in a bench role from 2009 and 2011-14, stepped into the batter's box to a warm reception with two outs in the second inning of Saturday afternoon's game at Roger Dean Stadium.
"It was a really nice gesture on the Cardinals fans' part," Robinson said. "I'm just really grateful I made an impact on them in such a way they gave it back to me. It was a really nice little surprise how loud things were. Made me feel really good and cemented what I wanted to accomplish while I was there and just to play as hard as I could to get things done. And I feel like they saw that."
"It was nice to see. It was nice for him, but it's kind of a nice reflection of Cardinal baseball fans and appreciation," Twins manager Paul Molitor said. "He was a part of some really good memories over there. I like to see those kinds of things, and the Cardinals' fans are as good as anybody at doing that."
Over 268 big league games, Robinson hit .231 with 12 doubles, two triples, five home runs and 37 RBIs. One of his more memorable moments came in Game 4 of the 2013 NLCS, when he belted a pinch-hit homer in a 4-2 win over the Dodgers.
St. Louis released him last November, and Robinson signed a Minor League deal with the Twins the following month.
On Saturday, he went 0-for-2 with a walk, fielder's choice groundout and double play.
"I didn't know not being a big-time guy there, just being a bench guy and whatnot, wasn't sure what would come of it," Robinson said. "Like I said, I was very grateful, very humbled by the reaction. It made me feel good that I was recognized for my time there and when I did get in the things I did."
Christina DeNicola is a contributor to MLB.com. This story was not subject to the approval of Major League Baseball or its clubs.