Reed tweaking mechanics, vows to be ready for Opening Day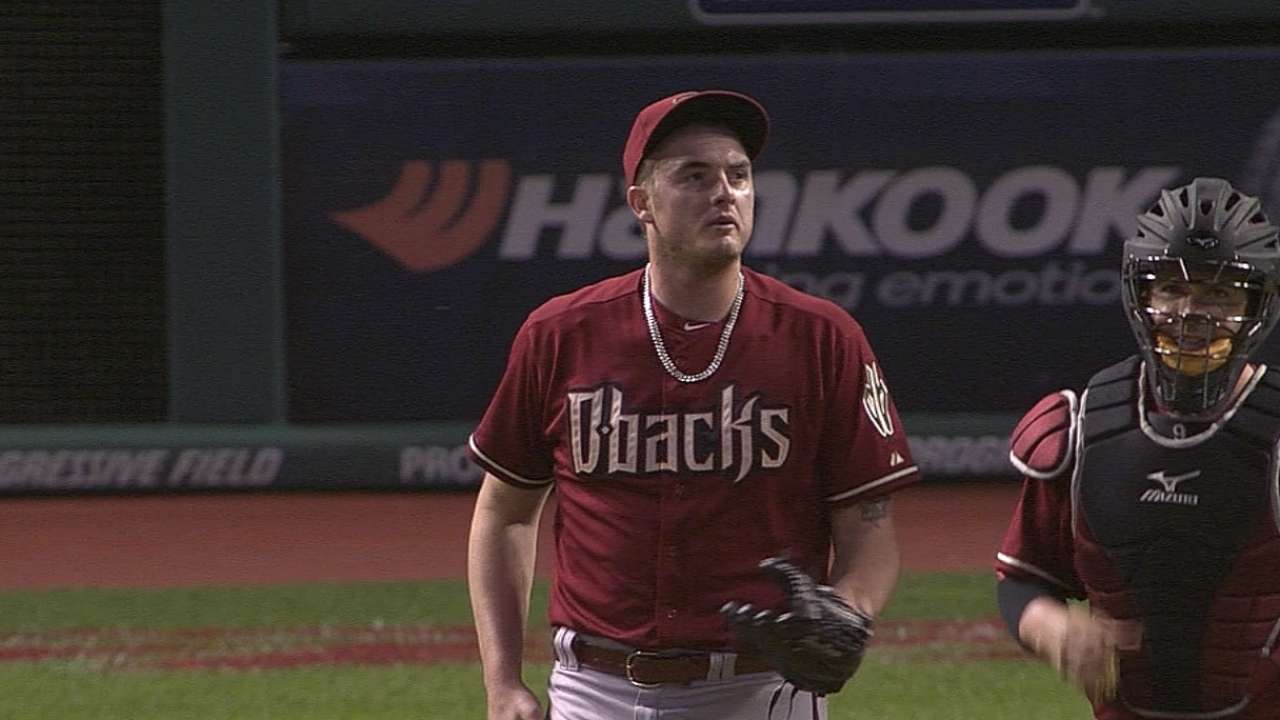 SCOTTSDALE, Ariz. -- D-backs closer Addison Reed threw a second bullpen session of the spring Saturday and once again vowed he would be ready for Opening Day.
Reed experienced some soreness in his shoulder just before camp opened. Tests showed there was no injury concern, but the club shut him down for awhile, which put him behind the rest of the pitchers.
However, all along Reed has said he plans on being on the active roster for the April 6 opener against the Giants.
"I feel like if the season started April 1, I could be ready right now," Reed said. "But April 6? There's no doubt in my mind. I still feel like 100 percent I'm going to be ready by then."
It might be a slightly different-looking Reed that takes the mound as the right-hander is making some subtle, yet important, mechanical adjustments.
Reed has always thrown across his body in his delivery, but it has gotten more pronounced and he is working to cut down on that. The D-backs first broached the idea to him last year, but changing mechanics when you're a closer -- pitching with the game on the line -- is not very practical.
"We worked on it a little bit last year," he said. "There were a couple things we worked on probably around the All-Star Break last year. In the middle of the season it's hard to do, because you're out there in the game and you don't want to be focusing on mechanics when Buster Posey is in the box."
Throwing across the body puts added stress on the shoulder, something Reed would like to avoid.
It is also harder for him to reach the outside corner against right-handed hitters.
"We're definitely not taking away throwing across my body, we're just trying to limit how far we're going across my body," Reed said. "Where I was stepping at the end of last year, if you drew a straight line, the catcher would have been behind the right-handed batter so to get the ball down and away to that batter. It's doable, but probably not the best for your body and shoulder."
Reed has given quite a bit of thought as to why his shoulder got sore, especially since there is no damage inside it.
"Honestly the only thing that I can think of is trying to get ready too fast," he said. "I think when I started my throwing program in the offseason I was a little too amped up. I think I was feeling good the first few times I was out there throwing. I knew that I was supposed to go easy and slow the first couple of days, but my arm felt awesome, it felt great and I was too excited, too amped up and every time I was out there throwing, I was throwing 90 to 95 percent."
Steve Gilbert is a reporter for MLB.com. Read his blog, Inside the D-backs, and follow him on Twitter @SteveGilbertMLB. This story was not subject to the approval of Major League Baseball or its clubs.