Broadcaster Harrelson has high hopes for White Sox in '15
Play-by-play man loves offseason moves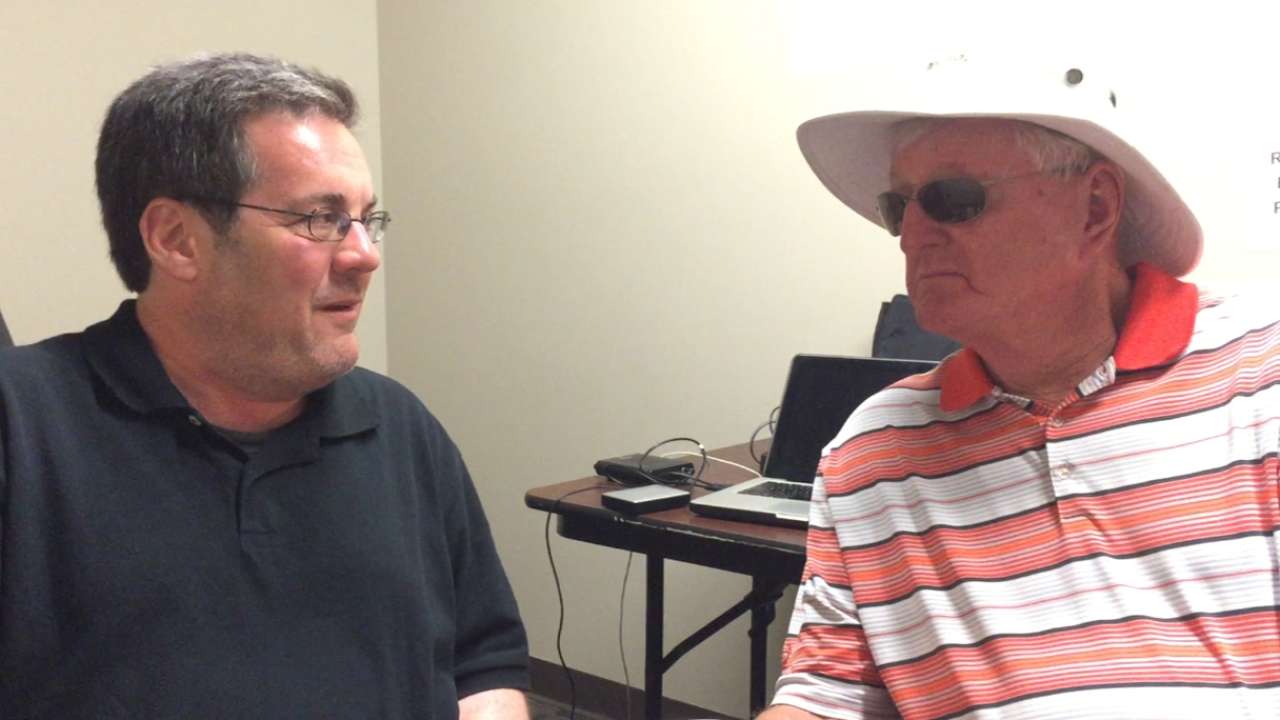 GLENDALE, Ariz. -- If you are a White Sox fan and not already excited about the 2015 season, then spend a few minutes with Ken "Hawk" Harrelson. During a recent video sitdown with MLB.com, the iconic White Sox television play-by-play man showed the highest level of optimism seen among his 31 seasons with the team in the broadcast booth.
Here are some excerpts from that interview:
On deciding not to cut back his 2015 broadcast schedule:
"I told [White Sox chairman] Jerry [Reinsdorf], we talked about it, it was down at one time to about 125 games, 120 games, something like that. And then we got [Jeff] Samardzija, it was one of my two wish lists for Christmas. The other was Victor Martinez. But they [the Tigers] had to sign him to back up [Miguel] Cabrera. If they don't, Cabrera is going to be useless.
"But I think the thing … we were having dinner one night and I saw we signed [Melky] Cabrera. I told Aris [my wife], 'Honey, I can't believe this. This guy is a Sox killer.' He's been a hell of a player. And you put Cabrera and [Adam] Eaton and [Avisail] Garcia out there, that will get the job done.
"I told her, 'You know what? We are going to do them all this year. We are going to do 174.' We are going to do 162 in the regular season and then when we won this thing in '05, we were 11-1 so 12 and 162 is 174."
On general manager Rick Hahn, the miracle worker:
"To take this ballclub from 2013 … . It was the worst season I've ever experienced in my career as a player and as an announcer. Fifty or 100 years from now, they are going to look back at the trade that gave us the impetus to do what he's done as Garcia. I mean, when he made that deal, that gave this organization direction. Going with youth, the speed and power. And that's what he's done.
"The toughest thing for a general manager to do in these days is to rebuild a bullpen and he's done that. That was one of Kenny's [executive vice president Kenny Williams] strengths, too. But to have the ballclub to where we were after the '13 season to where we are coming into the '15 season, it's phenomenal."
On Jose Abreu, superstar:
"What a joy, one of the great free-agent signings by the White Sox -- $68 million for a young player who never had a Major League at-bat? It might be one of the cheapest $68 million ever spent in the history of baseball."
On how championship hopes could be derailed:
"Outside of injuries? The one thing that could hurt us is if we just didn't play defense. The first rule of baseball is you've got to catch the ball. If you can't catch it, I don't care how good your offense is. I don't care how good your pitching is. You are going to lose. It's that simple.
"We saw that with Kansas City. They were the poster child last year for catching the ball and running. One of the greatest clubs I've ever seen were the Cleveland clubs back in the mid-'90s. They had [Roberto] Alomar and [Jim] Thome and those guys and Manny [Ramirez]. They could beat you anyway you wanted to get beat.
"They could beat you with home runs, they could beat you with hitting. They could beat you with defense. Kenny Lofton covered everything out there in the outfield. They could beat you with speed. The White Sox in 2015, leaving Spring Training, barring injuries, we can run, we have good pop, we have good starters, we have a good bullpen and we catch the ball."
Scott Merkin is a reporter for MLB.com. Read his blog, Merk's Works, and follow him on Twitter @scottmerkin. This story was not subject to the approval of Major League Baseball or its clubs.