Bogusevic, Aumont making strides for Phillies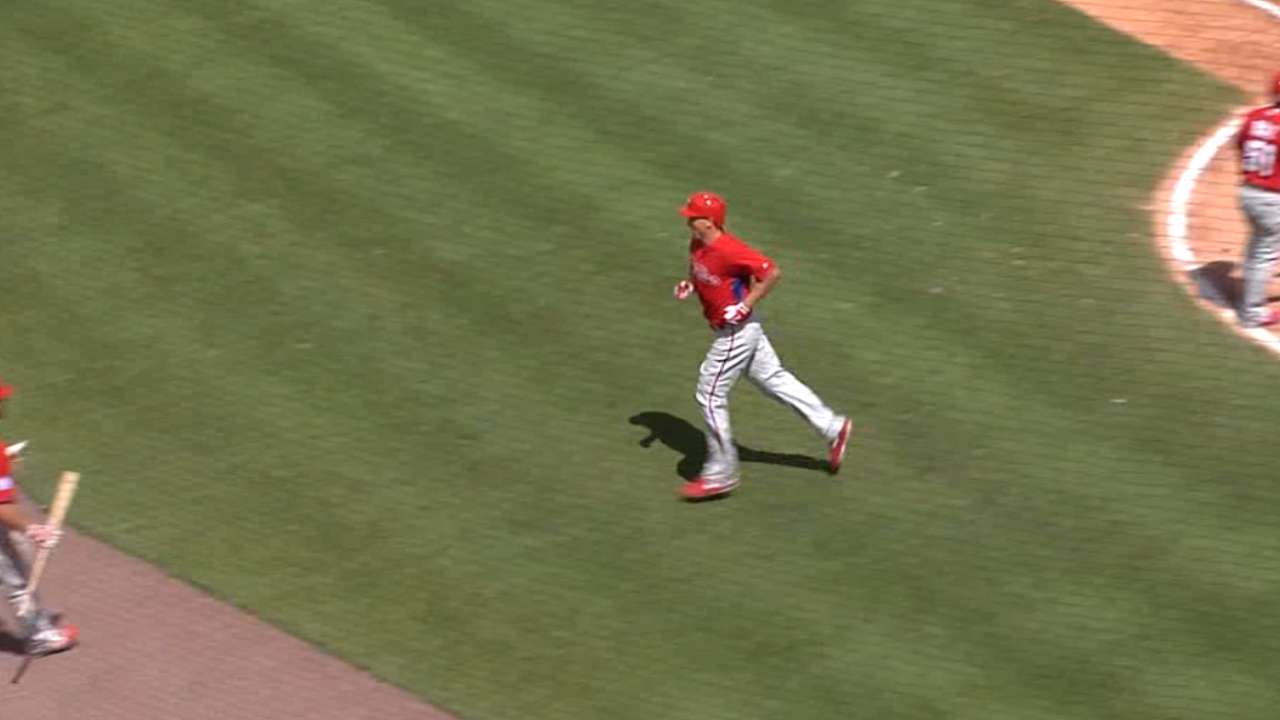 LAKELAND, Fla. -- After hitting just two home runs in their first 10 Grapefruit League games, the Phillies have now hit three in their last two contests.
That includes two by non-roster invitee Brian Bogusevic in Saturday's 5-4 win over the Tigers at Joker Marchant Stadium. He was a late addition to the lineup after Jeff Francoeur felt a twinge in his left oblique during batting practice and was scratched for precautionary reasons.
One of the themes of camp for the Phillies has been that there are jobs to be won. The 31-year-old Bogusevic took full advantage of his first start to show what he can do by homering to left in the first, a two-run shot, and then to right in the third, both off Tigers starter Anibal Sanchez.
"He's here in Spring Training having a look like everybody else. He's shown a good bat," manager Ryne Sandberg said. The ball really comes off his bat well. He's shown a good arm in the outfield. He's an interesting guy. We have some interesting players in camp, so we'll continue to look and watch.
"For anybody in camp it's important to show what they can do, put themselves in a position to leave with the ballclub or to be one of the guys [you turn to] in a need situation. We have a lot of new faces in camp. So for us to get to know some of these guys and for them to show what they can do is very important."
Bogusevic has been held back by injuries with the Cubs in 2013 and the Marlins' Triple-A New Orleans affiliate last year.
"There have been ups and downs, but that's how baseball goes," he said. "That's how life goes. It's not a big deal. You just keep going.
"Every spring you have goals of making teams and this and that. But really what you have to do is get ready for a season. If you're not trying to get ready for the season, you're really not doing yourself any favors. Just see as many pitches as possible, get as many good swings as possible for the first game of the season, no matter where it is."
Two other players getting a close look, for different reasons, also played on Saturday.
Phillippe Aumont, the towering right-hander who is out of options, struck out two of the six batters he faced after allowing an inherited runner to score in the third.
"He threw a lot of strikes," Sandberg said. "He was much better. Got ahead of the hitters. It was good outing for him. He needs to be able to repeat it, hit his spots, not make mistakes, keep the ball down, quality pitches. He showed more of those in this outing."
Touted No. 3 prospect Maikel Franco went 0-for-3, dropping his Grapefruit League average to .182.
"He needs to make some adjustments," Sandberg said. "We saw some of the same approaches and same swings last year in September [when the 22-year-old batted .179 in 16 games]. For him to break into the league and be an established hitter, he needs to hit for an average and use the whole field. That's what's talked about with him. He looks like he's overswinging."
Paul Hagen is a reporter for MLB.com. This story was not subject to the approval of Major League Baseball or its clubs.