Sale feeling much better, won't set timetable for return
White Sox ace throws off mound Friday, long tosses Saturday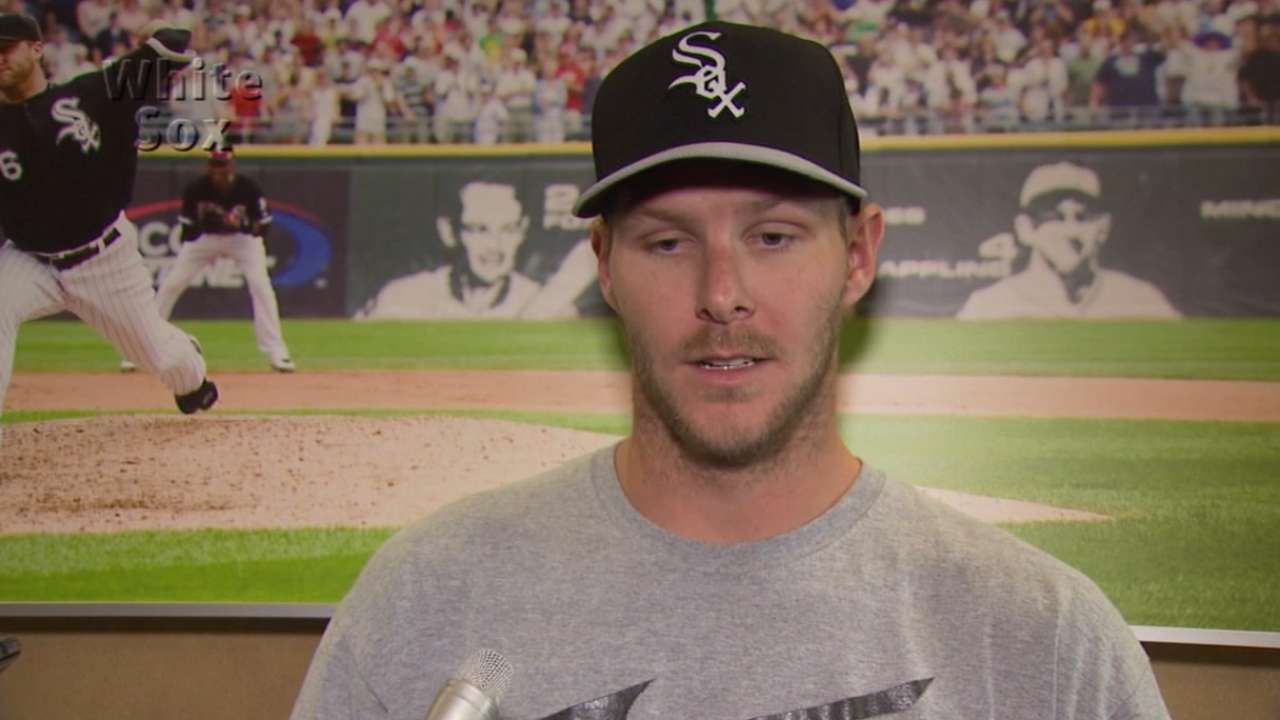 GLENDALE, Ariz. -- Chris Sale feels and looks decidedly better in regard to the healing process for the avulsion fracture in his right foot compared to the media update he provided last Saturday. But the White Sox ace isn't about to set a timetable for return.
"Let's be honest. If I say a date and I don't do it, it's 'Oh my God, what's happening?'" said Sale, speaking at Camelback Ranch on Saturday. "And if I come back too early, it's, 'Oh, they're rushing him.' We're going to do what we need to do when we need to do it, and that's where we're at.
"I've never really gone through anything like this before, so I didn't know what the timetable would be or was projected to be. I just show up every day and try to get it better."
Sale's ensuing comments gave cause for optimism. Over the past four days, Sale feels greater progress than he did in the previous 11 days combined. He noticeably was walking better on the foot he injured Feb. 27 in an accident at his Arizona home.
More reps and more volume are now possible in Sale's daily work, and he can stand on the foot. Sale was even able to throw off of a mound Friday, followed by some long toss Saturday.
"Side to side stuff is still a little tough for now, but that will come with time," said Sale, who threw off the mound to pregame instructor Mike Kashirsky, who wasn't in the catcher's crouch. "I ramped it up a little bit today and really put some pressure on it, so it's feeling better."
"He long tossed today. I was over there watching him. He looks good. He can pitch," said White Sox manager Robin Ventura. "He just wouldn't be able to move around and do anything. Just progression, getting him to that point where he can pitch, field a bunt, move around, cover first. But as far as watching him throw, it looks pretty normal, which is pretty encouraging."
During a recent MLB Network appearance, executive vice president Ken Williams discussed a potential April 12 return for Sale. That date coincides with the first need for five White Sox starters. But Ventura follows the same path as Sale, in that the White Sox southpaw won't be making his third straight Opening Day start and nothing past that stands as a certainty.
"I'm just as disappointed as missing any other start," said Sale, who originally was to be away from baseball activities until March 21. "Obviously you want to be out there as much as you can and you don't want to miss any time, but stuff happens.
"But if feels good. That's a good sign and that's a sign of what we're looking for. Just keep working and every day gets better. I'm definitely doing everything I can to get back out on the field and everyone else around me is doing everything they can to get me on the field, too."
Scott Merkin is a reporter for MLB.com. Read his blog, Merk's Works, and follow him on Twitter @scottmerkin. This story was not subject to the approval of Major League Baseball or its clubs.