To motivate players, Fredi has cement block broken on chest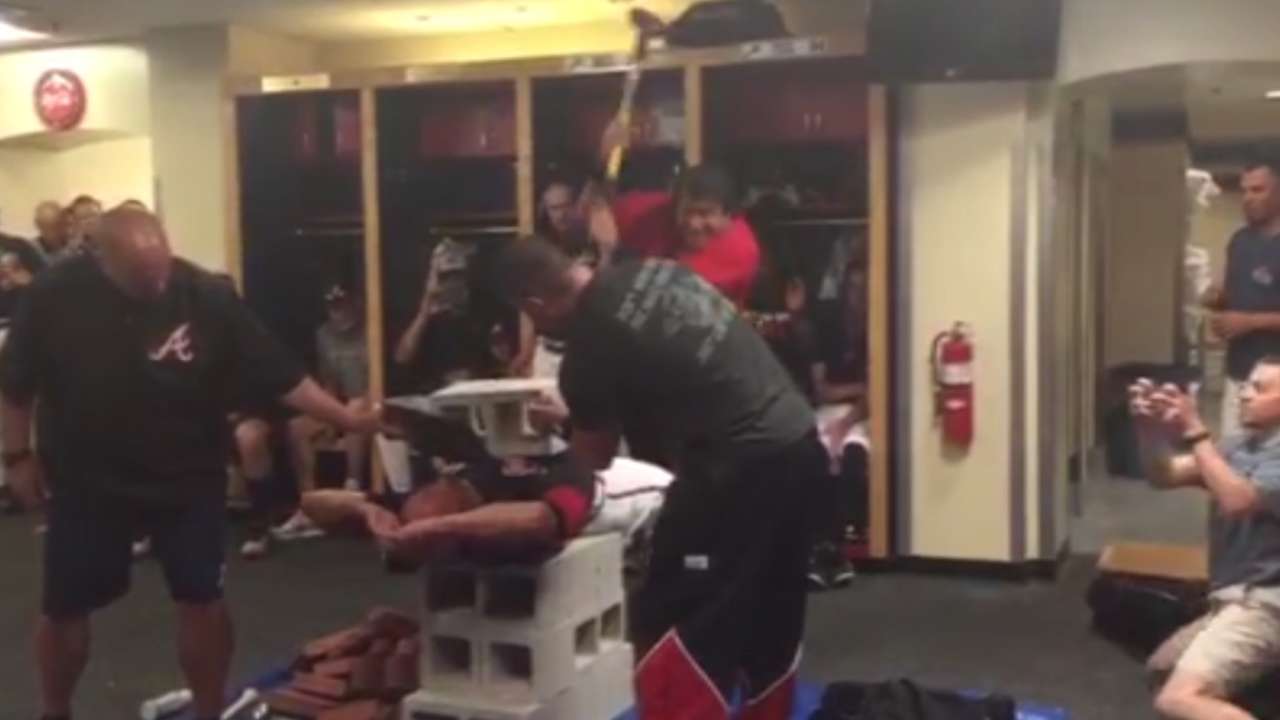 LAKE BUENA VISTA, Fla. -- Attempting to strengthen the mind-set that they are capable of exceeding the less-than-lofty expectations that others have for them this season, the Braves welcomed motivational speaker Donnie Moore to their clubhouse on Saturday afternoon, then watched him break a cement block that was resting on manager Fredi Gonzalez's chest.
"He had done it before and he knew what he was doing," Gonzalez responded when asked if he was scared. "I think the last thing in his mind was to hurt somebody. At the end of the day, if he's going to hurt somebody, I'd rather him hurt me than one of the players."
In addition to promoting trust with this exercise, Moore captivated the players by cracking three baseball bats, running straight through two 2X4 pieces of lumber and tearing two phone books in half. These actions simply bolstered his theme, which was that anything can be accomplished with proper preparation and a positive mind-set.
"He was basically saying, 'I can break these bricks because I know I can,'" right-hander Shelby Miller said. "He's prepared and trained for it. He uses that toward baseball for us. Because he has trained for it, he knows he can break the bricks. So for us, it's like, 'I know I'm going to pitch well because I've trained for it and done everything I can to be the best.'"
Moore, 57, has spent the past two decades delivering his motivational messages to church groups, students and various athletic teams. One of his journeys took him to Brownwood, Texas, to speak to a fifth-grade class that included Miller.
"It was a good learning experience just to hear how he goes about his life," third baseman Chris Johnson said. "He teaches you basically how to be a winner."
Because they share a similar warrior personality, Moore and veteran outfielder Jonny Gomes developed an immediate friendship after meeting while Gomes was playing for the A's a few years ago.
It did not take Gomes long to convince Gonzalez that they needed to bring Moore to their camp.
"If you don't get pumped up listening to him speak, then you don't have a heart," Gonzalez said.
Beyond being thrilled with the chance to meet former Braves manager Bobby Cox, Moore was overwhelmed by the ovation the players gave him at the end of his speech.
"What blew me away was the standing ovation," Moore said. "For athletes to stand up like that, it was pretty moving and, I think, humbling, because something you said impacted their life."
Mark Bowman is a reporter for MLB.com. This story was not subject to the approval of Major League Baseball or its clubs.