Taste of big league Spring Training has Ruiz hungry to return
Young infielder one of seven reassigned to Minors camp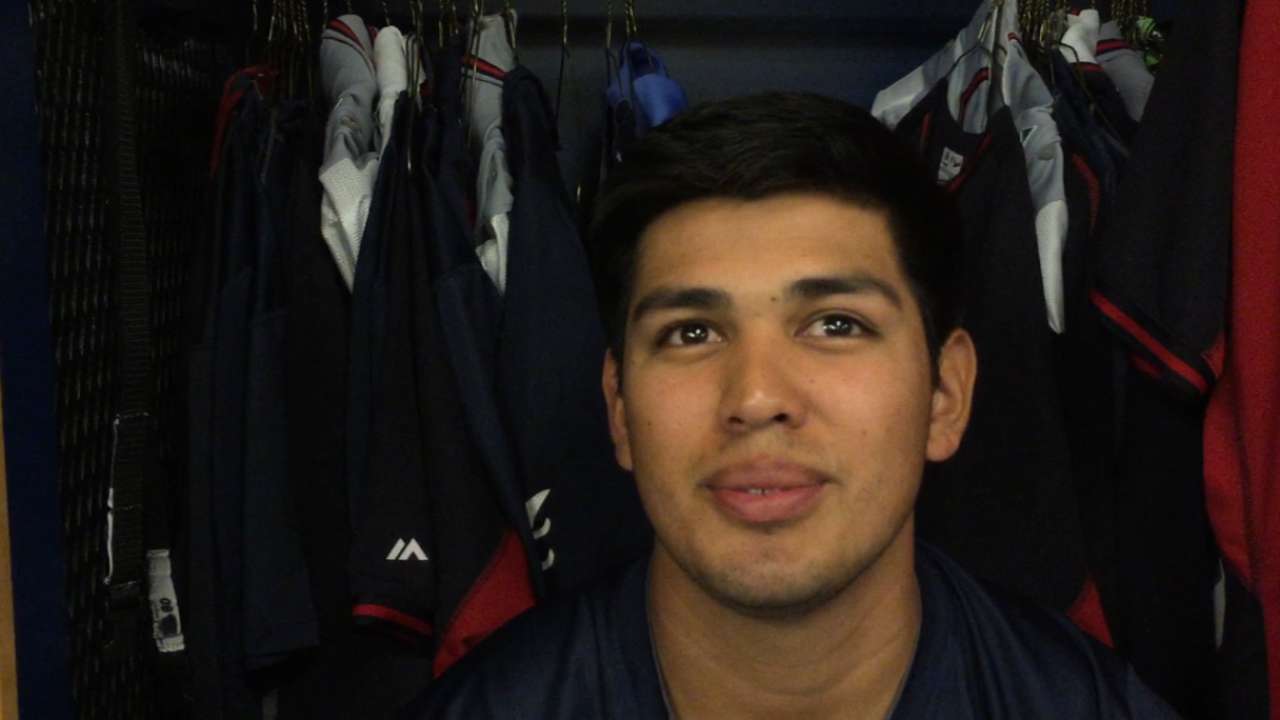 LAKE BUENA VISTA, Fla. -- As third-base prospect Rio Ruiz wheeled some of his equipment out of Champion Stadium and headed over to the Braves' Minor League clubhouse early Saturday afternoon, he was thankful for the opportunity to spend the past few weeks experiencing his first big league camp.
"I learned a lot from not only being around everybody, but also talking to [first-base coach] Terry Pendleton and [manager] Fredi [Gonzalez]," the 20-year-old Ruiz said. "That experience alone, I think, will further me during my Minor League career and help get me ready for the big leagues."
Ruiz highlighted the list of seven players who were reassigned to Minor League camp on Saturday. The others are outfielders Mallex Smith and Cedric Hunter, catchers Matt Kennelly and Chris O'Dowd, right-hander Jason Hursh and infielder Daniel Castro.
This Spring Training experience gave the Braves their first long look at Ruiz, who was acquired in the January trade that sent Evan Gattis to the Astros. Ruiz seemed to make the most of his chance to show how close he might be to being ready to become Atlanta's third baseman.
Ruiz recorded one hit and drew a pair of walks in five Grapefruit League plate appearances. His playing time was limited because the Braves are also trying to get a feel for Jace Peterson, Phil Gosselin, Kelly Johnson and Alberto Callaspo -- the four infielders who could get a chance to platoon at third with Chris Johnson.
"Even if you play in just one game, you get to see what it's like, and you get to see how they live," Ruiz said. "It just makes you hungrier to take those extra reps and work smarter and know exactly what you need to do get [to the Majors]."
Smith, the speedy center fielder acquired in the December trade that sent Justin Upton to the Padres, also made a good first impression. He notched four hits in 11 at-bats and was successful in two of three stolen-base attempts.
Hursh surrendered four hits and allowed a pair of runs in two innings in his only Grapefruit League appearance. Hursh, who was selected by the Braves in the first round of the 2013 First-Year Player Draft, also completed three innings during a "B" game against the Astros earlier this week.
Mark Bowman is a reporter for MLB.com. This story was not subject to the approval of Major League Baseball or its clubs.