Healthy Gio in high spirits, having fun with Nationals
Left-hander likes movement of pitches in camp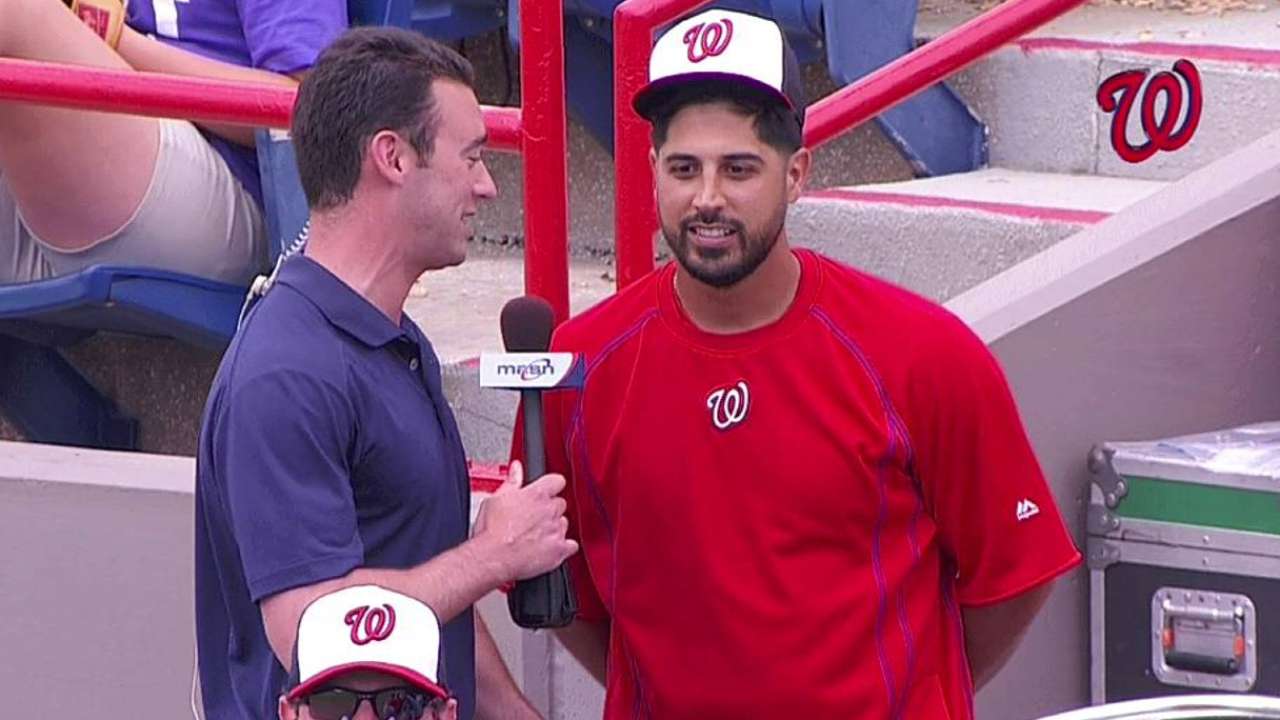 VIERA, Fla. -- Just two starts into his Grapefruit League season in 2015, and Gio Gonzalez feels like it's 2012 again.
He is not battling any issues with his arm or shoulder. And most of all because he is having fun, he was challenged to work in the phrase "right meow" 10 times during a recent television interview, which he completed successfully.
"I think that our rotation does that now," Gonzalez said. "We're just happy, we're smiling, we're picking each other up, and I think that's how I feel now.
"My body feels great. I can't complain the way I'm feeling right now. I feel like I'm on cloud nine right now."
Gonzalez was one of the best pitchers in the National League in 2012. He won 21 games, posted a 2.89 ERA and struck out 207 batters (in 199 1/3 innings) with a 2.82 FIP, all career bests. He made the All-Star Game and finished third in the voting for the National League Cy Young Award.
On Saturday, the Marlins jumped on him early in the count and tagged him for four runs on four hits in 2 2/3 innings in their 4-0 victory, but he left the start satisfied. Gonzalez felt as if his fastball was jumping out of his hand, his curveball was landing for strikes and his changeup stayed down in the zone.
"That's the beauty of Spring Training," Gonzalez said. "You got time to adjust, time to work. And I like the way I attacked the strike zone, pounded it and kept working."
The Nationals had a brief scare in the third inning. Gonzalez landed awkwardly while trying to back up the plate, which sent manager Matt Williams, pitching coach Steve McCatty and a trainer out to the mound to check on him. Gonzalez said he felt fine and fired a warmup pitch for good measure before getting the next batter to ground out.
"Don't need anymore of those right now," Williams said of the club's numerous injuries.
Jamal Collier is a reporter for MLB.com. Follow him on Twitter at @jamalcollier. This story was not subject to the approval of Major League Baseball or its clubs.