Karns makes pitch for Rays' rotation
Right-hander tosses four perfect innings vs. O's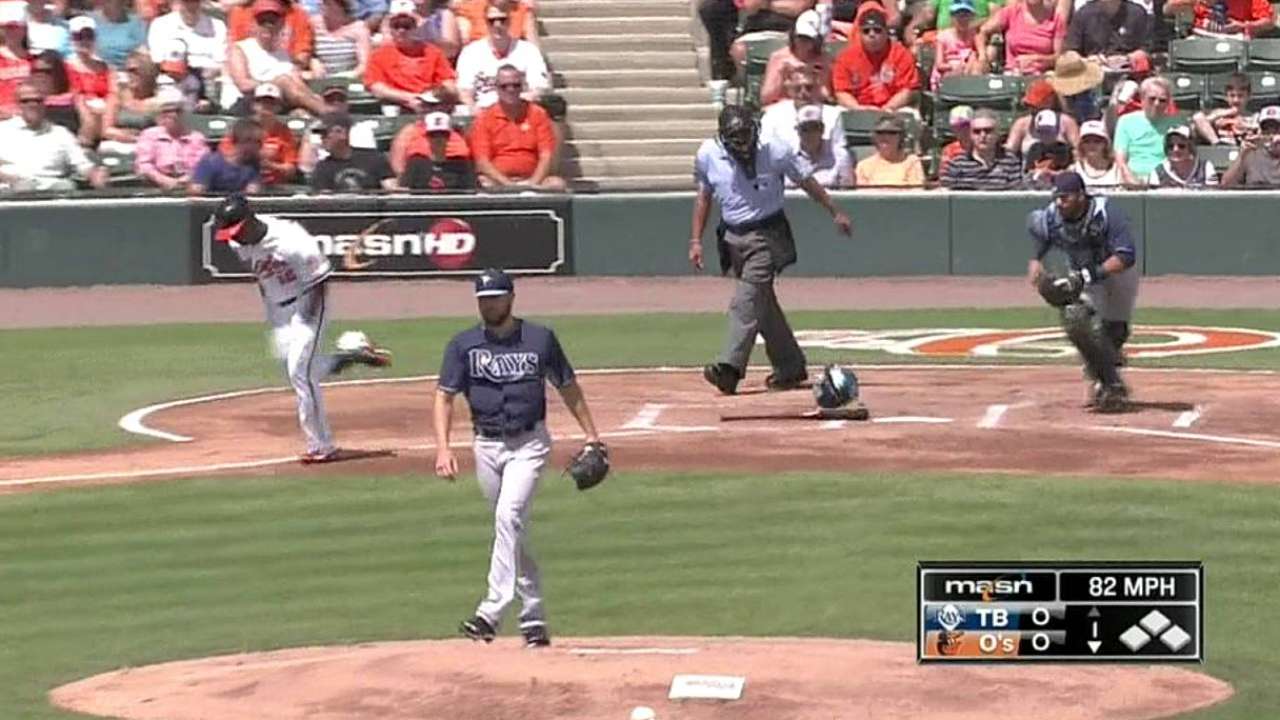 SARASOTA, Fla. --Tampa Bay right-hander Nathan Karns faced Baltimore for the second time this spring when the Rays took on the Orioles Saturday afternoon at Sarasota's Ed Smith Stadium.
Sort of.
In his first outing on March 5, Karns yielded one hit in two scoreless innings against an Orioles' split-squad that featured only one likely starter in outfielder Alejandro De Aza.
Karns, 27, who is battling for a spot in the Rays' starting rotation, faced a dramatically different ballclub -- and challenge -- when Baltimore manager Buck Showalter trotted out a lineup consisting largely of Opening Day starters for Saturday's matchup.
And Karns was up to the task.
The 6-foot-3 right-hander pitched four scoreless innings of no-hit baseball, striking out two and walking none in a 3-2 Tampa Bay victory.
"That's for them to determine," said Karns of the possibility of earning a spot in the Rays' starting rotation. "I'm just out there playing the game that I enjoy and love playing every year, and whatever happens that's their decision. I'm just here to put my best foot forward, no matter what."
Karns was well aware that the lineup he faced on Saturday bore scant resemblance to the Orioles' batting order he faced in his Grapefruit League opener.
"It's always going to be a challenge out there, facing all these hitters," he said. "But if I want that [starting] position, these are the lineups I'm going to be facing in the league. Why not face them now and see what happens?"
What happened, at least on Saturday, was a giant step towards earning a starting role in Kevin Cash's rotation.
"I've gotten a very serious vibe from him in camp, but I guess that's good," said Cash when asked about Karns' approach this spring.
"He knows this is a big camp for him, and he's really focused about going about his business."
Michael Kolligian is a contributor to MLB.com. This story was not subject to the approval of Major League Baseball or its clubs.