Sanchez, Diaz creating interesting backstop quandary
Catching prospects continue to impress despite not being in 2015 plans
FT. MYERS, Fla. -- Tony Sanchez and Elias Diaz, yesterday's and tomorrow's big hopes behind the plate, continue to make the Pirates' today quite intriguing. Neither is supposed to be in the 2015 picture, with a tandem of veterans in place. Each is making his exclusion tough.
Francisco Cervelli was a quick-strike acquisition from the Yankees to replace Russell Martin and pair with holdover Chris Stewart. The Bucs are locked into them, with little likelihood of carrying three catchers.
Thus, the fascination with the springs of Sanchez and Diaz, who have been getting most of the playing time and making the most of it. Both are batting .500 -- Sanchez got there with two hits in Saturday's 5-2 victory over the Red Sox and Diaz stayed there by drawing a walk in his only plate appearance -- and showing off strong throwing arms.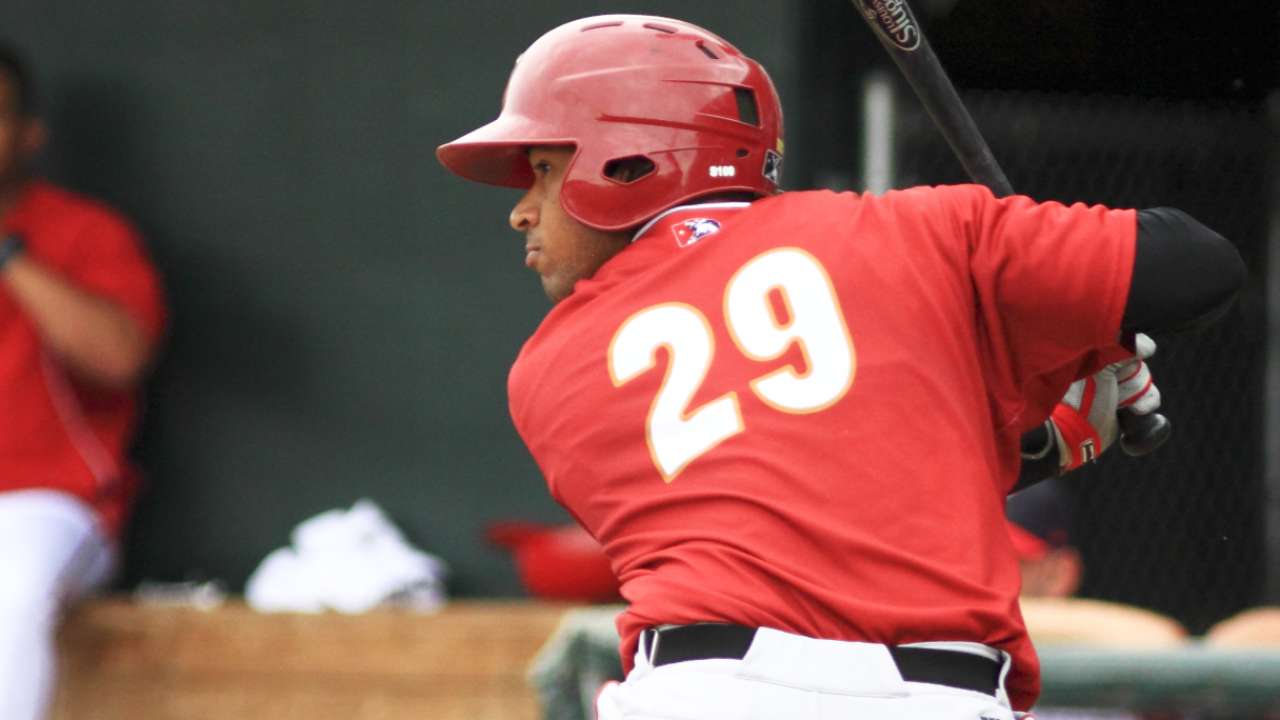 The Pirates expected to be impressed by Diaz. Sanchez, perhaps not so much; years of waiting seemed to exhaust his potential to surprise. Then he comes in hitting, and throwing, lasers.
"He's committed, on a mission," general manager Neal Huntington noted of Sanchez, his top 2009 First-Year Player Draft pick. "He wants to make your life difficult, which is a great thing, and if he continues to progress the way he has, we'll have some challenging decisions to make."
That was Sanchez's plan. That had to be Sanchez's plan.
"That's what I wanted to do, coming into Spring Training. I didn't want to make their decision easy," said Sanchez, who had a healthy reaction to the Dec. 8 deal for Cervelli. "I knew they would [get another catcher] and it was no one's fault but my own. I'm the one. They couldn't trust me."
Sanchez is firing hard strikes everywhere. He nailed another runner on Saturday, Allen Craig, to complete an inning-ending strikeout-throwout double play.
"I'm going about my business the right way, getting my work done and reaping he rewards of hard work," he said.
This is an interesting evolution. Sanchez always had the stick but has been held back by his scatter arm. Diaz was renowned for defensive skills, highlighted by a cannon arm, before his bat caught up.
Do they now add up to two complete receivers?
Clint Hurdle, who regularly digested glowing reports on Diaz during the second half of the 2014 season, has not been disappointed.
"We like what we've seen. He's done nothing but continue to do well," the manager said. "His at-bats have been clean. The bat has shown up. He continues to give us a lot of reasons to think he's going to be able to impact our club in the future."
Diaz's arm "lights up" Huntington.
"We have always loved the throw," the GM said, "and he's gotten better as a catcher and has been very impressive in the batter's box. He's obviously had a great camp."
Tom Singer is a reporter for MLB.com and writes an MLBlog Change for a Nickel. Follow him on Twitter @Tom_Singer. This story was not subject to the approval of Major League Baseball or its clubs.