Phelps embracing chance to part of something special in Miami
Right-hander wants to help club forge identity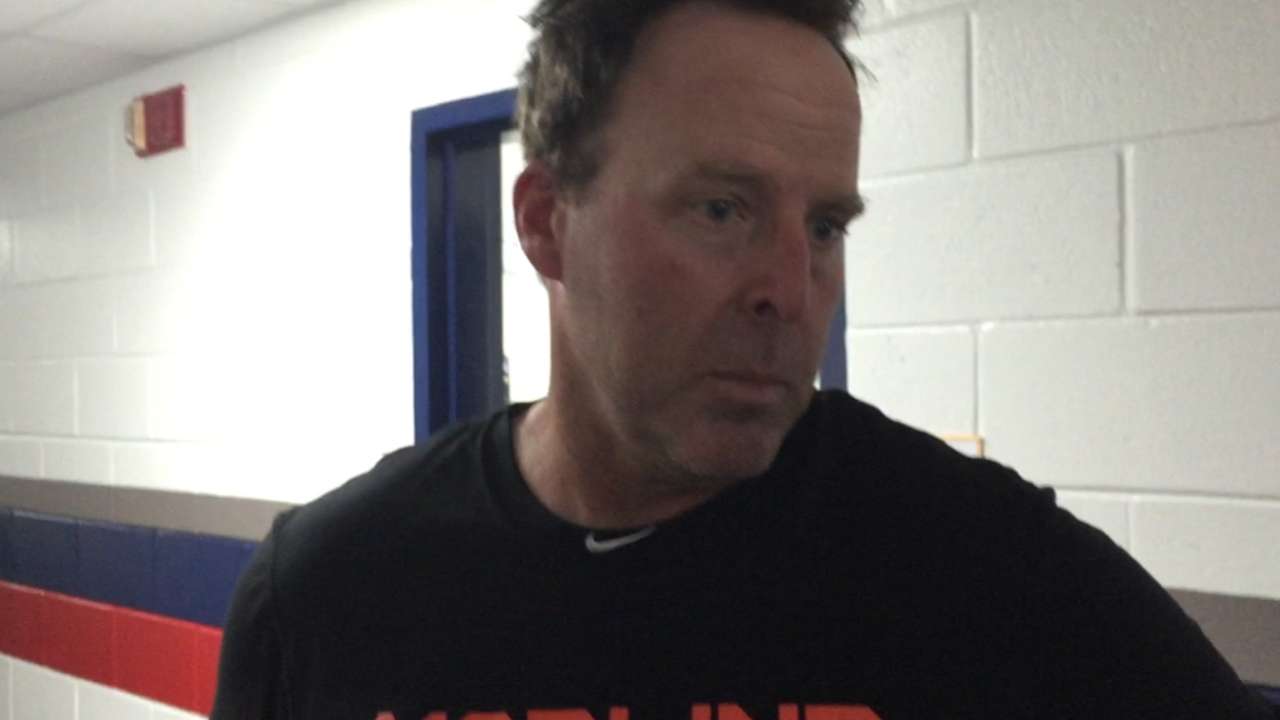 VIERA, Fla. -- Going from a traditional power to a young team on the rise initially was a shock for David Phelps. Admittedly, the right-hander was stung by the fact he was traded from the Yankees to the Marlins in December.
But the more he gets acclimated to his new team, the more he embraces his opportunity in Miami.
"It's an exciting group of guys," Phelps said. "When I first got traded, I was bummed at the time. I loved playing in New York. But when I started looking at the roster, I remember seeing games last year, most of them were when Jose [Fernandez] was pitching. They were always exciting.
"Then you look at the lineup. There's a lot of young, talented players. It's really a breath of fresh air. To have a core in place that is younger than me. It's foreign to me. I've been fortunate to play with Derek Jeter, Andy Pettitte, Mariano Rivera, CC Sabathia. I was the one walking around on my tippy-toes making sure I wasn't getting in their way."
Out of the New York spotlight, the 28-year-old is looking to make his mark with the Marlins. Phelps made another strong impression on Saturday, throwing three shutout innings in a 4-0 win over the Nationals, allowing one hit and striking out four.
Phelps finds himself in a similar situation to when he was with New York -- unsure if he will start or relieve. He is in a battle with Tom Koehler and Brad Hand for the fifth rotation spot.
"It's a lot different being a team with a target on your back all the time than a team where you've got to beat everyone's expectations for you," Phelps said. "It's obviously fun being the team everyone picks to win. But I'm really excited about this team."
Last season, the Marlins used a franchise-high 13 starters. The number inflated because the club searched for solutions after Fernandez underwent Tommy John surgery in May.
Miami added to its rotation and basically has about 10 options who have big league experienced or are close. The rotation is shaping up as Henderson Alvarez, Jarred Cosart, Mat Latos, Dan Haren and either Koehler, Phelps or Hand. Justin Nicolino and Jose Urena are the prospects closest to being ready.
"I think that's a good number [10]," manager Mike Redmond said. "You hope you don't have to go that deep, but you never know. In the big leagues, you'll have guys who will skip a start. You never know. But you have to be prepared if that happens. I feel like we're better prepared now than we had been in the past."
Joe Frisaro is a reporter for MLB.com. He writes a blog, called The Fish Pond. Follow him on Twitter @JoeFrisaro. This story was not subject to the approval of Major League Baseball or its clubs.