Energetic Norris trying to keep under control on hill
Blue Jays lefty believes he has a better feel for pitching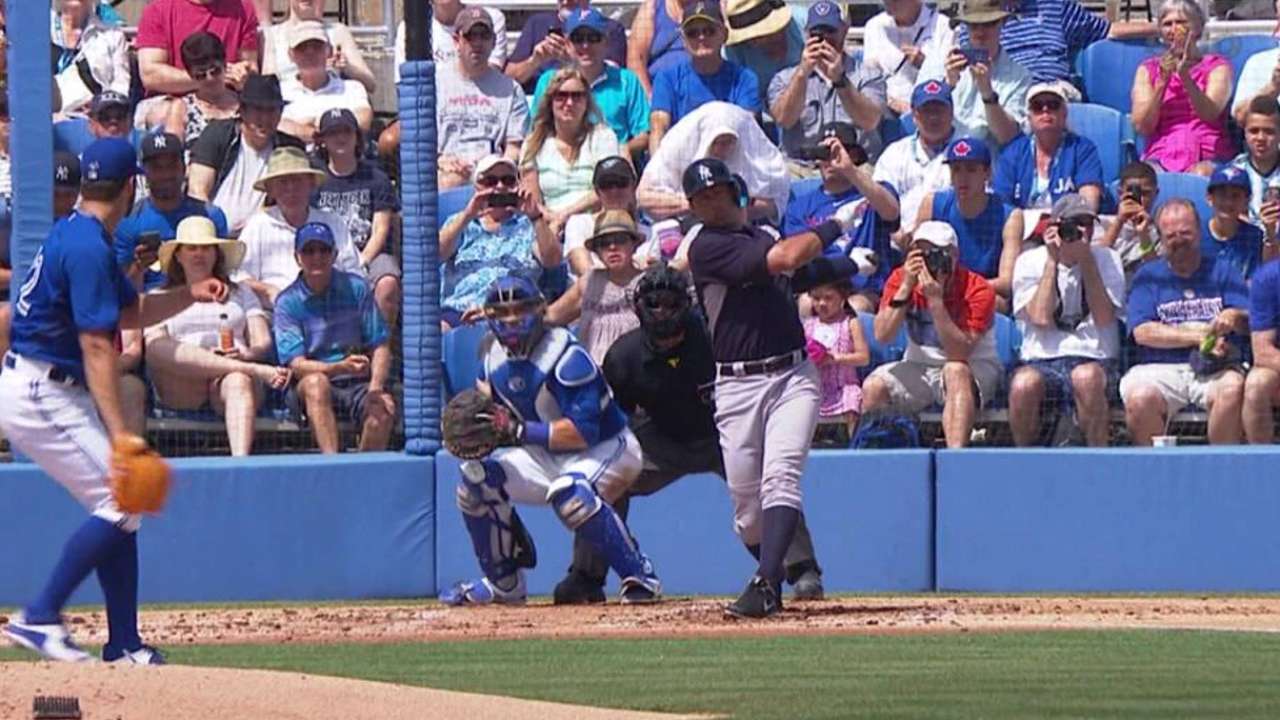 DUNEDIN, Fla. -- Blue Jays left-hander Daniel Norris admits he's a perfectionist, and that's not always the easiest thing to be in a sport where even the best players deal with failure on a regular basis.
Norris, who turns 22 on April 25, is still in the process of learning to deal with the highs and lows that come with being a big league pitcher. Controlling his emotions on the mound is going to be key in finding success during what should turn out to be his rookie season.
The Blue Jays admit that sometimes Norris can get a little ahead of himself instead of remaining cool and relaxed. That can create issues with his mechanics as he speeds things up and is one of the reasons keeping a smooth pace has been a point of emphasis this spring.
"He's a kid that has an abundance of energy out there," Blue Jays catcher Russell Martin said. "Pitching coach Pete [Walker] was telling me even before he went out there, he's a kid that gets excited, gets amped and then tends to let his emotions take over.
"I'm a big believer that breathing kind of helps you be in control of your emotions out there and helps you stay in control. I just tell him to keep breathing, take his time and really stay in control out there."
Norris might occasionally have issues repeating his delivery, but one of the biggest steps he has made over the past year is identifying when something needs to be fixed. He no longer strictly relies on his pitching coach or catcher to notice that something might be amiss with his mechanics.
That can obviously stop an inning, or even an at-bat, from getting away from Norris in a crucial situation. It's also not something Norris was able to do earlier in his Minor League career when he dealt with control problems that seem to be a distant memory even though a lot of the issues occurred just two years ago.
"The feel for pitching I have now is a lot better now," Norris said after pitching 3 1/3 scoreless innings vs. the Yankees on Saturday afternoon in Toronto's 1-0 win. "Instead of going from inning to inning, or batter to batter, now it's pitch to pitch sometimes. That's where I've kind of grown and matured and gotten better at that."
Norris remains a favorite to win one of the final two spots in the Blue Jays' rotation. He is competing against right-handers Aaron Sanchez and Marco Estrada, but after a season-ending injury to Marcus Stroman earlier this week, there's a real need for the upside Norris could bring to the starting five.
The native of Tennessee didn't allow a lot of hard-hit contact and struck out four, including Alex Rodriguez, Brett Gardner and Carlos Beltran, but that doesn't mean he was satisfied. As always, there's something Norris wants to fine-tune.
"Sometimes I was rushing my delivery and that's why some of them were left up, but it was a matter of making adjustments, and that's a positive I can take out of it," Norris said. "I made some adjustments and felt a little bit better towards the end."
Gregor Chisholm is a reporter for MLB.com. Read his blog, North of the Border, and follow him on Twitter @gregorMLB. This story was not subject to the approval of Major League Baseball or its clubs.