Kipnis' improved health brings opposite-field success
Recovered from oblique injury, former All-Star doubles twice in two at-bats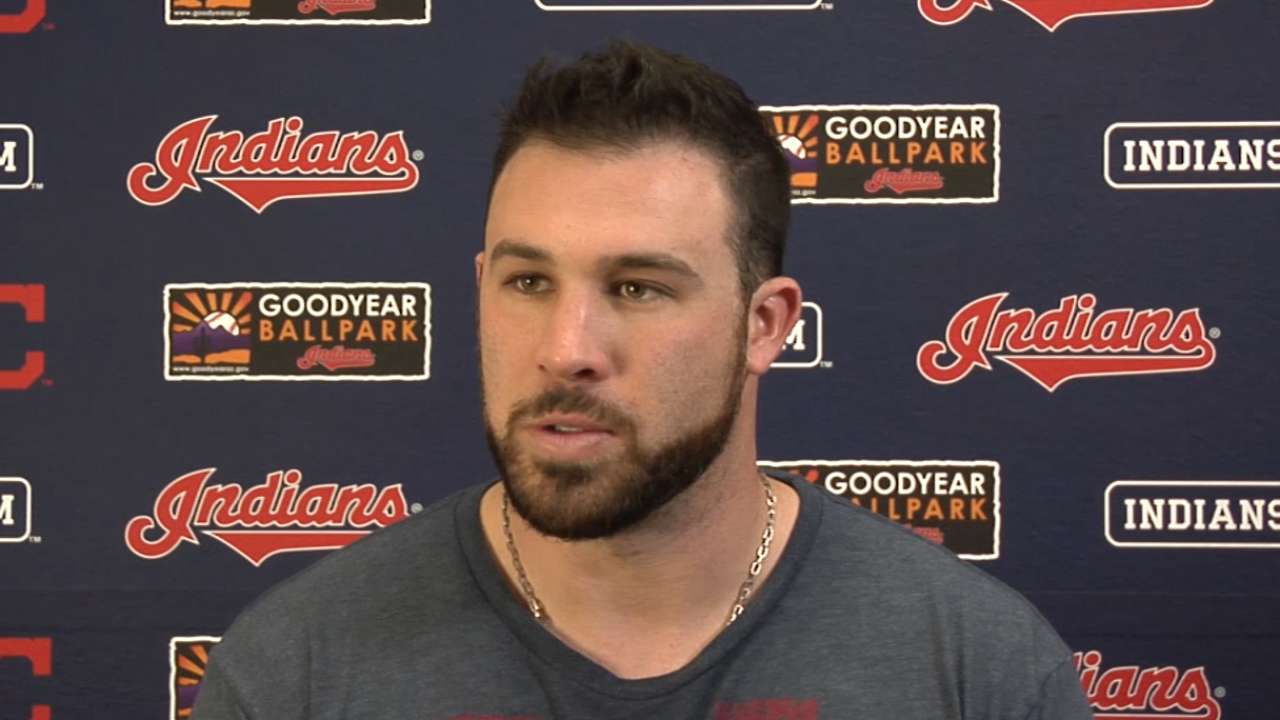 GOODYEAR, Ariz. -- Jason Kipnis finally feels like himself again in the batter's box. That was clear in the second inning against the D-backs on Thursday, when the Indians second baseman slashed a fastball to the wall in left field at Goodyear Ballpark for his second double in as many at-bats.
Driving the ball to the opposite field with authority is a trademark of Kipnis' offensive approach, but it is a trait that went missing last season.
"I'm finally healthy again," Kipnis said. "My whole body is in better shape right now and you're slowly getting your timing back, the more ABs you get. So you're starting to see better swings."
More to the point, Cleveland is seeing more consistent swings from Kipnis that are generating solid contact to the left side of the field.
After Kipnis injured his right oblique in late April last year and then returned to the fold one month later, he struggled to get proper extension to handle outside pitches. In 2013, when the second baseman made his first All-Star team, he hit .284 with 17 home runs, 84 RBIs and a .452 slugging percentage. Last year, Kipnis hit .240 with six homers, 41 RBIs and a .330 slugging percentage.
Kipnis smirked when he was asked when he last felt like he could consistently drive the ball hard to the opposite field.
"April of last year," Kipnis said. "It kind of coincides with the oblique thing. I'm not worried about that. You can see that I go the other way when I'm going well, but it's not trying to go the other way. It's just letting the pitch run deep or taking fastballs and going with it the other way.
"[Friday] was exactly what I wanted. It was a changeup to right and a fastball to left. That's telling me that I'm being where I need to be and getting my timing back slowly."
Indians bench coach Brad Mills, who served as the manager for the split-squad game against the D-backs, has been encouraged by Kipnis' latest performance.
"That's something we saw two years ago. That was him two years ago," Mills said. "He turned on the offspeed pitch early in the game and hit it to right field off the wall, and then he came back and hit that ball to left field. We all want to see that guy that he is. We know that's him and we know he can swing the bat like that."
Jordan Bastian is a reporter for MLB.com. Read his blog, Major League Bastian, and follow him on Twitter @MLBastian. This story was not subject to the approval of Major League Baseball or its clubs.