After being scratched, Bryant hits two homers
Top prospect expects to play Sunday despite shoulder soreness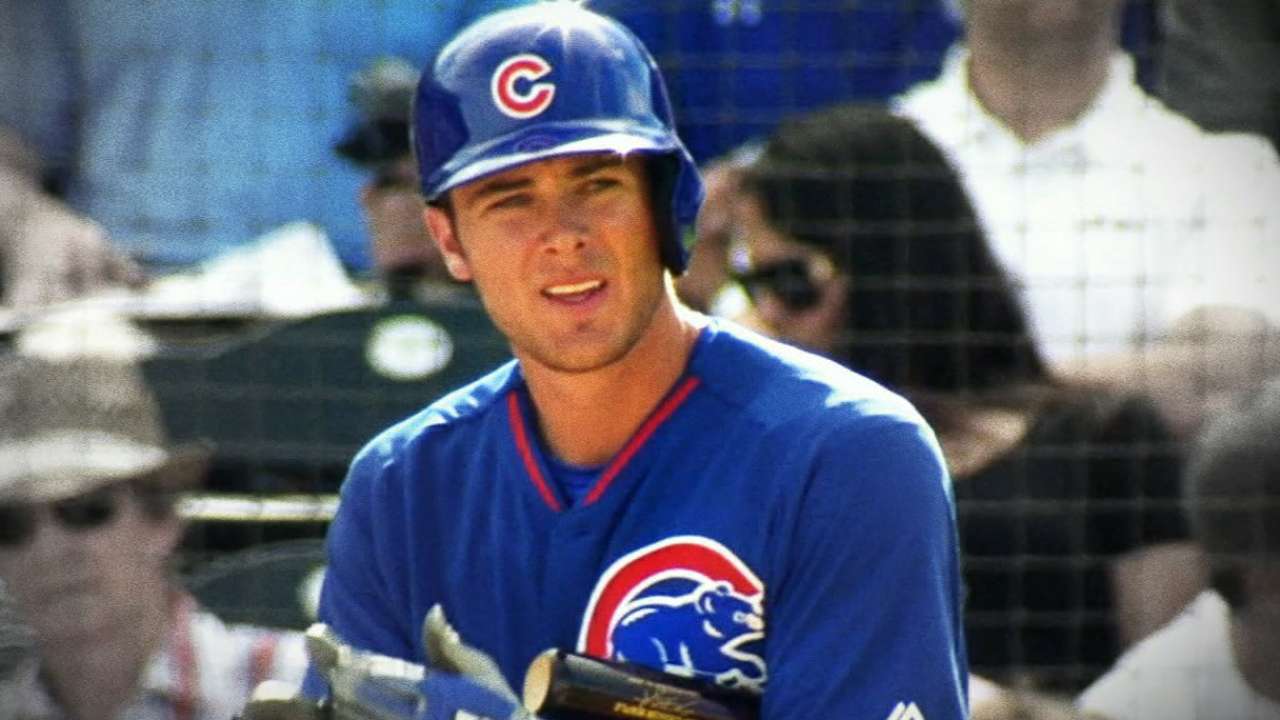 LAS VEGAS -- Kris Bryant didn't disappoint his hometown fans.
Bryant was scratched from the Cubs' starting lineup, but entered as a sub, and belted two home runs to raise his spring total to a Major League-leading six in a 3-1 victory over the Athletics at Cashman Field Saturday.
"I went into the game and I thought I just need to get a hit for my hometown and it turned out to be a really good game," Bryant said.
Cubs pitcher Eric Jokisch called both homers.
"I said, 'Might as well give us one' on the first one, and on the second one, after the last out of the inning before, I said, 'At least we get one the next inning because Bryant's coming up,'" Jokisch said. "It's not hard when it's 100 percent of the time."
Said Chicago pitcher Kyle Hendricks: "It's pretty good odds if you call it on him."
It was Bryant's second two-homer game in his last three after belting two on Thursday.
The Cubs' top prospect was scheduled to start at third, but did not because of right shoulder fatigue. However, he replaced Anthony Rizzo as the designated hitter in the third inning and didn't waste any time, crushing the first pitch from Oakland's Jesse Hahn.
Bryant had faced Hahn before and was looking for a two-seamer over the plate. Bingo.
"He threw it right where I wanted, and it just happened to be the first pitch," Bryant said. "It's good to get the crowd into it and hit one for my family and friends here. It was a good day for me."
He wasn't done. Bryant then led off the sixth with his sixth spring homer, connecting against Evan Scribner. The ball just cleared the fence in left-center field.
"It was a Vegas home run," Bryant said. "I'm blessed with that power. I trust my approach and tried to hit it in the air and good things usually come when I do that and I happened to get two of them again."
In his third at-bat, the A's R.J. Alvarez fell behind 3-0 to Bryant, and the crowd of 10,375 started to boo. They wanted to see the Las Vegas kid hit another one. Bryant ended up drawing a walk.
It was quite a homecoming for Bryant, who starred at Bonanza High School, and recently donated uniforms to the baseball team there.
"It was really cool to step into the box and hear people cheer for me," he said of his first at-bat. "I didn't know Vegas had that type of baseball connection. I didn't know if I was known as well as I am here, but I definitely heard it and it was really cool and brought me back to my high school days."
The shoulder soreness is nothing unusual, Bryant said, and he expected to be ready to play Sunday when the full Cubs squad is together in Mesa to face the Reds.
"I came to the park prepared to play third base," he said. "We thought it was precautionary to take this day.
"It's a long year," he said, "and I hope to be playing until the end of October."
Of course, the big question in Cubs camp is whether Bryant will be playing on the Cubs' Opening Day roster. He led the Minor Leagues with 43 homers last season and is doing his best to force the Cubs to promote him.
Told that Jokisch called the two homers, Bryant smiled.
"He better say that every at-bat," Bryant said.
Carrie Muskat is a reporter for MLB.com. She writes a blog, Muskat Ramblings, and you can follow her on Twitter @CarrieMuskat. This story was not subject to the approval of Major League Baseball or its clubs.