Third-base coach Hoffman on the mend after knee surgery
Former infielder to start rehab after taking care of old injury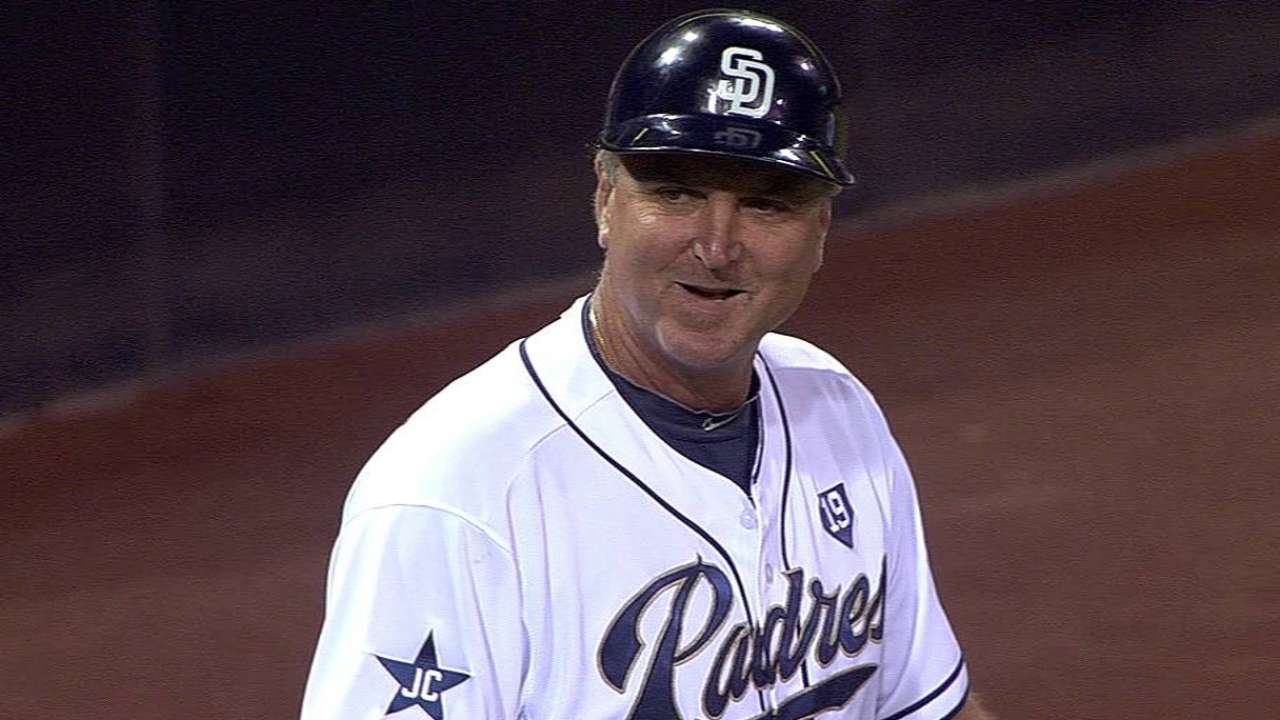 PEORIA, Ariz. -- Padres third-base coach Glenn Hoffman hobbled back into camp on crutches Saturday morning after undergoing surgery on his left knee in San Diego this past Thursday.
Hoffman said it would take two to three weeks of rehab before he's back on the field and in condition to open the season with the team on April 6 in Los Angeles. Hoffman had a bone spur removed from the kneecap the size of a peach pit. There was no other damage.
In the interim, Jose Valentin has moved from first base to coach at third and Morgan Burkhart is in the first base box.
"They found a bone spur on the knee about an inch and half long," Hoffman said. "They cut it out and it went well. It's been there for a while, but it flared up about a week ago and so that's when we decided to go in and look. Now we're on the road back. The goal is to get there as soon as possible and not rush."
Hoffman, 56, has been the Padres third base coach for 10 seasons. He's the older brother of great Padres closer Trevor Hoffman, a Hall of Fame candidate for the first time later this year with a National League-record 601 saves. The younger Hoffman now has the title of Padres senior adviser, baseball operations. In reality, he's the organizational pitching coach acting as a liaison between all levels of the Minor Leagues and the big league team.
It's the first surgery of any kind since 1983 for the older Hoffman, who was an infielder for the Red Sox, Dodgers and Angels during his nine-year, big league career. Hoffman blew out the medial collateral ligament in the same knee playing the pivot at second base for the Red Sox. Lance Parrish, then with the Tigers, slammed into him and tore Hoffman's MCL.
"I was playing short and the ball was hit to [Wade] Boggs," Hoffman recalled. "[Jerry] Remy said, 'Take it.' So I turned to take the throw from third. It was a clean play. Lance just hit me in the leg. My leg got caught in the bag and I tore my medial collateral. Same knee. This was just a cleanup. After 40 years, not bad."
Barry M. Bloom is a national reporter for MLB.com and writes an MLBlog, Boomskie on Baseball. Follow @boomskie on Twitter. This story was not subject to the approval of Major League Baseball or its clubs.