Young Indians show potential in Chen's tough start
Gonzalez chips in RBI single, Ramirez goes 3-for-4 in loss to Dodgers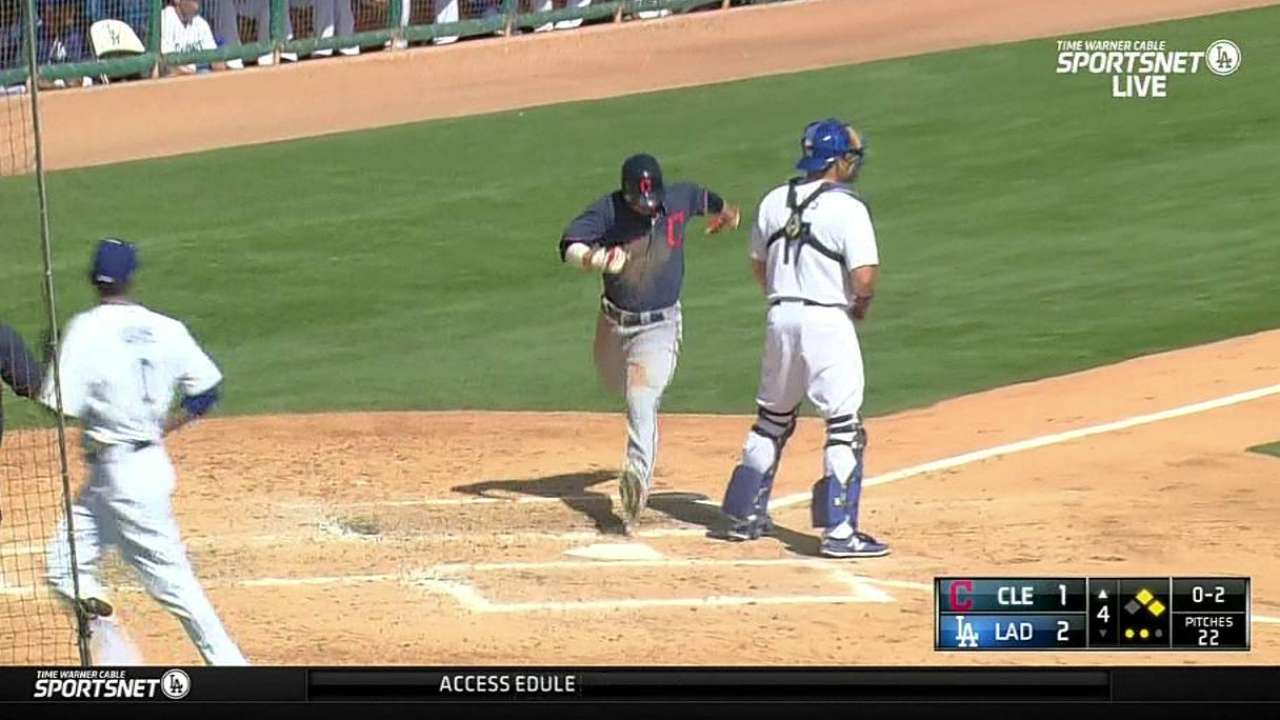 GLENDALE, Ariz. -- New Dodgers leadoff hitter Jimmy Rollins doubled, singled, drove in a run and scored another, while Brett Anderson pitched three scoreless innings to help beat the Indians, 7-2, on Saturday afternoon at Camelback Ranch.
Scott Van Slyke homered for the Dodgers off Cleveland left-hander Bruce Chen, who worked four innings in his first Cactus League start of the spring and was charged with three runs. Non-roster outfielder Matt Carson, a former Indian, slugged a grand slam in the eighth inning off Anthony Swarzak.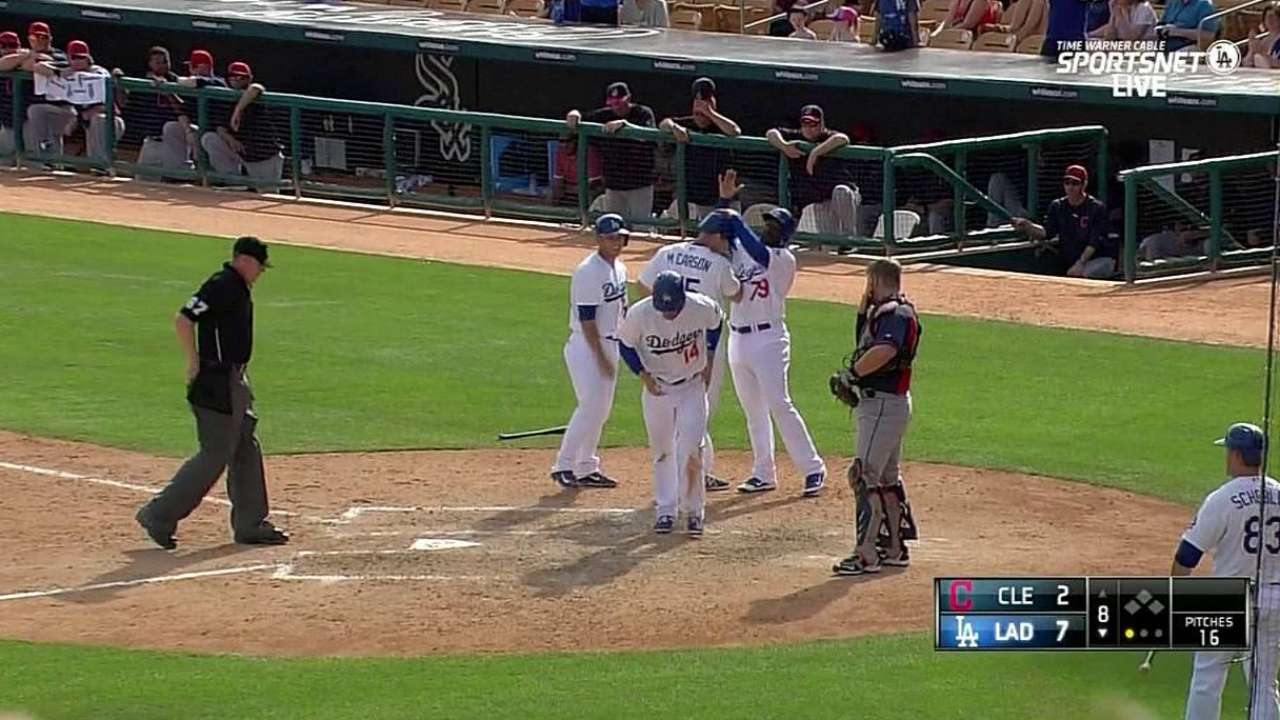 Dodgers reliever J.P. Howell returned from a slight groin strain with three ground-ball outs in the fifth inning.
Indians shortstop Jose Ramirez went 3-for-4 out of the leadoff spot for the Tribe, which finished with seven hits as a team.
MOMENTS THAT MATTERED
For starters: Pitching in place of starter Carlos Carrasco -- sidelined by illness -- Chen yielded three runs on seven hits for the Indians. The veteran lefty ended with one walk and no strikeouts in the effort. Cleveland added Chen to the fold as a non-roster invitee this spring, throwing him into the mix as a long-shot rotation candidate or additional left-hander for the bullpen.
"I want to go out there and compete," Chen said. "So far, I'm happy with the way I have felt physically -- my arm -- but I want to put up better numbers. Obviously, I know that there's a competition and I just want to do well so they can take me into consideration."
Stock rising: Indians shortstop prospect Francisco Lindor garners most of the attention these days, but manager Terry Francona does not want infielder Erik Gonzalez to go unnoticed. Against the Dodgers, the 23-year-old Gonzalez ripped an RBI single to put the Indians on the board in the fourth inning.
"He can do some things that are pretty interesting," Francona said earlier this week. "The way he carries himself, the way he works, there's a lot to like. He's got some sock in his bat. He's a good defender. There's a lot to like."
Swinging from his heels: On his double down the left-field line in the fourth inning, Rollins said he was trying to hit a home run because of the encouragement (teasing) from Dodgers teammate Howie Kendrick . Van Slyke, who is making a career of hitting left-handed pitching, took Chen deep in the second inning to open the scoring.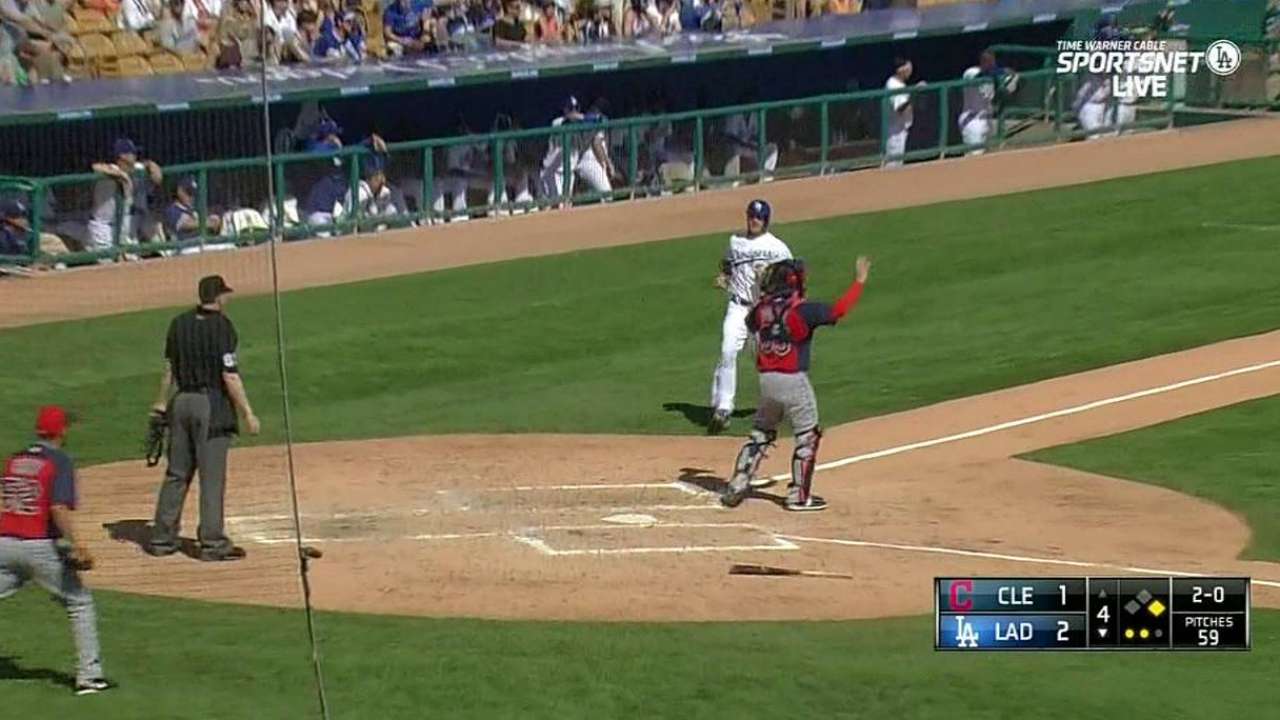 Two for Tomlin: Right-hander Josh Tomlin, who is competing for a spot in the rotation, logged two innings behind Chen for Cleveland. Tomlin had not pitched in Cactus League play since March 4 due to a recent bout with shoulder soreness, but he rebounded with four strikeouts and no runs allowed against Los Angeles.
"I thought what we did was, not to pat yourself on the back, but I thought it was smart," said Francona, referring to giving Tomlin a few days off from throwing. "I thought he looked way free and easier, and I think he felt good about himself. We've just got to get him built up."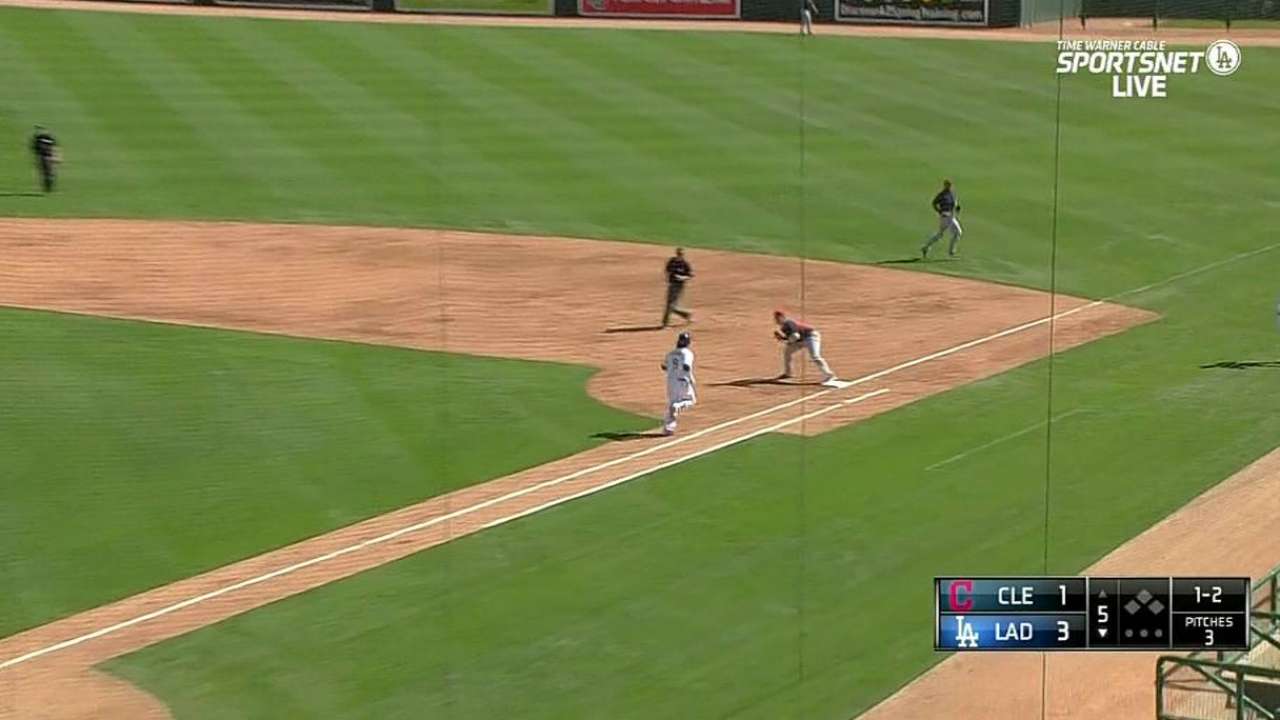 Bullpen race: The grand slam from Carson came at the expense of Swarzak, who was brought into camp with the Tribe on a Minor League contract. Swarzak is one of a handful of arms in the mix for the last spot or two in the Indians' bullpen, and Francona wants to keep monitoring the righty closely this spring.
"He started falling behind hitters," Francona said. "He went 2-0 on Carson, threw it over the plate and he whacked it. Obviously, we want to see him better, because he's a guy we want to take a strong look at. So as long as he's willing to keep fighting, we'll keep watching and seeing where it goes."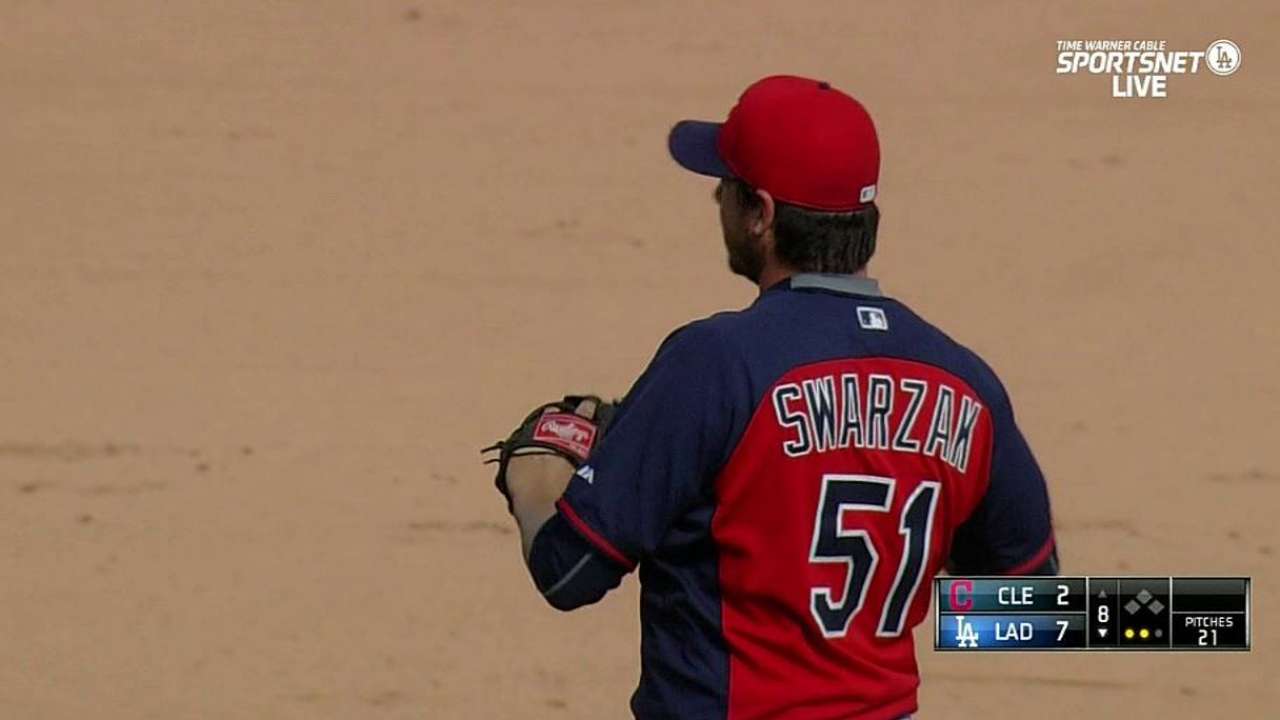 QUOTABLE
"He's able to play the corner outfield positions and first. Even in his up-and-down career, his production against left-handers has been pretty good, so we want to get a really good look at him this spring." -- Francona, on non-roster invitee Jerry Sands, who started at first base on Saturday
"Body feels good, arm feels good, so that's all I can ask for. Just progressing, build up arm strength and pitch count. Like I said, I couldn't be more happy with the way I felt so far in these first two outings." -- Anderson
SICK BAY
Illness cost both the Dodgers and Indians some regulars on Saturday. For L.A., outfielder Yasiel Puig was scratched from the lineup due to sickness and sent home. On Cleveland's side, Carrasco caught the flu bug that has been going around camp and was replaced by Chen on the mound. Indians outfielder Brandon Moss was also out of the lineup for the second straight day due to flu-like symptoms.
WHAT'S NEXT
Right-hander Trevor Bauer is scheduled to start and log five innings on Sunday, when the Indians host the Padres in a 4:05 p.m. ET Cactus League tilt at Goodyear Ballpark. If he's feeling improved after a bout with a flu bug, Moss might return to the lineup for the Tribe. Setup man Bryan Shaw and Marc Rzepczynski are among the other pitchers who are penciled in to pitch for Cleveland.
Clayton Kershaw takes the ball for the Dodgers against the Mariners at 4:05 ET in Peoria, and his supporting cast should include Puig, who is expected to return to the lineup. Kershaw is slated to pitch four innings, and he will be caught by Yasmani Grandal.
Ken Gurnick is a reporter for MLB.com. Jordan Bastian is a reporter for MLB.com. Read his blog, Major League Bastian, and follow him on Twitter @MLBastian. This story was not subject to the approval of Major League Baseball or its clubs.