Wright hits one of three Mets homers against Nationals
Three-run shot precedes blasts from Cuddyer, Mayberry Jr.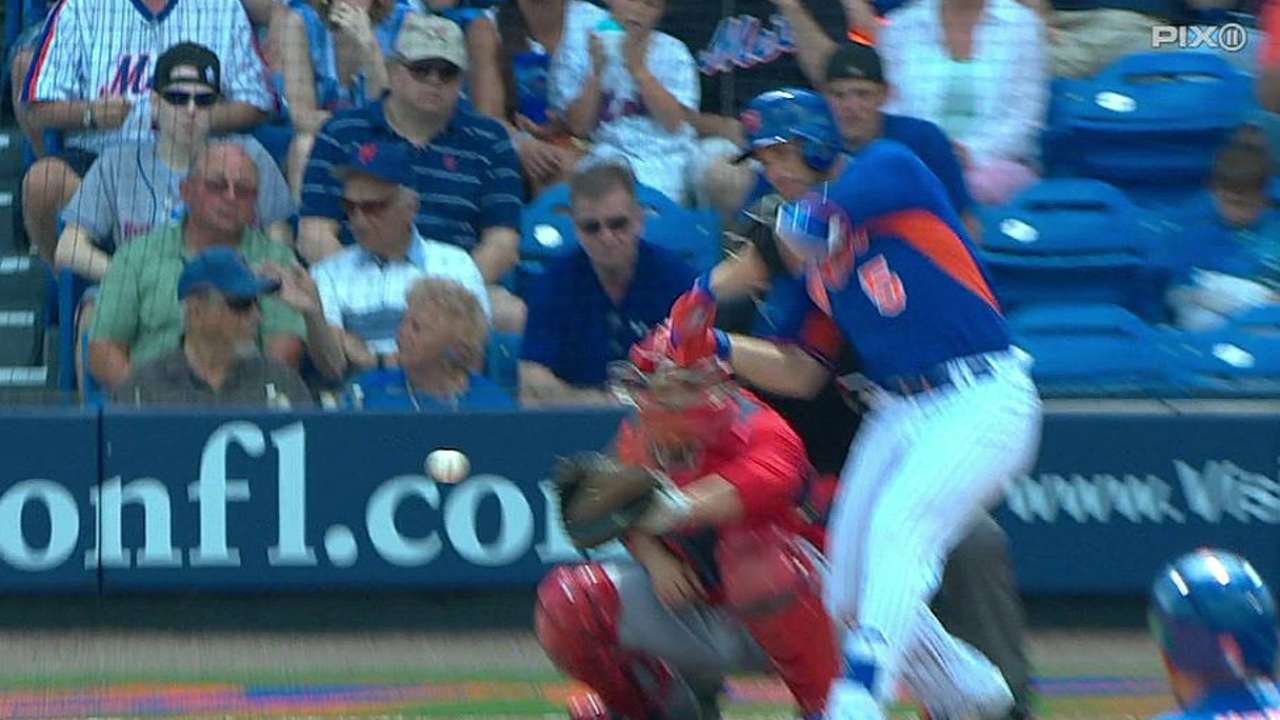 PORT ST. LUCIE, Fla. -- David Wright paused, struggling to recall the last time he hit a home run.
"Late July? Early August?" Wright guessed Saturday, after launching a three-run homer over Tradition Field's batter's eye in a 13-4 win over the Nationals.
In reality, it was July 11, around the time left-shoulder issues began compromising his season. So Wright relished his first home run in over eight months, even if it came in a Grapefruit League game.
"It's always fun to hit a home run," he said. "It's nice. It's good especially this early in spring where you make good contact and you get good results. Whether it's Spring Training or the season, when you see the results from work, it's fulfilling. It's nice. It's fun."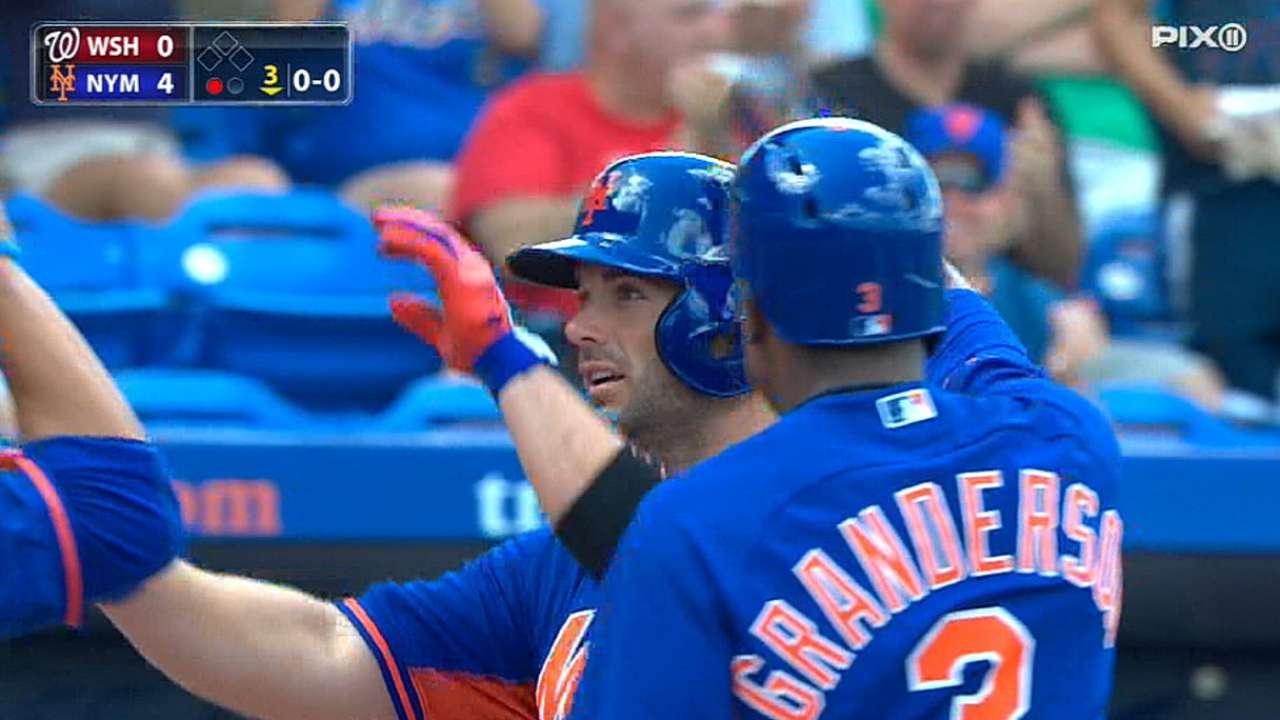 Wright's blast highlighted a third straight offensive outburst from the Mets, who had scored 24 runs over their two previous games. This time they picked on Nationals right-hander Tanner Roark, whose 2 2/3-inning, four-run performance bloated his Grapefruit League ERA to 14.29. Ruben Tejada opened the scoring with a sacrifice fly, before Wright blasted a low-and-away fastball over the batter's eye in straightaway center -- the base of which stands 410 feet from home.
Due in part to his weakened left shoulder, Wright finished last season with a career-low eight homers and .698 OPS, spending the final three weeks on the disabled list.
"The good thing coming into this spring, at least in my mind, is I haven't had any questions about my health," said Wright, who has not eclipsed 30 home runs since 2008. "It's nice to come out full-go, no limitations, no restrictions. It feels good to go out there and be normal.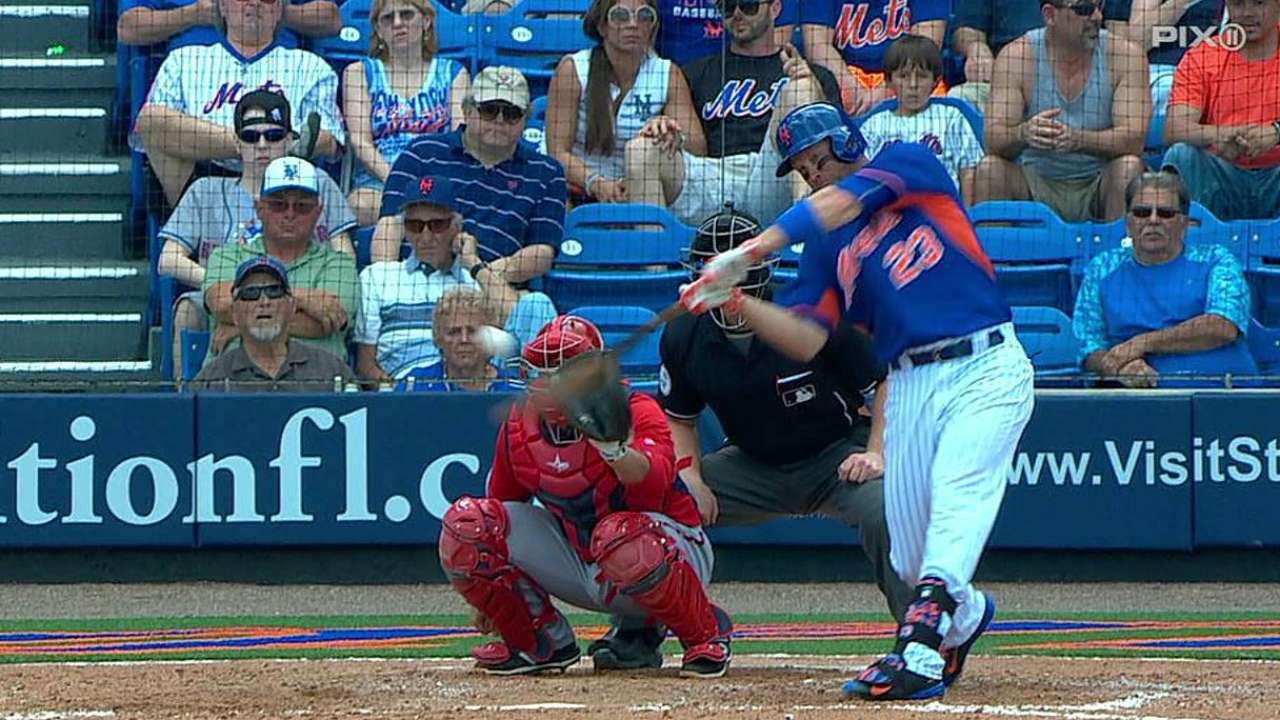 "Ultimately, what makes me successful is being able to drive in runs and score runs. The home runs are a bonus. It's quick offense. I think it's a small part of my game. I don't sit there and look at the home run totals at the end of the season and base it on whether I had an individual successful season. I'd trade the home runs in a heartbeat for being productive -- driving runs in, the doubles. But it is nice to hit homers. It's nice for the instant offense."
The Mets received more instant offense on Michael Cuddyer's leadoff homer, Juan Lagares' triple and Tejada's RBI single in the sixth. An inning later, John Mayberry Jr. hit a two-run homer off left-hander Rich Hill.
Though the Nationals reclaimed two runs on Sandy Leon's two-run hit off Dillon Gee, they could not rally late. Like Roark, Gee is ticketed for the bullpen to start the year despite plenty of past success as a starter.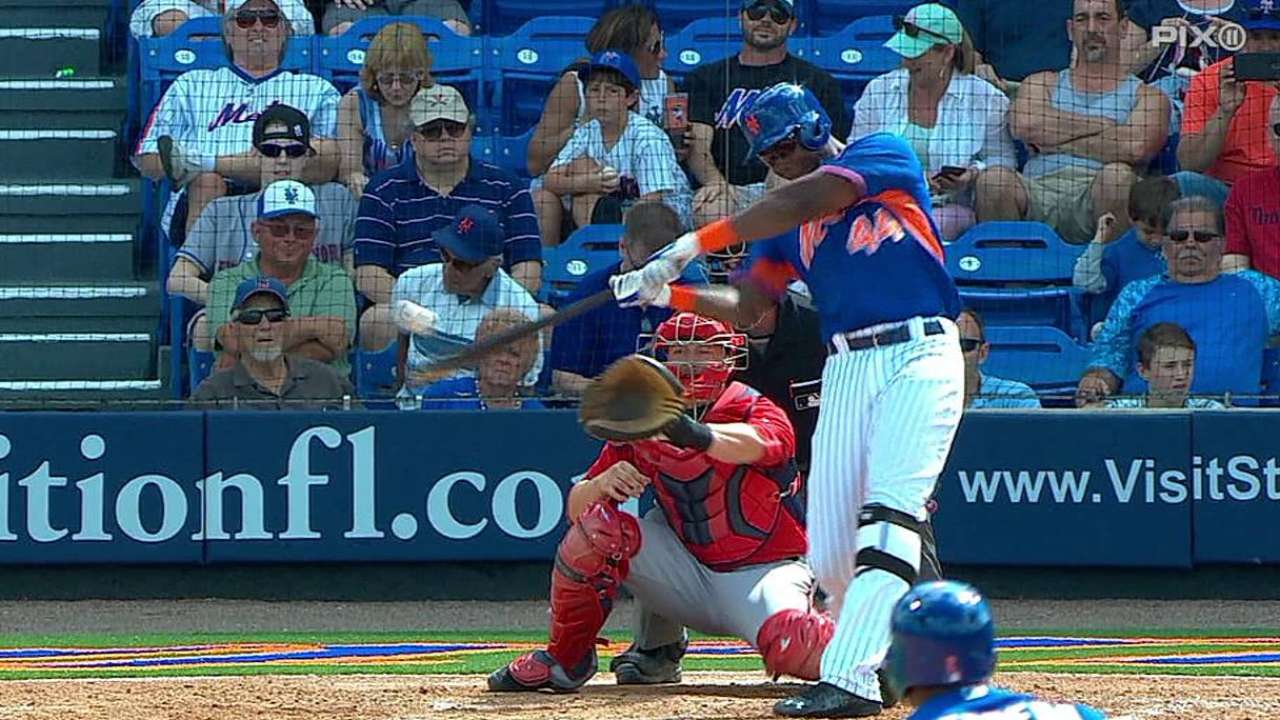 The Mets then poured on five runs, highlighted by Kevin Plawecki's three-run double, in the bottom of the eighth to increase their cushion to 13-2. Ian Stewart then knocked a two-run homer in the top of the ninth for the Nationals.
Most of Washington's regular hitters, including Bryce Harper and Jayson Werth, did not make the hour-plus drive south to Port St. Lucie for the game.
Up next: After going 1-for-4 in his spring debut Saturday, Lucas Duda will play in his second consecutive game Sunday for the Mets, who travel across the state for a 1:05 p.m. ET game, airing live on Gameday Audio, against the Rays in Port Charlotte. Most of the roster will stay overnight, traveling 40 minutes down the road to face the Red Sox Monday in Fort Myers.
Anthony DiComo is a reporter for MLB.com. Follow him on Twitter @AnthonyDicomo. This story was not subject to the approval of Major League Baseball or its clubs.