Matusz sharp in rare Grapefruit League start
Reliever was given nod to work on changeup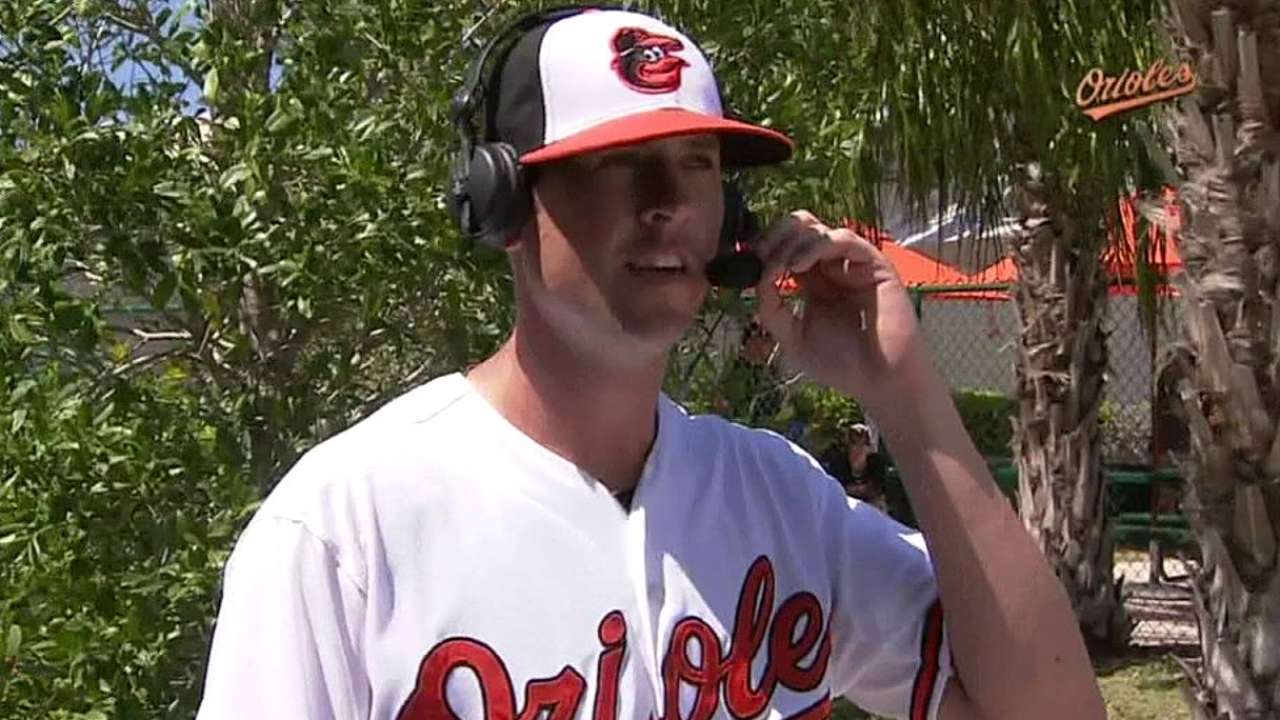 SARASOTA, Fla. -- Nathan Karns is not an attorney, but when it comes to his possible inclusion in the Rays' starting rotation, the 27-year-old right-hander is making quite an argument.
Facing a Baltimore Orioles' lineup consisting largely of likely Opening Day starters, Karns hurled four innings of no-hit baseball on Saturday, striking out two and walking none as the Rays rode a Rene Rivera two-run homer to a 3-2 victory over the O's in Sarasota, Fla.
"It was great to be out there, finally working with Rivera," said Karns, who has now allowed three hits and one earned run in nine Grapefruit League innings, with four strikeouts and two walks. "I felt like he did a great job managing the game … [giving me] easy reminders behind the dish to keep me locked in.
"We're getting closer to the season, everybody's playing their hearts out and it's a fun time right now."
Rivera, acquired in the trade that sent outfielder Wil Myers to San Diego, launched a one-out drive off Orioles left-hander Tim Berry in the fourth inning with John Jaso aboard to give the Rays a lead they would never relinquish.
Brian Matusz, who was given a rare starting assignment to work primarily on his changeup, breezed through three scoreless innings for the Orioles, allowing two hits and no runs while striking out three and walking none.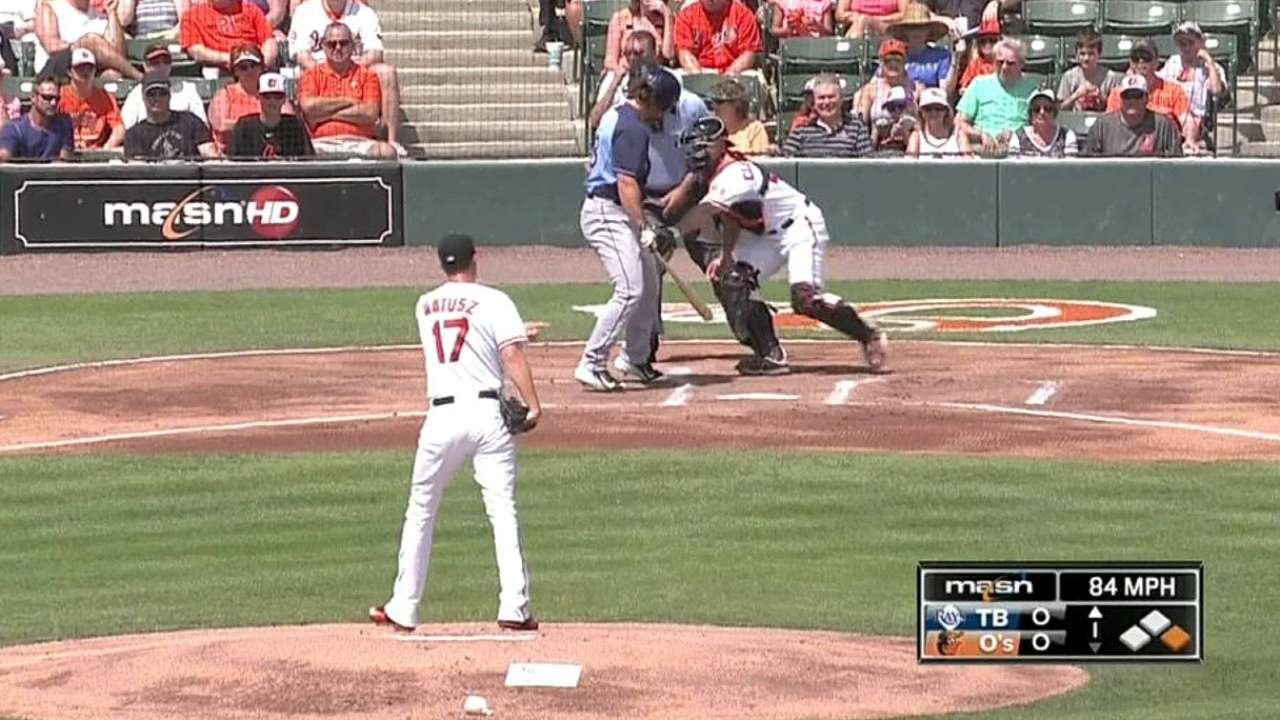 "Once you get out there on the mound, it's really the same game," Matusz said of his one-day conversion from reliever to starter. "You've still got to make pitches and get hitters out.
"It was just a matter of relearning the pregame routine of when to get out, when to start playing catch and things like that. It was nice to have guys like [Chris] Tillman around to help."
Jaso scored the third Tampa Bay run on a ground-rule double to left by Kevin Kiermaier in the sixth inning off Chaz Roe.
A sixth-inning double by J.J. Hardy off Steve Geltz knocked in Rey Navarro with the first Orioles' run, and Steve Pearce launched a solo home run to center off Robert Zarate in the seventh to round out the Baltimore scoring.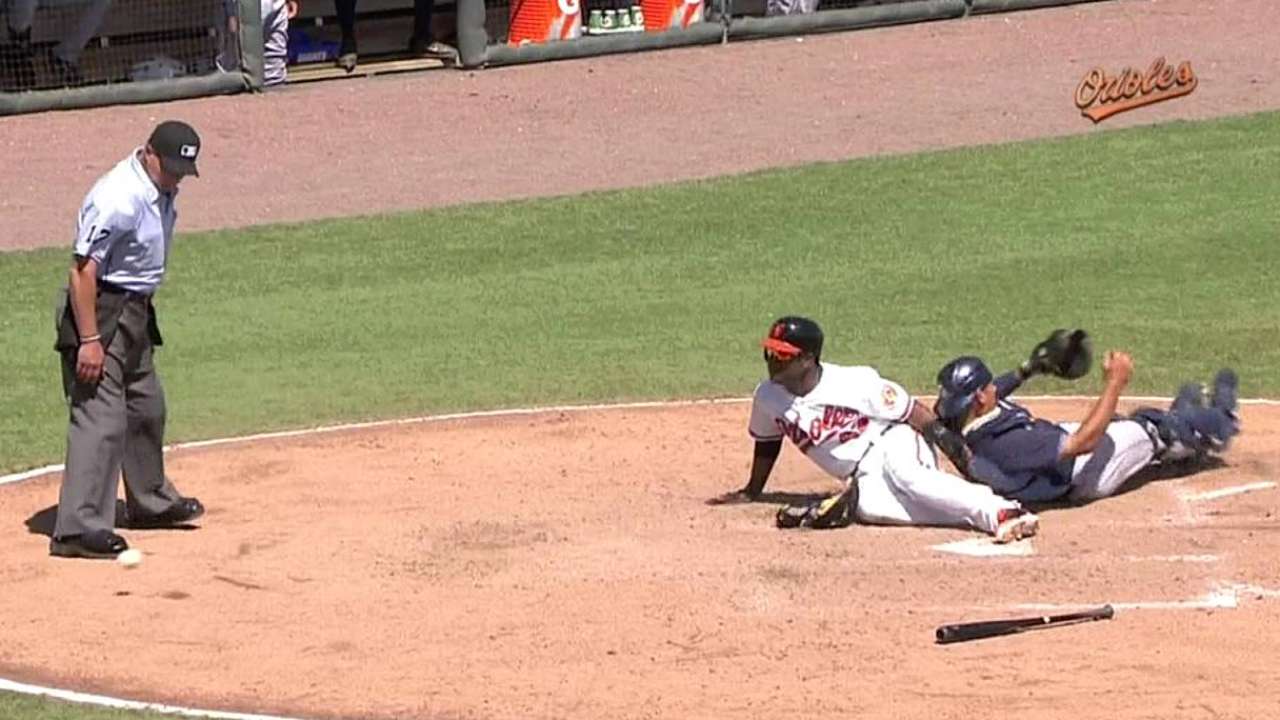 Up Next: The Orioles will play two games again on Sunday, with lefty Wei-Yin Chen (5 IP, 2 H, 0 R, .118 BAA in two starts) starting the Grapefruit League contest against the Pirates in Bradenton, Fla. at 1:05 p.m. ET. Zach Britton and Kevin Gausman will pitch in the "B" game on Sunday at 10 a.m., with Britton scheduled to go multiple innings.
Michael Kolligian is a contributor to MLB.com. This story was not subject to the approval of Major League Baseball or its clubs.