MLB.com Columnist
Bill Ladson
Werth's arrival pivotal to changing Nationals' direction
Leadership on field and in clubhouse opened window for championship contender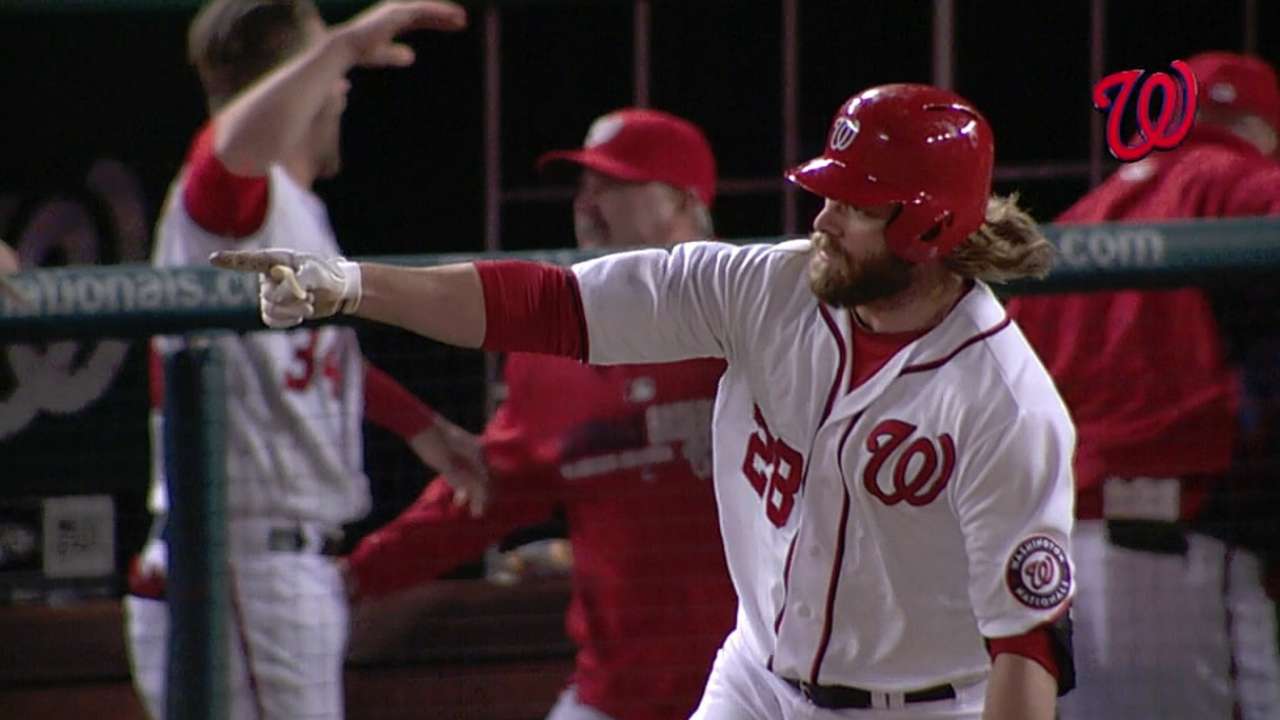 VIERA, Fla. -- Nationals left fielder Jayson Werth is working hard to get ready for the 2015 season. The question is, though, will he be ready for Opening Day against the Mets on April 6 at Nationals Park? Werth is cautiously optimistic.
Werth had arthroscopic surgery on his right AC joint last January, and he has yet to play in an exhibition game because of the procedure. But as of Friday morning, Werth was in right field playing catch with first-base coach Tony Tarasco. Werth threw from 60 to 90 feet and threw the ball pretty well.
"Surprising," Werth said Saturday morning. "Not that I didn't think it was possible. It's just that [the strength] has come pretty quick. It's like the third time I've thrown and it feels really good. During normal Spring Trainings, I don't throw a whole lot before I get here. … The shoulder is really strong and I'm in a good place."
Werth is in his fifth season with the Nationals, and it's safe to say that it was worth giving him the seven-year, $126 million contract after the 2010 season. It seems like yesterday when the Nationals received a lot of criticism for giving Werth that amount of money. But in order to get a player like Werth, the Nationals gave him the years he wanted.
The Nationals saw a guy who had been in the postseason five times before joining them as well as being an above-average player. Werth is a good baserunner and quality defender, and he's not bad with the bat either.
Talk to principal owner Mark Lerner five years later and he doesn't have any regrets giving Werth the long-term deal.
"It's hard to overstate the impact Jayson Werth has had on the Washington Nationals" Lerner said. "Our growth as an organization over the last 10 years originates in many places. But when you think of the day we signed Jayson, and all that has happened since, it's hard not to associate that day with so much of our progress. From his play on the field -- which has been all we expected and more -- to his leadership in the clubhouse, he has been exactly the player we'd hoped for when we committed to him. If we knew the day we signed him what we know now, we'd do the deal all over again -- in a heartbeat."
During the first four years of the contract, Werth had a .282 batting average, .375 on-base percentage with 66 home runs and 253 RBIs, while the Nationals were in postseason contention in three of those four years.
His best game as a member of the Nationals occurred in Game 4 of the 2012 National League Division Series against the Cardinals. The game was tied at 1 in the ninth, and Werth -- leading off in the bottom of the inning -- battled Cards reliever Lance Lynn, hitting the 13th pitch of the at-bat over the left-field wall for the 14th postseason home run of his career.
But numbers don't tell the whole story when it comes to Werth and his time with the Nationals. Before he arrived, the players were not in unison. Werth changed things, and it started during his first Spring Training with the club. It showed in mid-March of 2011
Then-Nationals outfielder Nyjer Morgan found himself in a confrontation with Werth for not doing enough sprints on the warning track at Space Coast Stadium. Before Spring Training ended, Morgan was traded to the Brewers for infielder Cutter Dykstra.
Werth was among several players who helped improved the quality of food in the clubhouse. Werth said teammate Ian Desmond has been a guy who would put a bug in his ear to speak up and stand up for what's right.
"It's not a problem for me. I want to win. If you want to win, things have to be right," Werth said. "It has to be right from the moment you step in the door, to the food you eat to the Presidents race to the final out of the game. You are here every day, we are a family."
Werth is also quick to say he wasn't the only one to change the culture in the clubhouse.
"It wasn't just me. [General manager] Mike Rizzo has done a great deal to get the right personnel in here, get the riff-raff out," Werth said. "Davey Johnson jumped on board as a manager for a couple of years. He was just a bigger part as anybody changing the culture. I just happen to be at the right place at the right time. … Here we are, going into the fifth year, I'm on top. I went from the top in Philly and made a prudent career move and here I am. I remain on top."
With three years left on his contract, Werth wants to help Washington win its first World Series title since the Senators won the title in 1924.
Werth believes with the team currently in place, this could be its last chance to win a title. After the season, players such as Desmond, center fielder Denard Span and right-handers Jordan Zimmermann and Doug Fister are free agents.
"There is a possibility this team will be totally different next year," Werth said. "Now I'm starting to think this is this group's last chance to win. That's why I felt it was important. We have a lot of homegrown guys, four guys up for free agency and this is the group I came in with essentially. This was the group I was sold with that was capable of winning. They could sign everybody back, but I think that's an outside shot."
Bill Ladson is a reporter for MLB.com and writes an MLBlog, All Nats All the Time. He also can be found on Twitter @WashingNats. This story was not subject to the approval of Major League Baseball or its clubs.